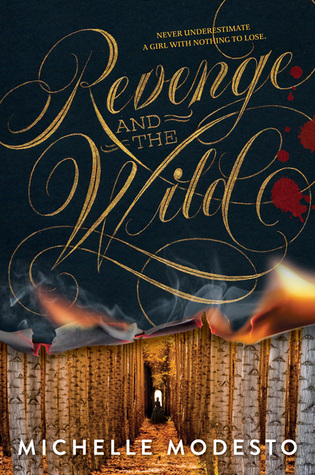 Revenge and The Wild
by
Michelle Modesto
Published on
February 2nd 2016
by
Balzer + Bray
Genres:
Young Adult
,
Fantasy
,
Historical Fiction
,
Steampunk
,
Romance
Format:
eARC
Source:
Edelweiss
Goodreads
The two-bit town of Rogue City is a lawless place, full of dark magic and saloon brawls, monsters and six-shooters. But it's perfect for seventeen-year-old Westie, the notorious adopted daughter of local inventor Nigel Butler.

Westie was only a child when she lost her arm and her family to cannibals on the wagon trail. Nine years later, Westie may seem fearsome with her foul-mouthed tough exterior and the powerful mechanical arm built for her by Nigel, but the memory of her past still haunts her. She's determined to make the killers pay for their crimes—and there's nothing to stop her except her own reckless ways.

But Westie's search ceases when a wealthy family comes to town looking to invest in Nigel's latest invention, a machine that can harvest magic from gold—which Rogue City desperately needs as the magic wards that surround the city start to fail. There's only one problem: the investors look exactly like the family who murdered Westie's kin. With the help of Nigel's handsome but scarred young assistant, Alistair, Westie sets out to prove their guilt. But if she's not careful, her desire for revenge could cost her the family she has now.

This thrilling novel is a remarkable tale of danger and discovery, from debut author Michelle Modesto.
I received this book for free from the publisher or author in exchange for an honest review.
This does not affect my opinion of the book or the content of my review.
Okay, so I went into this expecting a YA historical fiction novel. A western with cannibals. That's not what I got. I got a YA Historical Fiction/Fantasy/Steampunk/Romance. And I'm sure I'm missing something. A clash of genres like this could very easily backfire on the autor and suck big time. Luckily though, Revenge and The Wild did not suck in the least.
Revenge and The Wild tells the story of Westie. Westie lives in Rogue City, a lawless place full of magic, saloons, monsters, and six-shooters. Westie has been in the care of local inventor Nigel ever since she lost her family and her arm to cannibals at a young age. Westie seems tough on the outside with her powerful mechanical arm and foul mouth, but her past continues to haunt her. Then one day a wealthy family comes into town, looking to invest in Nigel's latest invention. And they look exactly like the family that killed Westie's.
This book was entirely too awesome and so much fun. There's tons of action that made my heart pound a mile a minute. There's a lot of swoons that made my heart race and characters that crept into my heart before I got a chance to stop them. Whoever it was that said there's not enough morally complicated YA these days, really should read this book because my god, it really doesn't hold back. There's violence. Lots of it. And I liked it. The romance was soooo good. Yes, there's a great ship to be shipped, people. And again, the author doesn't hold back. It doesn't go far enough to make it a more adult novel, though. It comes a bit close in one scene but I don't think that's a bad thing because these kind of things are normal and I like it when authors touch upon the intimate parts of a relationship without handling it with kid gloves. I'm just saying. There's no holding back.
I loved loved LOVED the characters. Costin, the badass vampire. He's just awesome and if it wasn't for that one other person I would've shipped him with Westie so hard. Also Nigel, Westie's adoptive father. He's so cool, really. Bena was awesome too. Alistair. SIGH, Alistair. He's badass and sweet and cool and I adore him. He's perfect for Westie. And yes, Westie. I loved her too. She was a kickass heroine that didn't need anyone protecting her and that's just how I like my heroines. She's flawed, but she's perfect. That makes sense, right? There's one tiny thing that kept me from giving it five stars though. And that's the way the characters talk. This feels like a historical novel. A western with some fantasy and steampunk mixed in. But sometimes the historical/western part got a tiny bit lost because they talk very modern. I didn't mind because I'm not a big historical fan anyway, but it would've fit a bit better with the book, I think.
Overall Revenge and The Wild is a very unique, original and awesome book that you absolutely have to read. I would recommend this to fans of… hmm… Well… Young Adult in general I guess. If you're a fan of either genres this book has, and you want something different, this one is the perfect choice.