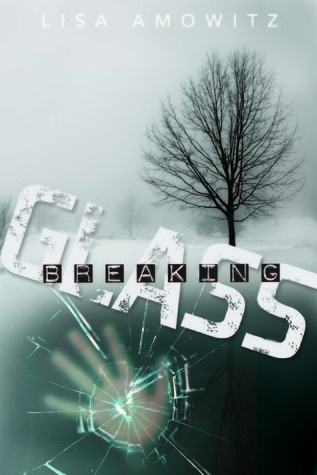 Breaking Glass
by
Lisa Amowitz
Published on
July 9th 2013
by
Spencer Hill Press
Genres:
Paranormal
,
Mystery
,
Thriller
Format:
eBook
Source:
Purchased
Amazon
|
B&N
|
Goodreads
Also by this author:
Until Beth
,
Until Beth
On the night seventeen-year-old Jeremy Glass winds up in the hospital with a broken leg and a blood alcohol level well above the legal limit, his secret crush, Susannah, disappears. When he begins receiving messages from her from beyond the grave, he's not sure whether they're real or if he's losing his grip on reality. Clue by clue, he gets closer to unraveling the mystery, and soon realizes he must discover the truth or become the next victim himself.
So after I read Until Beth, I was curious about the author's other works. So of course I bought her first book, Breaking Glass, this week and started reading it immediately since my reading 'schedule' for September was pretty much empty. I regret nothing! Absolutely nothing! I straight-up loved this book!
Breaking Glass tells the story of Jeremy Glass, who, after a horrible accident, ends up in the hospital with a broken leg. That same night his best friend's girlfriend Susannah disappears. Jeremy ultimately loses his entire leg and nobody seems to care where Susannah actually is. But when he starts receiving messages from Susannah, Jeremy isn't sure whether they're real or if he's imagining things. The only thing he does know is that he wants to find out what happened to her.
I really enjoyed Until Beth, but I enjoyed Breaking Glass a lot more! And yes, there is a reason for that. Until Beth is Urban Fantasy, Breaking Glass is Paranormal and heavier on the mystery thriller side than Until Beth is. And that's what I liked! In this book it was also clearer who I could trust and who was just evil and stupid. But it still managed to throw some twists in my direction that I did not see coming, so it wasn't predictable at all. I did question everyone's motives at one point or another. The writing was really good, there was always this mysterious, tense atmosphere in the air and I just loved that! Lisa is very good at setting a scene and make it really creepy or tense or both.
For me the characters can make or break a story. The MC can be as big of an asshole as he/she wants, the only thing that matters is that I want to know his/her story. I've come across characters that come off bad, but I couldn't not love them. But then there were also character that I just plain hated and I didn't care one bit, didn't matter if they were nice or mean. The main character in this book, Jeremy, is not the… smartest guy around. Not that he's stupid, not at all. He just has some issues to work through and doesn't always make the right choices because of that. He's been through a lot in the past, so I get why he acts like he does. And I was with him every step of the way and I loved seeing him grow throughout the story. I won't get into the other characters too much because I don't want to spoil anything for you, but they were all great characters. There was also a romance that, at times, felt a bit… out of place, but I did like it a lot. It was very sweet, and didn't go too fast either. Sometimes I was just like "Really? Now?". Also, on a side note, there's an LGBT romance between two side characters, which is always awesome. Hurray for diversity!
Breaking Glass is a great paranormal mystery thriller that I do highly recommend. I'm even more anxious to read Vision now and I look forward to the sequel of this one too! My review of Until Beth will be up on the 24th!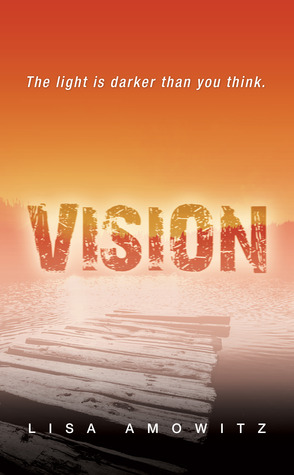 Vision
by
Lisa Amowitz
Published on
September 9th 2014
by
Spencer Hill Press
Genres:
Young Adult
,
Mystery
,
Thriller
Format:
eBook
Goodreads
Also by this author:
Until Beth
,
Until Beth
The light is darker than you think…

High school student Bobby Pendell already has his hands full—he works almost every night to support his disabled-vet father and gifted little brother. Then he meets the beautiful new girl in town, who just happens to be his boss's daughter. Bobby has rules about that kind of thing. Nothing matters more than keeping his job.

When Bobby starts to get blinding migraines that come with scary, violent hallucinations, his livelihood is on the line. Soon, he must face the stunning possibility that the visions of murder are actually real. With his world going dark, Bobby is set on the trail of the serial killer terrorizing his small town. With everyone else convinced he's the prime suspect, Bobby realizes that he, or the girl he loves, might be killer's next victim.

Another great one from Lisa Amowitz! Again with the same tense atmosphere and writing I've come to expect from her. And of course also another set of great characters. I honestly don't have much to say about this one though. It was a very fast-paced book and a fast read. It kept me on the edge of my seat and threw some curveballs at me I didn't see coming. I did have a bit of trouble getting into it at first, though I don't know why and as soon as I was a couple of chapters in, I was completely sucked in. There's an open ending suggesting a sequel, which I would very much enjoy!