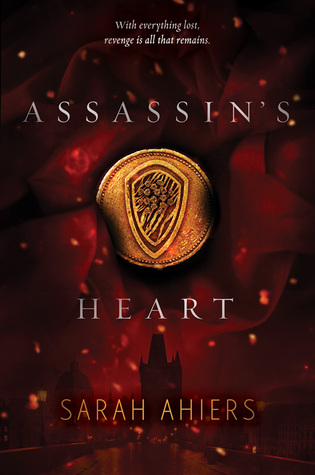 Assassin's Heart
by
Sarah Ahiers
Published on
February 2nd 2016
by
HarperTeen
Genres:
Young Adult
,
Fantasy
,
Romance
Format:
eARC
Source:
Edelweiss
Goodreads
In the kingdom of Lovero, nine rival Families of assassins lawfully kill people for a price. As a highly skilled member of one of these powerful clans, seventeen-year-old Lea Saldana has always trusted in the strength of her Family. Until she awakens to find them murdered and her home in flames. The Da Vias, the Saldanas' biggest enemy, must be responsible—and Lea should have seen it coming. But her secret relationship with the Da Vias' son, Val, has clouded her otherwise killer instinct—and given the Da Vias more reason than ever to take her Family down.

Racked with guilt and shattered over Val's probable betrayal, Lea sets out to even the score, with her heart set on retaliation and only one thought clear in her mind: make the Da Vias pay.

With shades of The Godfather and Romeo and Juliet, this richly imagined fantasy from debut author Sarah Ahiers is a story of love, lies, and the ultimate vengeance.
I received this book for free from the publisher or author in exchange for an honest review.
This does not affect my opinion of the book or the content of my review.
Whew, that was quite a ride! Celaena, Cinder, Scarlet, Alina, Yukiko & others have a new friend to join their club of kickass heroines! Please welcome the awesome Oleander "Lea" Saldana, everyone! For reals, the girl can kick some ass. And who doesn't love a good, awesome, strong heroine? I know I do.
Assassin's Heart takes place in the kindom of Lovero, where nine rival Families of assassins kill people for a price, serving their goddess Safraella. These families are respected and feared by the common folk, but rarely trust each other. Lea Saldana is a highly skilled and powerful member of the Saldana family and has always trusted in their strength until she wakes up one day to find her home in flames and her family dead. She manages to escape and learns who's behind the attack. The Da Via Family, to whom her secret suitor Val belongs. Overcome by guilt, betrayal and anger, Lea embarks on a journey to get revenge for her family.
Where do I even begin with this book? Okay, the story. The story is pretty straight forward, with a few twists and turns thrown in and some new factors I haven't really seen before. Where this book really shines is in the way it's executed. The writing was fantastic, giving me rich world-building and well-developed characters. I normally don't care for politics or religion, especially in books, but I was so fascinated by how this world worked. Their religion is so unique and it goes hand in hand with their politics and I just loved learning all about it. The world itself was great as well. I loved exploring it with Lea!
All the characters are well-developed and they all have a reason to be in the story. Nobody is useless, everyone has a role to play. I'm still not sure what to think of Val and I outright hated everyone else from his family and some from the other families, but that was the point I think. They were the bad guys, so. I loved Father Faraday, even though we didn't see him much. I grew to love Marcello by the end too. His story was a sad one. Les was just so sweet. And awesome. I loved him so much! And Lea. Like I said already, she's a badass. She grows a lot in this book and I love her to bits. The romance between her and Les is very sweet, not forced in the least and nicely paced. If I had to point out one thing that irked me, it's the fact that I don't know if there'll be a sequel. The ending was nice, but I feel like there's more to the story.
Assassin's Heart is a must read for fans of the Throne of Glass series or YA Fantasy in general. It has a kickass female protagonist, awesome action, a sweet romance and fantastic world-building. What more do you want, honestly?