Liza and I are very excited to bring to you The Best I Ever Read as a new feature!  This feature was inspired by Food Network's "The Best Thing I Ever Ate" where chefs and restaurant owners explain the best they've ever ate from a certain type of food. Each week we will feature a group of bloggers and other book lovers that will give you their choice of the Best Book they've ever read in a certain category.
Today the category is YA Historical Fiction. Let the fun begin!
Liza's Pick
The Book Thief by Markus Zusak – I'm a big fan of historical romance, but YA historical fiction is something that I'm fairly new at (they can be often considered steampunk or paranormal), but without a question The Book Thief is one of my favorite books *period*  I 'read' this one in audio book and I recommend it to everyone (see my review here) I love the way that words become something else, almost tangible in the minds of Liesel and Max. I love the writing and all the characters.  Even if you saw the movie, the book is even better, so give it a try.  I still think about it and cherish this story.
Arianne's Pick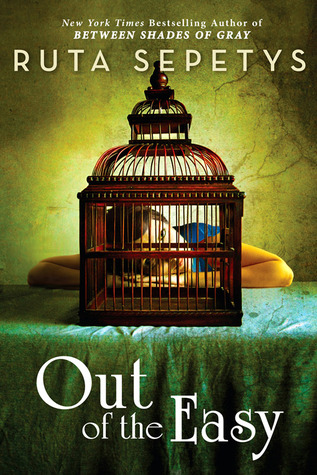 Out of the Easy by Ruta Sepetys – Out of the Easy was such an unexpectedly amazing read for me, I just had to put it on this list! I love historical fiction and there probably a hundred different books I could name and recommend, but for sheer originality and vibrancy, this book really is the best of them all. It takes place in 1950s New Orleans and includes a fabulous and truly strong female lead as well as a love interest you're guaranteed to fall for.  The writing is stunning, the story is engaging, the setting is unforgettable, and to top it off, the cover is incredible!
Mary, Bloody Mary by Carolyn Meyer  – I read this book as a young adult years ago. And through numerous bookshelf purges, I've kept a copy of this book in my collection. It was the book that created my foundational knowledge of the Tudors. With its family tree in the beginning and the story that was thrilling, it remains on my top list for young adult historical fiction
The Boleyn King by Laura S. Andersen – this is an adult/YA crossover series:  The Boleyn King and the 2 subsequent books are amazing.  Andersen imagines what would happen if Anne Boleyn had borne Henry VIII a son who lived.  In the first book, Anne is middle aged!  There are 4 narrators, including the young prince and his older sister, Elizabeth.  The historical liberties are fascinating, a really wonderful "what if" idea, and there is a LOT of swoony romance. The conclusion is being released very soon and I can't wait for it!
The Book Thief by Marcus Zusak – Anyone who even vaguely knows me knows of my complete adoration of The Book Thief. It needs no introduction (although, if you see the movie first don't be put off). It's the most heart wrenching, gorgeously written book I've ever read, and such an eye-opener as to the Holocaust in the eyes of an innocent little girl. It's also narrated by Death, which is done with skill, poise and an incredible and unique voice. It completely opened my eyes as to the extent you could go to with historical fiction, and what you could do with words. The Book Thief, if nothing else, will take you on a journey, and your life won't be the same after you read it. I know my life would be different without The Book Thief on my shelf.
Latest posts by ariannebookblogger
(see all)