Hi there gorgeous people! Welcome to this year's The Best Book I Ever Read, I can't believe that this is the third year.
This feature was inspired by Food Network's "The Best Thing I Ever Ate" where chefs and restaurant owners explain the best they've ever ate from a certain type of food. Each week we will feature a group of bloggers and other book lovers that will give you their choice of the Best Book they've ever read in a certain category. I hope you get a lot of recommendations and that you comment with your own recommendations  🙂
Today's category is Thriller! 
Liza
I find that I watched a lot of thrillers in movies that read actual books.  Also, a lot of books that can be considered thrillers are a mix of other genres, like pararormal, urban fantasy or even dystopian.  I think one of the best I've read are the Robert Langdon series by Dan Brow, especially Anges & Demons and The Da Vinci Code.  In YA, probably the Fire & Flood series by Victoria Scott.
Altered by Jennifer Rush
I recently reread this book and OH MY GOSH it has yet to get old, for me. Every time I pick it up, I fall in love with it a little more! I liked the other books in the series, but this one blew me away! And it works as a standalone, so that's a bonus!
You by Caroline Kepnes
This book is all kinds of amazing. It's written in the POV of a sociopath, and it is all kinds of creepy and eerie. The ending will leave you shaking!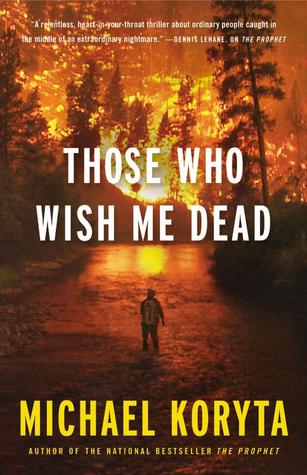 Those Who Wish Me Dead by Michael Kortya
I picked up this book because I loved the narrator. I ended up loving the story. The two villains in this story are creepy as hell. They're identical twins who are hitmen. Instead of talking to the person they are going to kill they talk back and forth to each other to convey the information they want. It was just creepy.
How about you?  Are you a thriller fan? In movies? In books? Why or why now?  What are your favorites?