Some of you might remember that we started The Best Book I Ever Read feature last year and it was pretty well received.  There are a few new topics this year and a few of the popular ones are repeated.  Thank you so much to all of you that participated (and if you didn't, you are still on time! Email me soon
)  The BBIER will run every Sunday for about 12 weeks, I hope you love it and please share your favorites too!
This feature was inspired by Food Network's "The Best Thing I Ever Ate" where chefs and restaurant owners explain the best they've ever ate from a certain type of food. Each week we will feature a group of bloggers and other book lovers that will give you their choice of the Best Book they've ever read in a certain category.
Today's category is Steampunk, here's our list:
Liza's Pick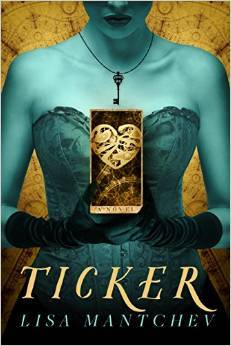 Ticker by Lisa Matchev  – Last year, my choice for steampunk was Levianthan (see below as Kelley has excellent taste :)), but I read Ticker a few months ago and I can't stop thinking about how great it is.  I adore the characters, the slow burning romance, the non-stop action and mystery of it all.  Oh, and how gorgeous is this cover?
Leviathan by Scott Westerfeld – It's the most imaginative version of a steampunk world I've ever seen (plus, it's illustrated)!
The Steampunk Chronicles by Kady Cross – is SO GOOD. The series grew on me – I didn't love the first book, but I really, REALLY liked the third and fourth books (the second one was pretty good). Her take on steampunk was probably my first or second experience with good steampunk. The Incarceron duology by Catherine Fisher is also excellent.
B's Pick (Liza's son and reviewer for Reading with ABC)
The Infernal Devices series by Cassandra Clare – I really enjoy this one, it's a mix of steampunk and fantasy/paranormal and that's probably why I liked it so much.  The character development and the plot are outstanding. Go, read it now!
What is the best steampunk you ever read?  Do you like steampunk? Why or why not?  Have you read any of these? Do you want to?