Hi there gorgeous people! Welcome to this year's The Best Book I Ever Read, I can't believe that this is the third year.
This feature was inspired by Food Network's "The Best Thing I Ever Ate" where chefs and restaurant owners explain the best they've ever ate from a certain type of food. Each week we will feature a group of bloggers and other book lovers that will give you their choice of the Best Book they've ever read in a certain category. I hope you get a lot of recommendations and that you comment with your own recommendations  🙂
Today's category is Paranormal/Urban Fantasy! 
Liza
Well, I had the two books that Alyssa mentioned below in mind, but fear not, I found some really good recommendations for you!  Charlaine Harris' Midnight series is a recent favorite of mine, based in sort of the same universe as her Southern Vampire series.  I really liked this one (will review it soon), it's a mix of mystery, spooky, paranormal rolled into amazing, complicated characters. Another favorite is the Sweet series by Wendy Higgins, angels, demons, hot drummers, what's not to like?
Bee
I don't read a lot of Urban Fantasy / Paranormal books, so it was actually pretty easy to choose for this category. I love both of these books, obviously. No explanation needed for Schwab's The Archived, I assume? Good. So Until Beth, then. I adore Lisa. Both as an author and a friend. In my totally unbiased opinion, this is a great book that you should read if you love this genre. In my intensely biased one, this book is fantastic and OMG WHY HAVEN'T YOU READ IT YET? So there. Go forth and read these books.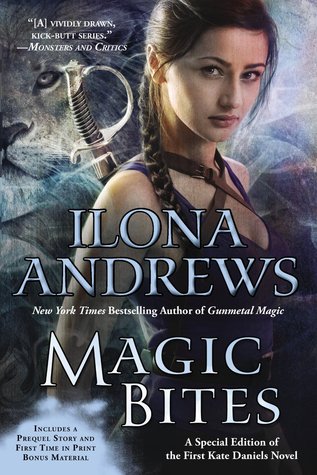 Kate Daniels series by Ilona Andrews
This was a really tough category for me because most of what I read falls in this section. I could probably list ten different series here and not touch all my favorite series. However, I think Kate Daniels has to be on the top of the list for many reasons. One, I just love the writing style of this writing duo. I love their ability to create some the most unique things in my head. They are so descriptive with their bizarre creatures that I really can see them in my mind, and that is scary as some of these creatures are pretty out of this world. The snark that comes out will make you laugh out loud, which can be completely inappropriate when you're listening to the audios. They can also make you cry.
The Others series by Anne Bishop; first book is Written in Red
Eva: So well written and captivating — a great story and completely unique.  Sucks you in and doesn't let you go all the while symbolizing amazing social commentary.
Nick: I'm new to this series, but I'm so obsessed! What I love most in this series besides the adorable and awkward relationship between Simon and Meg, is the dynamics between the humans and the supernatural creatures. Bishop has a realistic take on human behavior and I found myself being surprised by my reaction to the humans in this series.
Brigid Kemmerer's Elemental series. I loved all five books, but especially Storm! Still my favorite of the series. Hi Chris. 😉 In terms of urban fantasy, I loved Sarah Fine's Servants of Fate series! This is an adult urban fantasy series, and it's so good! Especially Fated. *happy sigh*
Do you read Paranormal/Urban Fantasy books?  Why or Why not?  What are your favorites? Have you read these?