Hi there gorgeous people! Welcome to this year's The Best Book I Ever Read, I can't believe that this is the third year.
This feature was inspired by Food Network's "The Best Thing I Ever Ate" where chefs and restaurant owners explain the best they've ever ate from a certain type of food. Each week we will feature a group of bloggers and other book lovers that will give you their choice of the Best Book they've ever read in a certain category. I hope you get a lot of recommendations and that you comment with your own recommendations  🙂
Today's category is Middle Grade! 
Liza
I do have a few MG books that I've read and enjoy.  One of these is Doll Bones by Holly Black, this one is a stand alone with a creepy premise, but done so very well, full of adventure and the realization of what it means to grow up.  Percy Jackson and the Olympians starts as a middle grade series since Percy is 12 when it starts.  I love mythology of any kind and the premise of a quest, of demigods, of oracles, fate and doing what's right.
Brian (Liza's son)
Origami Joda files by Tom Angleberger
I really like this series because it's funny, the pictures are great, the characters develop throughout the series and the appeal of them don't die down (as I get older).  I met the author two years ago and he signed and doddled all my books 🙂
Bee
I adore reading Middle Grade books for numerous reasons. Some of which I've listed here, along with all of my faves. My two top favorites as of right now, are My Seventh Grade Life in Tights by Brooks Benjamin – an outstanding MG Contemporary book – and Ferals by Jacob Grey – a fantastic MG Fantasy with a fairy tale/comic book vibe. Both I highly recommend you check out. Though Ferals has proven to be not for everyone as some of my friends didn't quite enjoy it as much as I did. So another awesome MG Fantasy you can check out is The School for Good and Evil by Soman Chainani. 🙂
The Blackwell Pages series by K.L. Armstrong and M.A. Marr
This is the only middle grade series that I've read as an adult. I'm a huge Kelley Armstrong fan, so I decided to try this. Based on Norse mythology, I really enjoyed it. It has a group of kids who are champions for the different Norse gods who have to fight in Ragnarok to help save the world.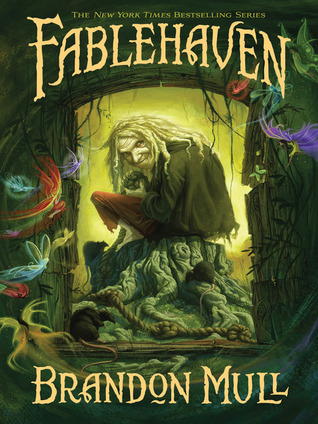 Fablehaven series by Brandon Mull
This series is probably overshadowed by Rick Riordan's books (which I LOVED), but I really enjoyed the Fablehaven series, when I was younger! I have all of them in paperback and still enjoy picking them up every now and then. The books are so wildly imaginative!
Do you read middle grade books?  Why or Why not?  What are your favorites?