Hi there gorgeous people! Welcome to this year's The Best Book I Ever Read, I can't believe that this is the third year.
This feature was inspired by Food Network's "The Best Thing I Ever Ate" where chefs and restaurant owners explain the best they've ever ate from a certain type of food. Each week we will feature a group of bloggers and other book lovers that will give you their choice of the Best Book they've ever read in a certain category. I hope you get a lot of recommendations and that you comment with your own recommendations 🙂 
Today's category is Fantasy! 
Liza
I'm trying to update my list guys so bear with me, I can honestly list 20 fantasy books for you without much effort! These are some of the best YA fantasy that I've read recently.  The Wrath & the Dawn by Renée Ahdieh was a masterfully written retelling of A Thousand and One Nights that is impressive in its characterization and beautiful prose.  Naomi Novik' Uprooted is an entirely original novel, with an amazing cast of characters, an intricate plot, and world building.  Finally, I have to mention Six of Crows by Leigh Bardugo it's a story of survival, love, revenge, politics, prejudice, friendship and betrayal; it has one of the most complicated plots ever and I love it all.
Rachel

I had the same problem as Liza! Although fantasy isn't the genre I tend to reach for, I have read a lot of fantasy books that I think were incredible. My standouts, however, are the Inheritance Cycle by Christopher Paolini (beginning with Eragon). This is a more 'traditional' epic fantasy with new realms, dragons, elves, dwarfs, magic, brewing political turmoil and incredibly detailed, poignant writing. Took my breath away and kept me enraptured no matter how long the sequels got (and they were long!). The Study series by Maria V. Snyder is another fantastic fantasy series, but it is more NA than other that I've read and has a romance that will curl your toes (in the a good way, of course). A strong female protagonist and cute, bantering best friends to boot too! My last choice is the Graceling Realm series by Kristin Cashore. This has a traditional medieval-like world but with Gracelings  – people that have one magically enhanced skill whether it be mundane (cooking, speed reading) or borderline-magical (mind reading, intense strength) – instead of dragons. It has fantastic protagonist, swoon-worthy romances, delicious plotlines and a writing style to die for. Each book in the series is a companion like Anna & the French Kiss – different protagonist, different storyline, but all three intertwining.
Bee
The first book that came to mind when I started thinking about the best Fantasy I've ever read was V.E. Schwab's Shades of Magic series. A Darker Shades of Magic was my second favorite book of last year and A Gathering of Shadows is already in the top 3 for this year. This series has everything a good fantasy series needs and you absolutely need to check it out. Magnificent writing, amazing world-building, fantastic characters and even hints of romance. This series has it all. GO READ IT!
Nick @ Nick and Nereyda's Infinite Booklist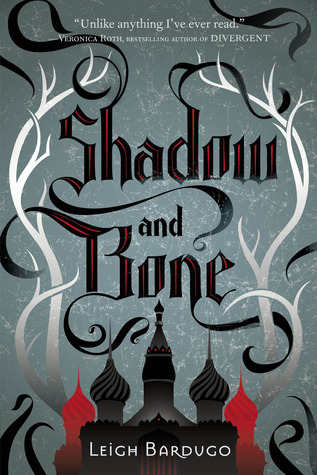 The Grisha Trilogy by Leigh Bardugo
The first book of this trilogy, Shadow & Bone was one of the very first YA fantasy books I had ever tried. I was hesitant to try the genre because of how complex the worlds sounded, but after reading several glowing reviews for this series from friends, I decided to pick it up and I fell in love with the genre. Each subsequent book in this series was stronger than its predecessor for me.
The Twelve Kingdoms series by Jeffe Kennedy
I haven't read many fantasy series, but this one has to top my favorite. It is very well written. Each book follows a different sister as they fall in love with their hero, but also have really though trials. There is action, adventure, romance, great characters, wonderful world-building, exceptional writing.
Fire by Kristin Cashore
This book will win anytime someone asks me what my favorite book is. It's fantasy, so by default, it's my favorite fantasy novel. I was barely a teenager when I read Graceling – and this book – and this series was one of the reasons why fantasy is my favorite genre, to this day!
Winter by Marissa Meyer- I mean, I LOVED the whole series, but I guess I loved Winter the most because it was the series ending. This series is completely amazing to me, and each book was better than the first. It's one of my favorite series <3
A Court of Thorns and Roses by Sarah J Mass- Like GAH I can't believe how obsessed I am over this book, even when I read it such a long time ago! It's just so dark and enthralling and magical… Seriously read this book.
Do you read fantasy? Why or why not? Have you read any of these? What are your recommendations for best fantasy?