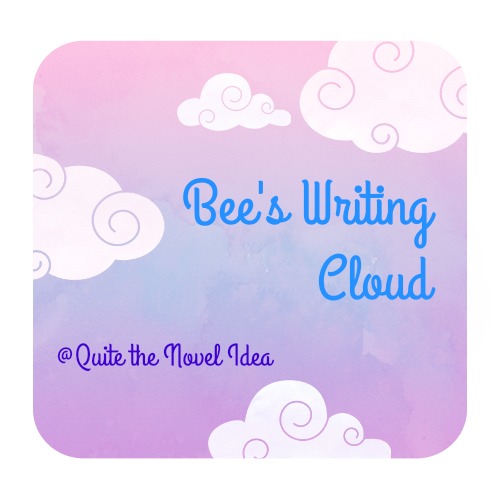 Hey there guys!
If you know me at all, you know I'm working on a (few) book(s) of my own and I like to talk about them with all of you by sharing snippets and whatnot. This is kinda like that, but not really. You see, my characters often distract me from my other duties by pestering me to work on their stories. It's quite annoying most of the time to be honest. But since I love my characters so much I wish they were real, and I want you guys to love them too, I decided to share a conversation I had with them not too long ago. It was late, because I get all my inspiration late at night (AKA that's when they bother me the most).
This particular conversation is between me, Eli (Three Seconds to Sunrise), Derek (3StS, Shatter this Starless Night) and Lia (Of Fire and Shadows). Hope you… enjoy? I guess?
~~~ ~~~ ~~~ ~~~ ~~~ ~~~ ~~~
Bee: *reading quietly in the living room at the table, laptop next to her*
Eli: *yells* BEE, BEE, BEE!
Bee: *looks up from book, sighing* What is it?
Eli: I want to work on my story! Can we? Please? Pretty pretty please with a cherry on top?
Bee: No. I am way behind on my TBR. I can't write right now.
Eli: Come oooon. You know you're going to say yes eventually. Might as well give in right now and spare us both the trouble.
Bee: …
Eli: You know it's true.
Bee: … Yeah. *puts book down, turns to laptop and starts writing*
Eli: NO, STOP! That's not how it goes Bee!
Bee: What are you talking about, of course it goes like this.
Eli: IT DOES NOT! Why would we kiss already if I've only just managed to talk to Jake? Seriously, you're going too fast.
Bee: But… but… but… You two are so adorable and cute and I just want you two to kiss already.
Eli: Of course we are and I do too, but it's too fast. You have to build it up more!
Bee: *reluctant* Okay then, but he does look at you like he wants to devour you.
Eli: *nods* That's highly possible. I mean, I did just give a rather brilliant performance, if I do say so myself.
Bee: I love how humble you are, Eli. Though you're right, it was rather magnificent.
Eli: I know, I'm fabulous like that.
Derek: Can you two shut up already? I'm trying to sleep.
Bee: DEREK! You want to work on your story too?
Eli: *pouts* but we were working on mine…
Derek: My what? *annoyed*
Bee: Hush, Eli. Your story! The one I'm working on. Sort of.
Derek: I don't need a story…
Bee: Yes you do! It'll be fantastic!
Derek: No thanks.
Bee: But you're getting a great romance! Oh, about that, turns out you're actually gay.
Eli: *falls to the ground laughing*
Derek: *high pitched voice* WHAT???
Bee: Yeah. It just kinda sorta happened like that.
Derek: WHY? ELI SHUT UP!
Eli: *still laughing like a crazy person*
Bee: I don't know, it just did!
Derek: Undo it then! ELI SERIOUSLY! SHUT UP ALREADY!
Eli: I'm trying *hiccups* I can't. It's too funny.
Derek: JUST STOP LAUGHING!
Eli: Oh god *hiccups* Mom and dad are going to love this. Two gay sons. *continues laughing*
Derek: I swear to god, if you tell them, I will kill you!
Eli: Oh no, you're telling them yourself. Just tell me when because you bet your ass I want to be there when you do. With a camera.
Bee: OH OH and you're never going to guess who you're going to end up with it's …
Derek: *interrupts her by putting his hand on her mouth* I don't want to know, because it's not happening.
Bee: *muffled voice* But it is. #sorrynotsorry
Eli: *resumes laughing* This is going to be awesome.
Derek: SHUT UP ELI!
Lia: Can you two keep it down? We're working on a top secret plan here that involves murder and destruction. And maybe cake.
Eli: *stops laughing* You're planning murder and destruction?
Lia: No, but it's going to happen. Can't avoid it.
Eli: No way around it?
Lia: Not a one.
Eli: Ames, can I call you Ames?
Lia: No.
Eli: Amy?
Lia: No.
Eli: Amelia? It's your full name, right?
Lia: Only if you feel like dying.
Derek: -snorts- As if you could win…
Lia: *turns to him, fire in her hand* Try me.
Eli: Woah there! Hold your fire! *turns to Bee* Get it? Cause there's fire on her hand? … Nevermind… *turns back to Lia* But seriously, Lia, why the murder? Can't you resolve this peacefully?
Lia: No. Besides, it's not like only the bad guys will die. One of my friends dies. His name is…
Eli: *interrupts her* WOWOHOW, no spoilers please?
Lia: Sorry. Bee, can we work on the plan? I really need to go save my brother.
Eli: No, we were working on my story!
Derek: … Whatever… I don't care.
Bee: … Uhm… *quietly backs away, trying to go back to reading*
Eli: DON'T RUN AWAY FROM US BEE! You know you can't escape. We live under your bed. If you try to run, we'll keep you up at night, whispering idea's in your ear.
Bee: You do that already!
Eli: Yes, but then we'll do it even more.
Bee: *gives up* Fine. We'll work on your story some more.
Lia: But mine after that, okay?
Bee: Yeah yeah… You wanna work on your story too, Derek?
Derek: No way. *leaves*
Lia: Awesome. I need to get back now anyway. See you later! *waves*
Bee: *resumes writing*
Eli: NO BEE THAT'S NOT WHAT HAPPENS!
Bee: IT'S MY BOOK!
Eli: *snorts* You keep thinking that if that'll help you sleep at night. Now delete that part and change it.
Bee: Ugh… Someone please save me!
~~~ ~~~ ~~~ ~~~ ~~~ ~~~ ~~~
And that's just one of the many conversations I've had with these guys. I love them to death, but they're quite a handful. Good think I have being a writer as excuse for all those voices in my head… Otherwise I'd be labeled as schizophrenic, I'm sure.
Hope you liked this! If not, don't tell me cause you'll break my heart. Or something like that.
Are you a writer? If so, do you sometimes have conversations with your characters like this?