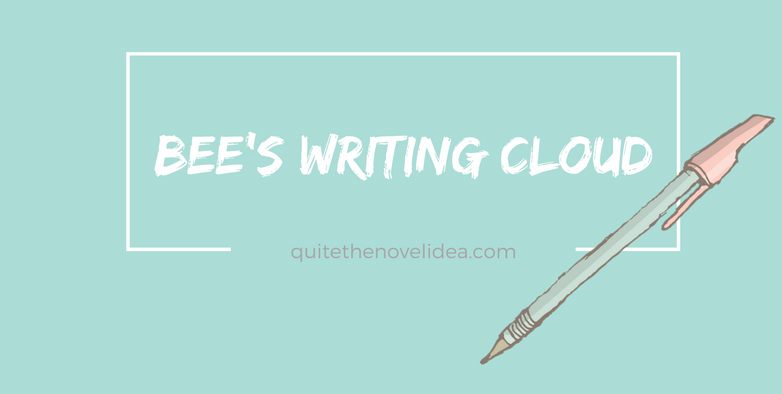 Hello my lovelies!
I found this one the fabulous Cait's blog and decided to steal it because I haven't talked about writing in SO long and I wanted to so here we are.
1. What genres, styles and topics do you write about?
OH DEAR. Well, I write mostly Fantasy or Contemporary. YA-ish? Like, the contemporary is YA for sure but in the Fantasy books the ages are often early twenties? And yet it still feels like YA? So who knows really. I'm prone to have male MC's because I do love those the most. And I write in 1st person POV. Always.
As for topics… I do have a few recurring ones.
People that are very different becoming friends or more. Opposites attract, friends. They just do.
LGBTQIAP+ main characters (and often romance)
MC's with mental health problems
In fantasy, of course, magic and powers and whatnot. Often elemental because #weakness.
In contemporary, I like to touch on heavier subjects like bullying, grief, abuse, etc…
I aim to make you cry often, but tend to try and end on a somewhat happy note so your feels aren't completely crushed?? I'm nice like that.
SIBLING LOVE.
Friendship goals.
Music! I love music and it often plays a big role in my books.
I also tend to always have nerdy characters that are all artsy and stuff. Because why not, I ask you. Though occasionally I have one that likes to do sports and stuff. I am not the boss of them, clearly.
All my contemporary books are in the same "universe". Like they all take place in the same town I made up and are intertwined and stuff. It's a whole shared universe thing. Like Marvel has but less cool and no Thor or Iron Man.
One of my projects is a fairy tale retelling anthology, like every book in the series is a retelling mix of two existing fairy tales or stories with new characters but they're intertwined a bit and in the same world. And also often genderbent. It's great fun.
And that's about it I think?? Who knows.
2. How long have you been writing?
Feels like forever, honestly. Hah. No but really I started with poems at around… 10 ish. Then did that for a long time. Went over to short stories and then shitty attempts at novels. And now here we are.
3. Why do you write?
To give my fingers some excercise?? IDK. I like it. It gives me a voice. It gives me a way to use all these ideas in my head. It's fun. Sometimes. Granted sometimes it gets busy in my head with all these characters. Or I have a mental breakdown occasionally when something isn't working out or I just can't write. BUT it's worth it, I think?? In either case…
4. When is the best time to write?
For me, morning or evening/night. That's when I get the most done.
5. Parts of writing you love/hate?
Love
I love getting new ideas and having new characters being born in my head and getting to know them.
I love writing the actual story! And outlining it! Seeing how it all just comes together in the end and fits like a puzzle.
I also kinda love editing and rediscovering my story?
Hate
When nothing seems to go well writing-wise
All the waiting, dude. So much waiting.
6. How do you overcome writer's block?
I listen to music, watch TV-shows, read books. Do anything else but write. I never force myself to write because it will not work. I just do anything else until inspiration hits me again. Basically just wait it out, dude. But I've learnt tricks over the years to speed up the process. Like what music to listen to or what TV-shows/movies to watch or which books to read.
7. Are you working on something at the moment?
YES. Several things actually. I have my Urban Fantasy story still going. It's called THE MONSTERS WE HIDE and it's set in an alternate version of Earth kind of. But it's set in New Orleans and is full of tragic, sad characters that are sometimes too stabby or shooty for their own good. It's a duology and my big passion project.
Next to that I also started my Beauty & The Beast meets Sleeping Beauty retelling titled ONCE UPON A DREAM and I AM ALL THE EXCITE. I will share more about this project in the future when I have snippets and such to share.
8. Writing goals this year?
Finish at least two first drafts.
Edit some of the ones I wrote last year after I've gotten feedback on them.
Find an agent??? MAYBE??
Become a bestseller and earn loads of money. Because obviously.
Have new ideas and meet new brain children because I do love them dearly.
AND THAT'S IT! Now I shall leave you. But what is that? Snippets you ask? WELL THEN. OKAY.
The Monsters We Hide
~~~~~~~~~~
~~~~~~~~~~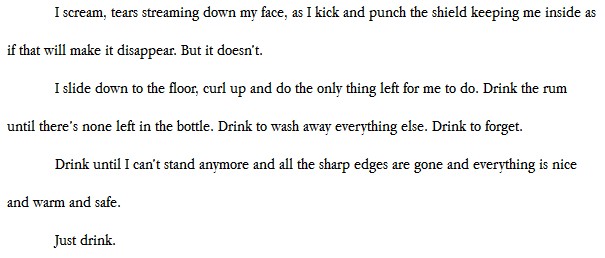 Once Upon a Dream
~~~~~~~~~~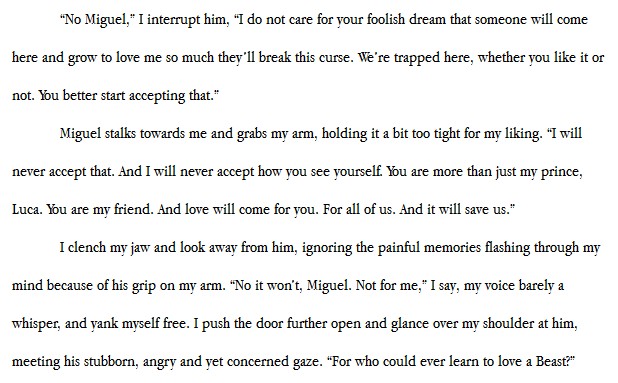 Now I'm done for real. Are you a writer person? Do you have anything writerly to share?? Or what do you think of my snippets? Tell me all in the comments and if you want to do the tag, consider yourself tagged!