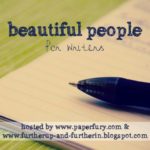 Beautiful People is a linkup hosted by Sky @ Further Up and Further In and Cait @ Paper Fury! It's aimed at writers so they can answer the questions about their characters and their books.
This month I'm talking about my new WIP Of Fire and Shadows, which is set in the urban fantasy world of Istyria and it's about people with powers called Gifted and an institute called Eclypse that has a very very evil secret agenda. I can pitch it as Six of Crows meets Steelheart + Vicious. It'll be grand fun. The main character, Lia, is being transported to Eclypse headquarters when a group of rogue Gifted called the Shades intercept them in order to resque her from a horrible fate. The character I'll be talking about in these questions is my lovely MC with her firey powers, Lia. Who kinda sorta looks like:
How often do they smile? Would they smile at a stranger?
Lia doesn't smile a lot since her brother was taken by Eclypse. Because of the rumors going around about that institute, she worries about him a lot. So she focuses on training her own powers and other skills and rarely has a reason to smile. When she meets the Shades, they loosen her up a bit. She would not smile at a stranger.
What is the cruelest thing they've ever been told? And what was their reaction?
Lia and her brother went through quite a lot of foster parents over the years and one of them told her they'd never find a home because they were cursed and unwanted. Lia kind of threw a tantrum, causing her and her brother to have to move again.
What is the kindest thing they've ever been told? And what was their reaction?
Her current foster mom told her she was a beautiful strong woman and that she loves her just the way she is. Lia and her brother were with them a year when he went away and Lia never considered moving in the three years he was gone.
What is one strong memory that has stuck with your character from childhood? Why is it so powerful and lasting?
Her brother used to tell her she could do anything she set her mind to and that he believed in her potential without a doubt. Her brother's faith in her is what moves Lia forward. It's what drives her to become stronger.
What book (a real actual published book!) do you think your character would benefit from reading?
Oh, gosh. Maybe the graphic novels from Avatar: The Last Airbender because it could teach her a few new tricks to try with her powers? Ahaha XD
Have they ever been seriously injured? How severely? How did they react?
At the start of the book, no. Nothing more than a few scratches and bruises from training on her own in the woods. She doesn't really care about it.
Do they like and get along with their neighbours?
Yes! She often stops to talk with them if she sees them. At least she used to before her brother left. She's more on her own these days, but is still friendly towards them.
On a scale from 1 to 10 (1 being easy and 10 being difficult) how easy are they to get along with?
I think once she trusts you, about 2 or 3. But Lia doesn't trust easily so before that, I'd say about 6 or 7. She's quite stubborn.
If they could travel anywhere in the world, where would they go?
In the fantasy world she lives in? She'd probably want to see the South Sea. Which doesn't really tell you much huh? 😛 The South Sea is a gorgeous blue ocean and you can compare the coast to ones of Italy or Greece. Like this:
Who was the last person they held hands with?
Her brother on the night Eclypse took him away.

Now on to Snazzy Snippets, hosted by Emily @ Loony Literate and Alyssa @ The Devil Ordes Takeout! I will be using snippets from the same WIP as above, Of Fire And Shadows. Now, I don't have a lot of snippets yet because I'm actually still outlining the story, but I did get a few bits in my head while doing that, as per usual. Luckily enough, I do have good snippets to share that fit the prompts. I'll also give a little context with the snippets. As much as needed anyway. Don't want to spoil anything after all.
Here we go!
1. A snippet that was difficult to write (define 'difficult' as you like!)
This darkness and the pit Lia speaks off in this snippet is something that hits very close to home for me, so it's kind of hard to write about. But also good at the same time. I can't really explain what got Lia to this point though, because spoilers. I can say that Benji is one of the Shades and her love interest.
2. A snippet you had a lot of fun writing
This is the first time we hear about the character Effie Valentine and it was fun to write because I know exactly why Benji & the Shades call her Effie F-ing Valentine. She's… hmm… Well, Effie Valentine is a murderous, tragic and utterly insane girl. You do not want to run into her. Trust me. Also, excuse these younglings for their language. Ahem…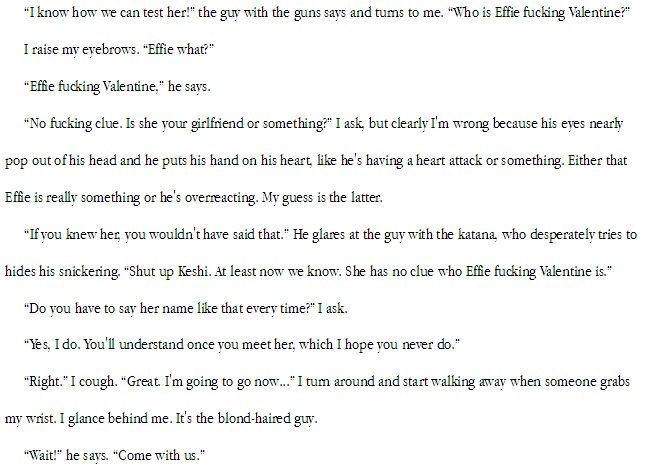 3. A snippet you plan to delete/significantly revise
I wrote this before I changed the world from Earth to the Urban Fantasy world of Istyria. So I need to change things in this snippet because the world & thus this whole scene around it changes.
That's it for this month! Next month I'll be back with another Beautiful People featuring the same WIP.
Tell me in the comments! Do you like the sound of this WIP? Would you want to read more? Are you working on something yourself?
Bee (born as Bieke) is 27 years old and from Belgium. (No she won't send waffles.) She's a strange, nerdy and anxious creature floating around somewhere on the ace spectrum. Oh, and she also writes books as Nelly B. Jones. Or tries to anyway. You can also find her on Novel Ink.