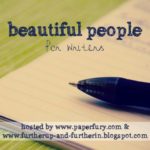 Beautiful People is a linkup hosted by Sky @ Further Up and Further In and Cait @ Paper Fury! It's aimed at writers so they can answer the questions about their characters and their books.
This month I'm letting the two MC's of my WIP Shatter This Starless Night answer the questions for me. They know themselves better than I do after all. This book is the follow up to Three Seconds to Sunrise and it's about Derek & Nic. Derek is the younger brother of Eli from Three Seconds to Sunrise and Nic is a friend of Eli's from college. Both are sad & tragic munchkins that I kinda adore a whole lot. I hope you do too. But Derek can be a bit cranky sometimes, so don't take it personally. OH and I also have a snippet for you all from this WIP. Enjoy, but first, visuals. Because it's nice to know how they look, no?
Nic ~ Derek
The picture for Derek is the one I chose for in Three Seconds to Sunrise, where he's 15 years old. In Shatter This Starless Night, he's 18 so he'll look slightly older than the boy in the picture.
And yes, Nic looks like Scott from Teen Wolf.
The floor is yours boys!
The Q&A with Derek & Nic
1) What is your first childhood memory?
Derek: Do we really have to do this?
Nic: Yes, now just answer the question.
Derek: *groans* fine. My first childhood memory… I was in the kitchen at the bakery, stealing cupcakes out of the fridge.
Nic: Aahhww. My first memory is my grandmother pinching my cheeks when she came for a visit all the way from Colombia. She always pinched too hard. My cheeks still hurt thinking about it.
2) What were your best and worst childhood
experiences?
Derek: Best? I don't know, it's hard to choose between my dad ignoring me all the time and my dad looking at me like I'm an alien with flaming boobs doing a beyonce dance.
Nic: Now there's an image. Don't you have any good memories?
Derek: *Sighs* I guess there's that one time I spent an entire afternoon with Gran working in her garden. That was kinda nice… *shrugs* And you?
Nic: Best memory is when my foster moms became my official foster moms. The worst is… the reason I needed foster moms. I don't want to talk about it.
3) What was your childhood home like?
Derek: Same as the one I live in now. It's a nice, normal house. I guess. Rose Bay is boring as hell though.
Nic: I grew up in a townhouse in Queens. Lots of different cultures in that neighborhood. Lots of yelling everywhere. But I did love that house. It had lots of old, pretty details.
4) What's something that scared you as a child?
Derek: Clowns. Can't stand them. They freak me out. They're weird.
Nic: I second that. But also dolls. They just sit there… and stare at you. With their cold, dead eyes. Like they're plotting to kill you in some horrible, gruesome way. *shudders*
5) Who did you look up to most?
Derek: I don't know… I guess I kinda looked up to my brother Eli. And if you ever tell him that, I will kill you.
Eli (in the background): I heard that!
Derek: *grumbles* Dammit… He'll never let that one go…
Nic: *clears throat* Anyway, I always looked up to my English teacher, who is now my foster mom! She's really awesome.
6) Favourite and least favourite childhood foods?
Derek: Least favorite… I hate Brussels Sprouts. They're so gross. Favorite is still pizza. Always pizza. With bacon and mushrooms and extra cheese.
Nic: I never really liked any spicy foods. So no to that. My favorite was donuts. I always craved donuts. There was a period of time where I didn't want anything else for breakfast but donuts. But now I want that pizza…
7) If you had your childhood again, would you change anything?
Derek: Knowing what I know now? *glances at Nic* No way in hell.
Nic: *blushes* Eh… Well. *coughs* I wouldn't. I wish things would've gone differently, but in the end… I'd do it all over again.
8) What kind of child were you? Curious? Wild? Quiet? Devious?
Eli: *jumps in* Derek was moody as hell. All the time. I'm still not used to seeing him smile.
Derek: Shut up, Eli.
Nic: I was kind of quiet as a kid. I figured some things out early on and it was kind of frowned upon in our community. To put it lightly.
9) What was your relationship to your parents and siblings like?
Derek: I love my mom. Hate my dad. Eli and Emma are… I could do worse.
Eli: Ahhw that warms my heart. Love you too, bro.
Derek: *pushes Eli away* shut up. Let Nic talk.
Nic: I don't have any siblings. And I never felt comfortable around my parents. I do love my foster moms though. They're the best.
10) What did you want to be when you grew up, and what did you actually become?
Derek: I started working in the auto shop in town when I was fourteen. Still work there now. I like it, it calms me down.
Nic: I always wanted to be a musician. My other foster mom is a music teacher and she taught me how to play keyboard. She helped me get into SUNY. That's where I met Eli.
Derek: So are we done now?
Yes, that's it. You're free to go.
Derek: Great! *grabs Nic's hand* Come on. We need to go.
Nic: Go where?
Derek: Eat donuts and pizza. Just go with it. *drags Nic out of the room*
Well then…
Eli: So rude. Cake? *offers cake*
Don't mind if I do! You guys go ahead & read the snippet below while I devour this cake with Eli.
The Snippet
This is a snippet between Nic & Derek, obviously. It's from Nic's POV.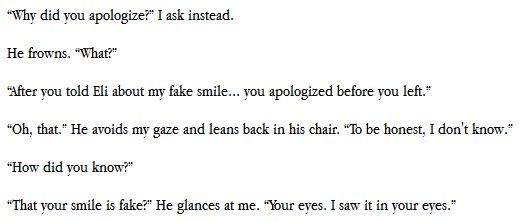 Hope you liked it! Let me know in the comments & don't forget to link me to your beautiful People post if you made one so I can comment back!