Jerkbait
by
Mia Siegert
Published on
May 10th 2016
by
Jolly Fish Press
Genres:
Young Adult
,
Contemporary
,
LGBT
Format:
eBook
Source:
Purchased
Amazon
|
Goodreads
Even though they're identical, Tristan isn't close to his twin Robbie at all—until Robbie tries to kill himself.

Forced to share a room to prevent Robbie from hurting himself, the brothers begin to feel the weight of each other's lives on the ice, and off. Tristan starts seeing his twin not as a hockey star whose shadow Tristan can't escape, but a struggling gay teen terrified about coming out in the professional sports world. Robbie's future in the NHL is plagued by anxiety and the mounting pressure from their dad, coach, and scouts, while Tristan desperately fights to create his own future, not as a hockey player but a musical theatre performer.

As their season progresses and friends turn out to be enemies, Robbie finds solace in an online stranger known only as "Jimmy2416." Between keeping Robbie's secret and saving him from taking his life, Tristan is given the final call: sacrifice his dream for a brother he barely knows, or pursue his own path. How far is Robbie willing to go—and more importantly, how far is Tristan willing to go to help him?

Right now I'm looking very hard for reasons why I shouldn't just give this book 5 stars and be done with it. Is it flawless? No. Are those flaws good reasons to lower my rating? Also no. Because I just loved this book so very much. So 5 stars it is.
After a slur of disappointing and pretty-good-but-not-great books, I really needed a book that just blew all of them out of the water. I needed something great. I should've known that a LGBT book would do the trick. They usually do for me. But this one, this one is special. Is it on Simon VS level? No. But I don't think any book can reach that one for me. But Jerkbait does deserve a spot on my all-time faves list right next to it and The Serpent King. Because that's how much I loved it. Now maybe I should tell you why, huh?
First off, this is a debut novel. No, correction. This is an impressive debut novel. Because it handles SO many tough topics and does it effortlessly. This book touches on things like teen suicide, bullying, homophobia, abuse, internet predators,… But they never make the book feel too heavy or sad. And I applaud Mia for that because that's a very hard thing to do. The writing is great. The conversations feel natural and real. I was SO excited to read this book and I'm glad I was finally able to. I can't wait to see what this author brings us next.
Let's talk characters, shall we? Before I jump to my favorites, I have to note some things that kind of irked me. Robbie & Tristan's parents were absolutely horrible like 80% of the time. They ignored some pretty bad stuff for the sake of Robbie's career. And I just feel like they made a complete 180 quite suddenly near the end. It just felt weird to me. I hated Heather and I want to punch her so hard. I loved the friendship between Craig and Tristan, totally a BROTP for me. But I wished I'd seen more of Craig, same with Raiden. I also loved Keisha. Her romance with Tristan was unexpected but executed very realistically and it just felt very natural.
Did I get everyone? Okay. Now the twins. I adored these two. Robbie and Tristan are twins, but they're very different from each other and they don't have much of a connection at first. I loved seeing how they grew together and how they bonded throughout the story. And I was absolutely giddy to see how connected they were by the end of it all. This made me want to have a twin, which I think is not possible anymore by now. Anyway. Tristan was the perfect choice to tell this story. At first I kinda wanted a second POV, Robbie's, but at the end I think it was good that it's only Tristan's. Because I loved going through this story with him and a second POV would probably have weighed down this book. But man, that cafetaria chapter around the middle. That got me. I was full on crying, tissues in hand. So be warned.
In the end, Jerkbait is one of my highlights of the year so far, which I'm insanely happy to say because Mia is awesome and I love her. I highly recommend this book if you love YA Contemporary. So go read it at your earliest convenience.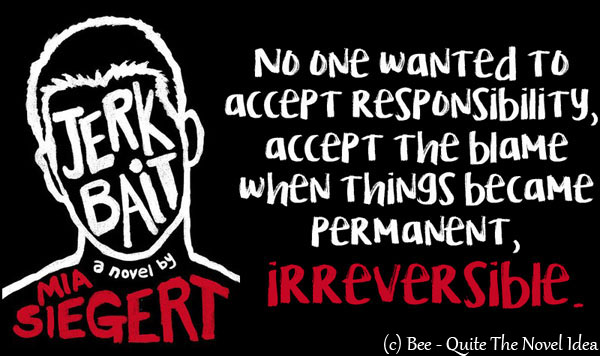 Interview
When did you start writing?
Mom said I started writing plays when I was three and would have my pre-k class perform them. When I was 13, I started writing fanfic. I had no clue that I wanted to write professionally until I was 19. Then it was a whirlwind.
How did the story of Tristan and Robbie come to be?
I wrote a short story called "Jerkbait" that was significantly different than the now novel (See it on Wattpad). I was listening to "Ny Batteri" by Sigur Ros on repeat for hours and I thought about this line (loosely translated: "the barbed wire in my mouth cuts up an old, rusty wound.") I thought about fishing and lip piercings and jerkbait, which is a type of lure.
Years after writing the story, I thought perhaps it could be a novel. On the spot, though, I realized the short story wasn't what I needed to tell. I made huge changes for what they did (originally Tristan played lacrosse and Robbie was an artist although their personalities remained the same). When I started writing it, I was still recoiling from a toxic friendship that abruptly ended and, unfortunately, twelve years later I'm still not over it (we were REALLY tight). As I wrote about that story (which turned into Tristan and Heather), I thought about a scary experience I had meeting an online predator when I was sixteen (that's not quite as traumatic as in the book).
I've received some fair criticism about the inclusion of that, but that was something I needed to do for myself as a person rather than myself as an author. If I spoke out sooner about how "off" that boyfriend seemed, there's a chance someone would have stepped forward sooner and he would have gone to jail sooner, or perhaps stayed in jail. I hope readers will forgive me for that because in real life, that's something I can't forgive myself for.
I think you're very brave to put so much of yourself into your book! What's your favorite scene in JERKBAIT?
The cafeteria scene. That's the one to keep tissues on hand for. 🙂
YES! That's my favorite scene too! Definitely needed tissues. Can you describe JERKBAIT in one sentence?
Estranged hockey-playing, identical twins who battle each other off the ice to become individuals with a side of this-book-punched-me-in-the-throat.
Jup, that about sums it up perfectly. Now a flashround!
Coffee, Tea or Hot Chocolate? Vanilla Chai Tea Latte with nonfat milk and cinnamon on top.
Favorite Junkfood? Coke.
Physical Copy or eBook? eBook because of space restrictions (I rent a tiny room so not a lot of space!) and the notes feature
Favorite color? Gray
Favorite Genre to Read? Literary fiction and thriller. Actually anything as long as it's gritty.
Any advice for aspiring writers and/or people in a situation similar to Tristan and/or Robbie?
To aspiring writers: listen to advice from people who really know their stuff, not just random internet forums. You'll see what rings true to you. Don't wilt when someone's trying to help you.
To people who identify with Tristan: You WILL be noticed. Stay true to yourself. Do what you love. See a guidance counselor. You are an individual.
To people who identify with Robbie: There are tons of organizations for support. Online you've got a wealth of information and support groups but PLEASE be careful of who you meet (if you do meet, make sure many people know when/where and that it's a public place). If you're an athlete, contact You Can Play–they WILL help. If you have suicidal thoughts, there are tons of suicide hotlines and organizations that can help you, 100% confidential. You WILL be safe. Trust the process. You WILL be safe.
Thank you so much Mia! Can't wait to read your next book.