Scarlett Epstein Hates it Here
by
Anna Breslaw
Published on
April 19th 2016
by
Razorbill
Genres:
Young Adult
,
Contemporary
,
Romance
Format:
eBook
Source:
Purchased
Amazon
|
Goodreads
Meet Scarlett Epstein, BNF (Big Name Fan) in her online community of fanfiction writers, world-class nobody at Melville High. Her best (read: only) IRL friends are Avery, a painfully shy and annoyingly attractive bookworm, and Ruth, her weed-smoking, possibly insane seventy-three-year-old neighbor.

When Scarlett's beloved TV show is canceled and her longtime crush, Gideon, is sucked out of her orbit and into the dark and distant world of Populars, Scarlett turns to the fanfic message boards for comfort. This time, though, her subjects aren't the swoon-worthy stars of her fave series—they're the real-life kids from her high school. And if they ever find out what Scarlett truly thinks about them, she'll be thrust into a situation far more dramatic than anything she's ever seen on TV…
So this was quite a disappointment. After seeing so many positive, and even raving reviews, I expected to love it. Not only because everyone else seemed to, but also because by all standards, I should love this. The genre & the blurb both indicate that this is the perfect book for me. But in the end, I just didn't get it. I liked parts, but mostly it was a big pile of meh.
Meh books irritate me the most of all. I hate feeling indifferent about something. Mainly because it's very hard to write down your feelings about that thing. In this case it's a book. Writing a review for a meh book is so very irritating. Because I didn't hate this book, so I can't rant about it. But I also didn't love or particularly like this book either. I liked Ruth the most, she was awesome. And I give it points for the diversity sprinkled in. But I never saw any of the feminism everyone raves about. And I kind of fell asleep during the fanfic snippets from Scarlett. And I didn't like Scarlett herself. And I couldn't stand Gideon. And at first this was funny, but then it wasn't. Comedy is very subjective though, so. The plot, to me, also got very confusing near the end and I wasn't quite sure what was happening anymore.
So yeah. Majorly disappointed with this one. Sigh. Oh well. I'd say try it because most likely I'm a black sheep here.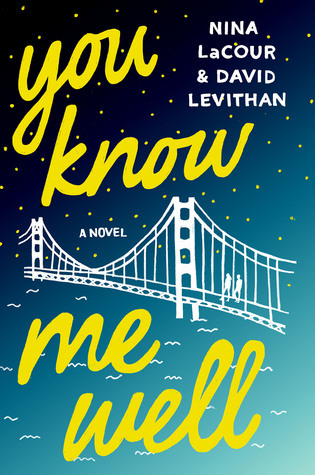 You Know Me Well
by
David Levithan
,
Nina LaCour
Published on
June 7th 2016
by
St. Martin's Press
Genres:
Young Adult
,
Contemporary
,
Romance
,
LGBT
Format:
eARC
Source:
Netgalley
Goodreads
Also by this author:
Will Grayson, Will Grayson
,
The Twelve Days of Dash and Lily
Mark and Kate have sat next to each other for an entire year, but have never spoken. For whatever reason, their paths outside of class have never crossed.

That is until Kate spots Mark miles away from home, out in the city for a wild, unexpected night. Kate is lost, having just run away from a chance to finally meet the girl she has been in love with from afar. Mark, meanwhile, is in love with his best friend Ryan, who may or may not feel the same way.

When Kate and Mark meet up, little do they know how important they will become to each other -- and how, in a very short time, they will know each other better than any of the people who are supposed to know them more.

Told in alternating points of view by Nina LaCour, the award-winning author of Hold Still and The Disenchantments, and David Levithan, the best-selling author of Every Day and co-author of Nick and Norah's Infinite Playlist (with Rachel Cohn) and Will Grayson, Will Grayson (with John Green), You Know Me Well is a deeply honest story about navigating the joys and heartaches of first love, one truth at a time.
I received this book for free from the publisher or author in exchange for an honest review.
This does not affect my opinion of the book or the content of my review.
WELL THEN. I am one disappointed little munchkin, I can tell you that. This was not a good introduction to David Levithan or Nina LaCour at all. This story had so much potential, but ultimately, it kinda fell flat for me.
The basic premise sounds awesome, because it is. I loved the whole idea. It's just the execution that didn't quite work out for me. The friendship between Mark and Kate started rather suddenly. It went from zero to 100 just like that and it wasn't really believable. Also, on that note, some of their reactions to things that happened and some of the things they did weren't all that believable either. It was also very short, my eARC only counted 170 pages. But the thing that annoyed me the most was that it's double POV but there's never any indication as to who's talking at the start of each chapter. The voices were very similar on top of that so it was very confusing most of the time. Especially since both were told from 1st person. So yeah.
It gets points for the diversity, but that's about it. Sorry. I wish I loved this more.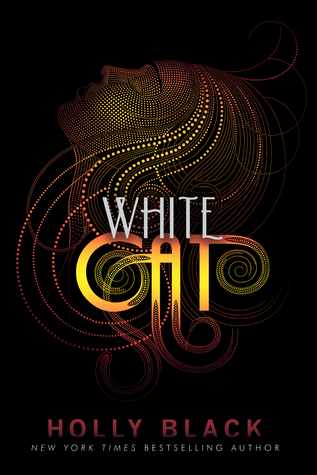 White Cat
by
Holly Black
Series:
Curse Workers #1
Published on
May 4th 2010
by
Margaret K. McElderry Books
Genres:
Young Adult
,
Paranormal
Format:
eBook
Source:
Purchased
Amazon
|
Goodreads
Also by this author:
The Coldest Girl in Coldtown
,
The Coldest Girl in Coldtown
,
The Cruel Prince (The Folk of the Air, #1)
,
The Wicked King (The Folk of the Air, #2)
,
The Queen of Nothing (The Folk of the Air, #3)
Cassel comes from a shady, magical family of con artists and grifters. He doesn't fit in at home or at school, so he's used to feeling like an outsider. He's also used to feeling guilty; he killed his best friend, Lila, years ago.

But when Cassel begins to have strange dreams about a white cat, and people around him are losing their memories, he starts to wonder what really happened to Lila. In his search for answers, he discovers a wicked plot for power that seems certain to succeed. But Cassel has other ideas and a plan to con the conmen.
Okay, so I'm very confused now. I mean, I kinda had high expectations going into this one because lots of people love it. And seeing as how I loved The Coldest Girl in Coldtown, I was ready to love another Holly Black book. But I didn't. And I did at the same time. Does that make sense? Probably not.
I loved…
~ … how family is so important in this book. I loved that this particular family was messy and kind of broken and unstable, but Cassel was still loyal to them. I also loved Cassel's bond with his grandfather.
~ … the cons. I'm a big fan of heists and cons in books. Probably because I'm not clever enough to do things like that myself. (So don't expect a heist/con book from me any time soon.) The cons in this book were clever and I just really enjoyed them.
~ … Cassel & friends. I loved Cassel and his friends Sam and Daneca. I loved how smart Cassel was and how he was able to figure things out and use his weakness to his advantage. And he's funny. I appreciate humor. I also loved how he formed a real friendship throughout the book with two awesome characters that I really want to get to know better.
~ … the story overall. It's a very interesting story that had me hooked the whole time. I constantly needed to know what happens next. I wanted to know what was going on. Also, there were a few very great WTF moments.
I didn't love…
~ … how confused I was throughout the whole thing. I was constantly SO confused. I had no clue what was going on and I'm still not quite sure. This might be just me though? In any case, it really stopped me from truly loving this book to pieces. Which is very annoying.
So I'm mildly disappointed this didn't blow me away, but I'm glad I read it all the same. If you are a fan of Holly Black and, somehow, you haven't read this book yet, you should! If you love heists & cons like me, also check this out. If you love urban fantasy, kind of dark stories also check it out. You should read it, is what I'm saying. Maybe you can explain everything to me afterwards cause I still have no clue.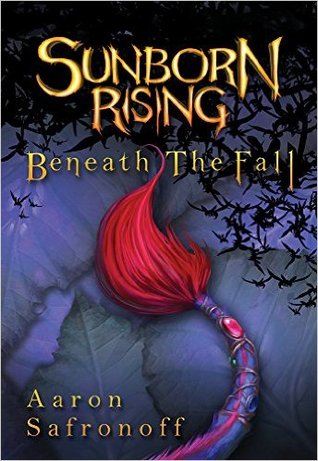 Sunborn Rising: Beneath the Fall
by
Aaron Safronoff
Published on
April 15th 2016
by
Neoglyphic Entertainment
Genres:
Middle Grade
,
Fantasy
Format:
ARC
Source:
Author
Amazon
|
Goodreads
On a distant world of forests floating on an ocean around a star, a blight threatens to plunge all life into darkness.
But three friends seek the light.
Together, they will Fall and be lost.
And at the very Root of darkness, they will find themselves.
But will it be enough to help them find their way home?

The World of Cerulean
Light and water flow from the ocean into the roots of the Great Trees, up through the boughs, and out over the lush canopies. But the once vibrant treescape has grown dim over generations of arboreal life, and the creatures of the forest have forgotten the light.
Barra, a young, willful Listlespur, finds her late father's hidden journal, and reads about the old world and the mysterious plague her father believed destroyed it. He wrote that he warned the Elders. He urged them to take action. Those were his last words.

Together with her two best friends, Barra will explore every bark, wood, and leaf of the Great Forest to relight her world and complete her father's story, even if she has to travel beneath the Fall.
I was very lucky to have received a physical review copy of this book, so first off, I want to thank the author for being so kind and generous to send it to me. I enjoyed this book a lot, but I think most of that is because of the artwork in it.
This is an original story and I greatly admire all the work that was put in this book. From what I understand there is even more to come so the readers can really dive into this world. And that's good, because the world is definitely one I wish to explore more. I also enjoyed the characters and the friendships in this novel. The writing was solid, sometimes a bit too simple, even for a middle grade, but I can look past that.
But while the writing was sometimes a bit too simple, the story itself never was. At times it was a bit more YA than middle grade and I'm not sure what the intended audience for this one is anymore. Which also brings me to the artwork. It IS gorgeous and I could show you pictures, but they won't do it justice. It adds a lot to the story and is the main reason why I can look past the sometimes simple-ish writing. It helped me dive into the world that much more. I'd even say the artwork alone is reason enough to pick it up.
I know this short review feels all over the place, but so do I. I'm a bit disappointed I didn't love this more, but I enjoyed this, and it's worth picking up, for sure. So I'll leave it at that. If you like YA/MG Fantasy, try this one out. I hope you enjoy it!