Okay, before you all come at me about the title, this is NOT a post about how to overcome mental health problems indefinitely. It's just a post about how to work through them so you can go back to enjoying your hobbies after being stuck in a slump because of said problems. Just so there are no misunderstandings, alright? Alright.
As you all know, I've been a bit absent in the blogosphere lately. Well… a lot, actually. I went on a blogging vacation, after talking about it with my awesome cobloggers of course. Luckily they're all the best and they have my heart so they were okay with it. But why this vacation? I was stuck. Plain and simple. Ever since I went into the intense mental health therapy treatment at the hospital, reading and blogging took a backseat, as did writing. I just didn't feel inspired anymore or I didn't have time. And then my new education started up in October and it got even worse. Of course I attempted comebacks but alas. No luck. So I made the decision to go on a vacation from blogging until I found my mojo again. Which I think I might have done now.
So here I am once more. And I'm hoping I'll be around for a while now. I'm slowly starting things back up and I knew I just had to make a post like this for anyone that might be in a similar situation and has no clue what to do. Because I know it sucks to not be able to do your hobby anymore. I know you can feel like you're letting people down and disappointing them. I know that fear that people will forget you. And I know that urge to just get back into it but not being able to and how much that hurts. I just want you all to know, I'm here for you if you want to talk. I always will be. I know huge, awful book slumps and I know mental health problems. They're like this void you get sucked into that you desperately want to get out off. And you can! But you have to be patient. So here are a few tips.
1. Take a step back & give yourself a break
The most important thing I did while in the midst of my Big Sucky Slump, is take a step back and give myself a break. I didn't like the fact that I had to do it. But I did it anyway. Because that's what I needed. Focussing on doing what I wanted to do but no longer could was stressing me out way too much. Which isn't healthy in normal situations but then I found out that I'm pregnant and I just had to take a step back for the sake of my unborn daughter. So I KNOW it sucks to take a step back but allow yourself to take a break from things until you recover. Your mental health is more important. A book slump will pass eventually. Just give it time, alright? Give yourself some time.
2. Focus on other hobbies
What do you do when you can't turn to your #1 hobby to pass the time? You take a look back at some of your other hobbies, some of which you might not have done in a long while. I went through several things. Being artsy (colouring, painting,…) or being creative (bullet journaling, knitting, crochet,…) but eventually ended up at a long lost hobby of mine: gaming. I borrowed my boyfriend's spare Nintendo 3DS, got some games from my best friend and started gaming again. And it helped! I wasn't stressing about reading or blogging anymore at all and I was just enjoying having my brain quiet for a bit while I played games. I admit, at times it got a bit too intense and I needed to go back and focus on other hobbies just to stay sane, but it helped either way.
3. When the urge to read/blog is too strong, take it slow!
At one point during your break the urge to read or blog will be too strong to resist and you desperately want to dive back into things. And that's good! Very good, even! But don't be too hasty. Allow yourself to get back into it slowly. Start with participating in a meme or doing a recap of what you've been doing these past weeks/months. Re-read an old favorite that you KNOW won't disappoint you. There's nothing worse for your slump than reading a book that you end up not liking at all. So take it easy. There's nothing wrong with re-reading. In fact, a lot of people LOVE getting to revisit favorites and falling in love with them all over again. I try to re-read my faves regularly. At least once a year. So give it a try if you really feel like getting back into things.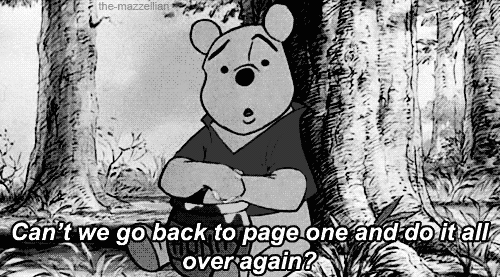 4. Talk about it!
Nothing is more important than a good support system around you. Have people around that get you and have your back and are there for you in your time of need. I have an awesome best friend that distracts me regularly by taking me to see a movie in the movie theatre or just chatting with me about everything and nothing. She's there for me when I need her and I am ever so grateful for that. I also have my amazing, fantastic, wonderful boyfriend. He knows me so well and I love him so much it sometimes overwhelms me. I've never had anything like this before and it's such a relief to have a significant other that cares about me and helps me however he can. I don't know what I'd do without those two people and I would've been lost without them these past few months.

Do you have any other tips to deal with mental health problems/book slumps? If so, drop them in the comments!