Tell Me Three Things
by
Julie Buxbaum
Published on
April 5th 2016
by
Delacorte Press
Genres:
Young Adult
,
Contemporary
,
Romance
Format:
eBook
Source:
Purchased
Amazon
|
Goodreads
Also by this author:
Tell Me Three Things
,
What to Say Next
Everything about Jessie is wrong. At least, that's what it feels like during her first week of junior year at her new ultra-intimidating prep school in Los Angeles. Just when she's thinking about hightailing it back to Chicago, she gets an email from a person calling themselves Somebody/Nobody (SN for short), offering to help her navigate the wilds of Wood Valley High School. Is it an elaborate hoax? Or can she rely on SN for some much-needed help?

It's been barely two years since her mother's death, and because her father eloped with a woman he met online, Jessie has been forced to move across the country to live with her stepmonster and her pretentious teenage son.

In a leap of faith—or an act of complete desperation—Jessie begins to rely on SN, and SN quickly becomes her lifeline and closest ally. Jessie can't help wanting to meet SN in person. But are some mysteries better left unsolved?

Julie Buxbaum mixes comedy and tragedy, love and loss, pain and elation, in her debut YA novel filled with characters who will come to feel like friends.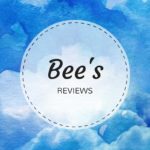 So yeah, wow. This I did not expect. I discovered this little book quite a while ago after a blogger friend read it and flailed about it on Goodreads. So I added it, but hey, I'm broke so I didn't expect to read it any time soon. Then more reviews came in. All super positive. And I got scared. Because I haven't had very good luck with YA Contemporary books that everyone loves. BUT. Then I saw three reviews in a row that said it's perfect for fans of Simon VS The Homo Sapiens Agenda. And I'm kinda of a mild fan of that book, as you may know. *cough* So I got a copy and read it and here we are.
First off, how accurate is that recommendation? I feel like I need to talk about it since, you know, I'm kind of the resident expert on Simon VS. I also tend to pop up in random conversations on the TwitterVoid whenever someone mentions Simon or Oreo's. All in all I have been very subtle with my love for that book, I'm sure. Anyway. Tell Me Three Things. Yes, this recommendation makes sense. It has that same mystery element where the MC is talking with someone through e-mail or IM's but has no idea who that person actually is. It also deals with some tough topics without making the book too heavy. The writing style also feels effortless, much like Becky's writing did. I would say you might like Tell Me Three Things more if you're more into the standard contemporary, as this one had a tad more drama. For me? Well, it's up there with my top favorite books, but doesn't quite touch Simon VS. Obviously. So yes, if you liked Simon VS, you should check this one out.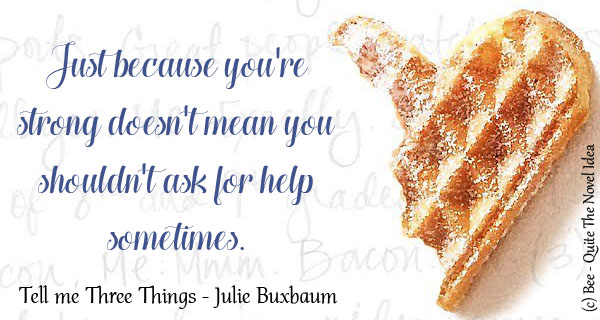 As I said, the writing feels very effortless. It hooked me right away and after the first chapter, I knew I was going to love this book. I loved the instant chemistry between Jessie and SN. I loved the humor in this book. I loved how Julie managed to use texting and e-mailing in her book and made it so real and natural. Honestly, this book was very easy to read and it made it supereasy for me to relate to Jessie. I've been through similar things she has. Losing a loved one and bullying being the biggest ones. Yes, I have a stepdad like she has a stepmom too, but luckily, my stepdad is awesome and has become my dad, period. So I really understood how she felt throughout this book. In hindsight, I shouldn't have started reading late at night. Because I ended up just reading it in one sitting, finishing at 3am because I just HAD to know who SN was. Also, it was so cute and adorable at times, seriously, my heart couldn't take it.
I do think the bit of drama near the end felt a bit too much. Some of the high school drama Jessie goes through felt a bit over the top and a tad unrealistic. But hey, I don't live in California, so for all I know teens are really like that over there. I'm very out of touch with how popular teens act these days. I also would've liked to have seen SN and Jessie more as a couple after Jessie finds out who he is at the very end. Maybe that's why I love Simon VS more? Because it showed Simon and Blue as a couple the last few chapters. This one didn't have that.
I loved all the characters. I loved Jessie's friend Scarlett. I loved the friends Jessie made in her new school Adrianna and Agnes. I also kind of liked Liam, one of the possible options for who SN was. I adored Ethan right away. And then there's Theo, Jessie's stepbrother. Theo started out as an asshole, much like my biological father, whom he shares his name with. But this Theo redeemed himself and I warmed up to him rather quickly. I liked Jessie's dad and eventually Rachel, his new wife. I also loved Jessie as a protagonist. It was easy for me to relate to her and I rooted for her immediately.
The identity of SN isn't revealed until the very end and there were three possibilities. Ethan, Liam and Caleb. I knew/hoped it was one of those three right from the start and I ended up being right, so huzzah! It had me cheering and flailing in bed at almost 3am. Yeah, I was scared this would turn out as a love triangle, but it doesn't. Absolutely not. Anyway, the reveal of SN's identity was absolutely adorable. But like I said, I would've liked to have seen Jessie and SN as a couple after the reveal and I didn't get that. It just ends. Which made me sad. Because I wanted more. Also, Jessie's favorite word is Waffle and I have to point out that my CP and dear friend Lisa always calls me Waffle because I'm from Belgium. So really, I was destined to love this book.
Tell Me Three Things is a fantastic YA Contemporary book that you absolutely have to check out. It's funny, touching, adorable, sweet, feelsy and just a must-read in general. Go read it, asap.