How to Repair A Mechanical Heart
by
J.C. Lillis
Published on
September 21st 2012
by
CreateSpace
Genres:
Young Adult
,
Contemporary
,
Romance
,
LGBT
Format:
eBook
Source:
Purchased
Amazon
|
B&N
|
BookDepository
|
Goodreads
Eighteen-year-old Castaway Planet fans Brandon and Abel hate bad fan fiction—especially when it pairs their number-one TV crushes of all time, dashing space captain Cadmus and dapper android Sim. As co-runners of the Internet's third most popular Castaway Planet vlog, they love to spar with the "Cadsim" fangirls who think Cadmus will melt Sim's mechanical heart by the Season 5 finale. This summer, Brandon and Abel have a mission: hit the road in an RV to follow the traveling Castaway Planet convention, interview the actors and showrunner, and uncover proof that a legit Cadsim romance will NEVER, EVER HAPPEN.

A Brandon and Abel romance: also not happening. Brandon's sick of his struggle to make "gay and Catholic" compute, so it's safer to love a TV android. Plus Abel's got a hot new boyfriend with a phoenix tattoo, and how can Brandon compete with that? But when mysterious messages about them start popping up in the fan community, they make a shocking discovery that slowly forces their real feelings to the surface. Before they get to the last Castaway Planet convention, Brandon's going to find out the truth: can a mechanical heart be reprogrammed, or will his first shot at love be a full system failure?

WELL THEN. I've had this book in my Kobo for months now. MONTHS. Ever since I saw Becky Albertalli recommend it on a blog somewhere. And I never read it. For reasons that right now escape me. Well, I'm superhappy that I can now report that I'm a big stupid idiot and I should've read this aaaaages ago. I could go traditional review style, but what's the fun in that? Let me give you 4 reasons you should pick up this book RIGHT NOW BECAUSE ALKJFDFKL.
1. The Writing
Considering I'm a writer, you'd think I'm an expert on writing style but ahahaha no. So not. I'm not an expert on anything except for maybe Disney and Simon VS. Which says a lot about me. ANYWAY. I loved, loved, loved the writing in this book. It reminded me of Becky's writing. It seems so simple and effortless and it's so easy to read and get lost in. But, and I do know this from experience, this style of writing is a lot harder to pull off than the flower-y poetic style. It's actually superhard to make characters come off as real people. To make a reader's heart flutter through your words. To make them laugh or cry. It's the hardest thing to do. And J.C. Lillis pulled it off effortlessly, or so it seems.
2. The Story
I really loved this story. And I think it appeals to us booknerds greatly because a big part of it revolves around fandoms and their ships (canon or not) and conventions and all that jazz. I loved that part of the story. I relate. Like a lot. I have a ton of non-canon ships in my head that could make you swoon. For real. But next to that we also have Brandon's struggles and his friendship with Abel and how maybe there's something more between them. And all of it was mixed together in one perfect whole that made me laugh, cry, swoon, blush, laugh again, then some more crying and in the end I was full-on grinning like an idiot. This story filled me up with so much joy that I can barely contain myself. So, in case you're reading this Becky, thank you for insisting I should read this.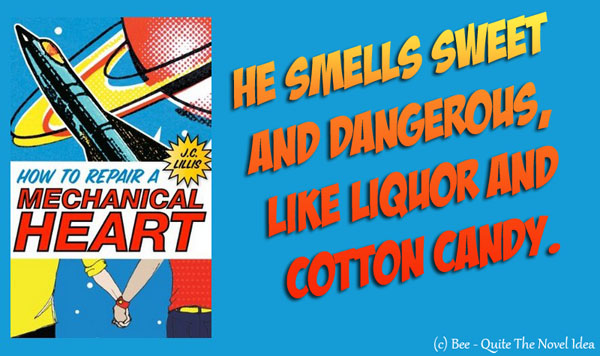 3. The Characters
Characters are the most important part of a story for me. It's always been that way and it always will be. You can have a great story and amazing writing, but if I don't care about the characters, the book is pretty much destined for failure for me. But of course I loved the characters in this book. I loved Bec, Brandon & Abel's friend and travel companion. I loved Brandon's parents by the end too, especially his mom. And I loved our two main characters, Brandon and Abel. They were both unique and felt so real and I want to be their friend. I want to hug them and hang out with them. And maybe watch them kiss because I SOOO ship Abandon. Which brings me to reason number 4.
4. The Romance
OH. MY. GOD. YOU GUYS. This romance. My heart. I can't take it. *clutches chest and faints* For real. *she says from the cold wooden floor* This romance is so adorable and so swoony and gahhhhh it made me grin like a freaking idiot and I kind of wanted to have them in doll-version just to put their faces together and make them kiss because it took soooooo long. WHAT CAN I SAY? I'm impatient. Sorry. (Am not.) But for real. The romance is perfect and a lot swoonier than I expected but OMG I loved it. Can you tell? I know I'm very subtle.
Just in case any of my rambling above hasn't convinced you yet, maybe what I'm going to tell you next will. Or it will for those who know me. Okay. Here goes.
So I know I've been extremely subtle with my love for Simon VS. *cough* And until now, there hasn't really been a book that came close to it. See, I even have a shelf for it. Right here. But I'm going to do something after I finish writing this review. I'm going to add a book to it. THIS BOOK. It's so good it reached Simon VS levels of greatness. And if that doesn't convince you, I don't know what will. So I'll just tell you to read this book and see for yourself.