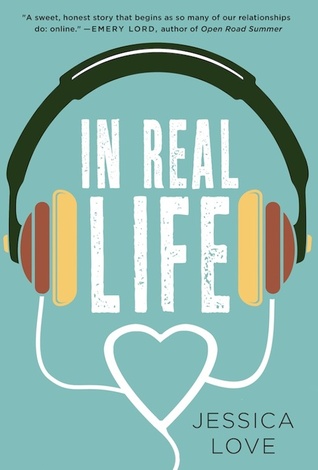 In Real Life
by
Jessica Love
Published on
March 1st 2016
by
St. Martin's Press
Genres:
Young Adult
,
Contemporary
,
Romance
Format:
eARC
Source:
Netgalley
Goodreads
Hannah Cho and Nick Cooper have been best friends since 8th grade. They talk for hours on the phone, regularly shower each other with presents, and know everything there is to know about one another.

There's just one problem: Hannah and Nick have never actually met.

Hannah has spent her entire life doing what she's supposed to, but when her senior year spring break plans get ruined by a rule-breaker, she decides to break a rule or two herself. She impulsively decides to road trip to Las Vegas, her older sister and BFF in tow, to surprise Nick and finally declare her more-than-friend feelings for him.

Hannah's surprise romantic gesture backfires when she gets to Vegas and finds out that Nick has been keeping some major secrets. Hannah knows the real Nick can't be that different from the online Nick she knows and loves, but now she only has night in Sin City to figure out what her feelings for Nick really are, all while discovering how life can change when you break the rules every now and then.
I received this book for free from the publisher or author in exchange for an honest review.
This does not affect my opinion of the book or the content of my review.
Ah dangit. And here I thought I could go three for three with amazing contemporaries, but alas, it wasn't meant to be. You could've been the sweet and cute read I needed after the two very emotionally devastating books I read, but In Real Life, you were such a disappointment.
In Real Life is about Hannah and Nick. They have been best friends for years and know everything there is to know about each other. They just have never met before. During Spring Break she impulsively decides to go to Las Vegas with her older sister Grace and BFF Lo to meet Nick in person and tell him how she feels. But when she gets there, she finds out Nick has a girlfriend. Is he still the Nick she knows and loves or is he someone totally different in real life?
Since the negatives outweigh the positives for this one, I'll start with the good. I did like it at first. The interactions between Hannah and Nick were cute and I wanted them to end up together. Like a lot. But then I read more and she got to Vegas and the book went downhll from there. Another positive note is the diversity with the MC Hannah being Korean and her best friend Lo Mexican. Points for that.
Sadly, that's about all the good I can give this book. For the most part, my problems can be traced back to two things. One would be the main character Hannah, whom I could not stand. She was whiny and bratty and annoying. That, and the slutshaming she throws at Nick's girlfriend. And the way she and Nick acted when his girlfriend, HIS GIRLFRIEND wasn't around, wasn't okay. CHEATING IS NOT OKAY! This is not a good lesson to teach people who read this book, okay?? It's not! That leads me to the second thing: I feel so darn old reading this book. Which is weird because honestly, I know Middle Grade characters that are more grown up than the ones in this book. If this is how teens these days act, I pray for humanity.
The characters kind of fell flat, naturally. They weren't developed enough for me and I wasn't interested in their lives in the least. Of course, the above mentioned issues didn't help. It's no surprise that I didn't end up liking the romance, right? Okay. Also, communication is something very useful. If the characters in this book had actually communicated, I wouldn't have had to read through 100+ pages of drama between teens that act like kids most of the time. Way to waist a cool setting like Las Vegas.
In Real Life had a lot of potential but ended up being a big disappointment. It was cliche and childish, the characters were annoying and some parts of the story were just plain wrong. If you're looking for a good, cute YA contemporary, I would suggest you pick up something by Kelly Oram or Kasie West. I would not recommend this one.