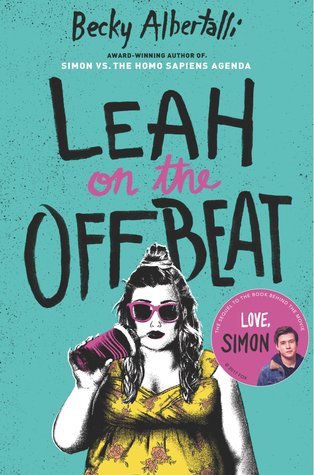 Leah On The Offbeat
by
Becky Albertalli
Series:
Creekwood #2
Published on
April 24th 2018
by
Balzer + Bray
Genres:
Young Adult
,
Contemporary
,
LGBT
,
Romance
Format:
eBook
Source:
Purchased
Amazon
|
B&N
|
BookDepository
|
Goodreads
Also by this author:
Simon vs the Homo Sapiens Agenda
,
Simon vs. the Homo Sapiens Agenda
,
Simon VS the Homo Sapiens Agenda
,
The Upside of Unrequited
Leah Burke—girl-band drummer, master of deadpan, and Simon Spier's best friend from the award-winning Simon vs. the Homo Sapiens Agenda—takes center stage in this novel of first love and senior-year angst.

When it comes to drumming, Leah Burke is usually on beat—but real life isn't always so rhythmic. An anomaly in her friend group, she's the only child of a young, single mom, and her life is decidedly less privileged. She loves to draw but is too self-conscious to show it. And even though her mom knows she's bisexual, she hasn't mustered the courage to tell her friends—not even her openly gay BFF, Simon.

So Leah really doesn't know what to do when her rock-solid friend group starts to fracture in unexpected ways. With prom and college on the horizon, tensions are running high. It's hard for Leah to strike the right note while the people she loves are fighting—especially when she realizes she might love one of them more than she ever intended.

I don't think it surprised anyone that I rated this book 5 stars. But even though Becky is my queen and can do no wrong in my eyes, I did try to be critical when I read this book. Luckily Leah On The Offbeat is all kinds of adorable and amazing and there's no need for me to be cranky or anything! Excellent book was excellent. 
I'll admit I was scared to read this because it's still a sequel to my favorite book of ever that would feature my ultimate OTP, Blue and Simon. Yes, I'm using his nickname for those that may not have read Simon VS yet. (In which case, what are you even doing with your life? Go read it!) But there's no need for me to be scared because they're still two adorable pieces of fluff and it was great to see them a year after the events of Simon's book, still being the cutest couple of ever.
But of course, Leah stole the show in this one, as she should. She's just all kinds of fabulous and I love her to pieces. She really did steal my heart with her tough exterior and just a ball of mush on the inside. That's what she is. And so relatable! Leah is a fat, bisexual girl in a single parent home and that just made me so happy! I can't even describe how much I loved her but it was obvious this is her book and her story and what an excellent one it was.
Of course I also loved the other characters around her. All of them. Except Martin. I still haven't forgiven him for what he did in Simon's book.
Becky's writing keeps getting better and better too, I swear. I don't know how she does it but she has this way of writing stories that are easy to read, relatable and just all around amazing. Everyone feels so real and alive and I just want to live in their world and be friends with them. And the banter is A+++ for sure.
I don't know what else to say. Do I have negative points? Not really, actually. The pacing was perfect, the story flowed nicely and all the drama happening felt legit and necessary. There wasn't any point where I thought to myself "hey this bit could've been left out".
Leah On The Offbeat is another win for Becky Albertalli. With a great and relatable heroine leading us through her story, I never once was bored and read it in one sitting. As one should, of course. So go forth and read this book as I subscribe to Becky's books for life because she keeps her spot as my queen of contemporary.