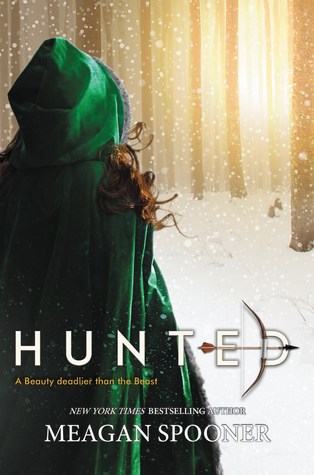 Hunted
by
Meagan Spooner
Published on
March 14th 2017
by
HarperTeen
Genres:
Young Adult
,
Fantasy
,
Retelling
,
Romance
Format:
eARC
Source:
Edelweiss
Goodreads
Also by this author:
These Broken Stars
,
These Broken Stars
,
Hunted
Beauty knows the Beast's forest in her bones—and in her blood. Though she grew up with the city's highest aristocrats, far from her father's old lodge, she knows that the forest holds secrets and that her father is the only hunter who's ever come close to discovering them.

So when her father loses his fortune and moves Yeva and her sisters back to the outskirts of town, Yeva is secretly relieved. Out in the wilderness, there's no pressure to make idle chatter with vapid baronessas…or to submit to marrying a wealthy gentleman. But Yeva's father's misfortune may have cost him his mind, and when he goes missing in the woods, Yeva sets her sights on one prey: the creature he'd been obsessively tracking just before his disappearance.

Deaf to her sisters' protests, Yeva hunts this strange Beast back into his own territory—a cursed valley, a ruined castle, and a world of creatures that Yeva's only heard about in fairy tales. A world that can bring her ruin or salvation. Who will survive: the Beauty, or the Beast?
I received this book for free from the publisher or author in exchange for an honest review.
This does not affect my opinion of the book or the content of my review.

REJOICE! I found a Beauty and the Beast retelling that I loved! Cake for everyone and happy dancing all day long! No but seriously, I've read a few Beauty and the Beast books before. Or tried to. But none that I truly and fully enjoyed, let alone loved. BatB is a fairy tale very close to my heart. The Disney movie is my favourite movie of all time and I am jumping up and down with anticipation for its live action re-make coming out in March. (HAVE YOU SEEN THAT TRAILER? I MEAN… IT'S SO PRETTY AND AKDJFDMKJF) So yes, I love this fairy tale. And luckily, I loved this retelling of it.
Also, can I applaud the author for incorporating the Russian fairy tale "Tsarevitch Ivan, the Firebird and the Gray Wolf"? Because GENIUS. I am not familiar with the fairy tale, mind you. Not before going into this book. But I stumbled upon a review that mentioned it so I did my research on the fairy tale before reading more of the book. So I know what's what, you know? I have to be informed about things so I come across as a professional. *cough* But I LOVED how the author mixed the two together and gave them her own spin. They work really nicely like this and it fit and I loved it. The whole book has a delicious fairy tale vibe and honestly that's one of the things I really want from retellings. That they keep the fairy tale vibe. And this one did. So yay!
Of course what helped give me that vibe was the absolutely beautiful writing. It is so magical and enchanting and I loved it. Though maaaybe the start was a bit too much exposition? And I might be a tad confused about the ending stuff. Which I cannot discuss because spoilers. BUT I did adore the writing. It reads quickly and had me hooked. Also the little parts from Beast were fantastic. It added a little extra to the whole thing and I loved it.
Though before I do a bunch of gushing on the characters, I do have to ask what the purpose of Solmir and Yeva's thing was??? It didn't feel necessary considering everything?? That could just be me. Also, I kind of hoped Solmir would be like Gaston. BUT a moment of appreciation for sister love! YAY! I loved the sisters! Though I wanted to know more about them.
So yes, now I shall gush about the main characters. Beast and Yeva/Beauty. I LOVED them. Beast is so precious and tortured and sad and he needs hugs and cuddles and warm blanket forts. I adored him, really. I loved his whole story arc and his background. Can't say much more about that cause spoilers, so on to Yeva! Honestly, I loved Yeva/Beauty as a main character. I rooted for her the whole time and I loved that she was so loyal to her family. She wanted more from life but would never abandon her sisters and her father to get it. She's very selfless when it comes to them and I loved that. I hate it when MC's are all loyal to their family at first but then because they're stubborn they abandon them to get what they want. Yeva didn't. And I loved her for it.
Though I have to admit that I kind of think their romance needed a bit more development. Just more in general really.
So overal this is a Beauty and the Beast retelling I really loved. Hunted is magical and enchanting with beautiful writing and a unique twist to the original fairy tale. If you're a fan of retellings, please do check this one out.