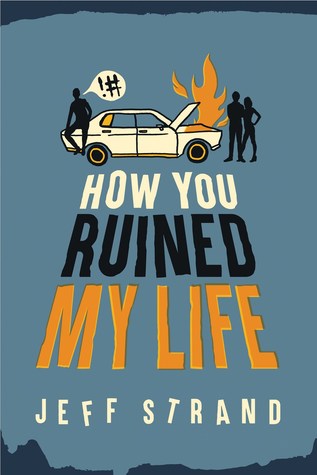 How You Ruined My Life
by
Jeff Strand
Published on
April 3rd 2018
by
Sourcebooks Fire
Genres:
Young Adult
,
Contemporary
Format:
eARC
Source:
Netgalley
Goodreads
Rod and his cousin take family rivalry to a new level in this rollicking comedy from Jeff Strand.

Rod's life is pretty awesome. He plays in a punk rock band that's starting to score gigs and has a great girlfriend. Then he learns that his rich cousin, Blake, will be staying with him for three months—moving into his room, moving in on his girlfriend and band, and basically ruining his life! Prankster Blake has his own ideas on how Rod should live, but his efforts to get Rod girls and bring people to the band's shows are the opposite of helpful. Between Blake's ridiculous pranks and Rod's increasing paranoia, this semester might be the cousins' most memorable yet. That is, if their hijinks don't kill them first.
This is me being disappointed. Because this book had potential, a lot of it, but it didn't deliver. On the contrary, where it could have been awesome, it was boring and sometimes went too far. When I started it, there were a few points I liked. But then it got downhill quickly and I was left with disappointment.
What I Liked:
~ In the first few chapters, I actually enjoyed the writing. Rod's voice was amusing and I was actually kind of liking it. There was humor there too, and I like humor in books.
~ I also enjoyed the dynamics between Rod and his mom. They were very supportive of one another and I loved how close they were. I applaud positive parent-child relationships in YA.
What I Didn't Like:
~ Things went downhill the moment Blake came into the story. I didn't like him. Not one bit. He was spoiled, mean, petty and just a brat. And he stayed like that throughout the novel and if you ask me there wasn't really any development for him. Or Rod for that matter.
~ I didn't like the pranks Blake pulled. They often went way too far and I can't believe people would fall for this kind of stuff that easily. They weren't pranks anymore most of the time. It was just straight up bullying. Blake was a bully. And if there's one thing I don't like, it's a bully.
~ The dynamics between the characters changed so hard the moment Blake came into the picture. Everyone fell for Blake's act so easily that it's just not believable. SOME people would have caught on, right? Why didn't they believe the person they've known the longest? I just don't get it. At all.
~ The way things wrapped up was… sudden. And too much "wrapped-up-in-a-neat-little-bow" for my liking. But that's all I can say about it without spoiling it.
~ This wasn't a funny book. It was a book with a few funny lines in it, that's all. And it was way too meta. I like meta humor when it's done right, like in the movie Deadpool. But I didn't like it in this book where it hit me over the head with it.
Overall…
This was a disappointing read. There was a lot of potential for it, but ultimately it didn't work for me personally. I wasn't fond of the writing, the "humor" or the characters and their lack of development. So this would be a no for me. But who knows, it might be for you so give it a try if you want to.