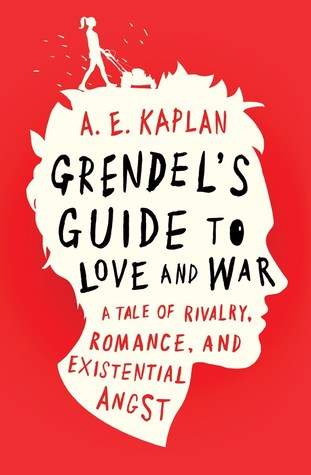 Grendel's Guide to Love and War
by
A.E. Kaplan
Published on
April 18th 2017
by
Knopf Books for Young Readers
Genres:
Young Adult
,
Contemporary
Format:
eARC
Source:
Netgalley
Goodreads
The Perks of Being a Wallflower meets Revenge of the Nerds in this tale of a teen misfit who seeks to take down the bro next door, but ends up falling for his enemy's sister and uncovering difficult truths about his family in the process.

Tom Grendel lives a quiet life—writing in his notebooks, mowing lawns for his elderly neighbors, and pining for Willow, a girl next door who rejects the "manic-pixie-dream" label. But when Willow's brother, Rex (the bro-iest bro ever to don a jockstrap), starts throwing wild parties, the idyllic senior citizens' community where they live is transformed into a war zone. Tom is rightfully pissed—his dad is an Iraq vet, and the noise from the parties triggers his PTSD—so he comes up with a plan to end the parties for good. But of course, it's not that simple.

One retaliation leads to another, and things quickly escalate out of control, driving Tom and Willow apart, even as the parties continue unabated. Add to that an angsty existential crisis born of selectively reading his sister's Philosophy 101 coursework, a botched break-in at an artisanal pig farm, and ten years of unresolved baggage stemming from his mother's death…and the question isn't so much whether Tom Grendel will win the day and get the girl, but whether he'll survive intact.
I received this book for free from the publisher or author in exchange for an honest review.
This does not affect my opinion of the book or the content of my review.

This was such a nice surprise! This is one of those books I requested on Netgalley impulsively because it sounded good and like something I might enjoy. I didn't really expect much of it but I was thrilled when I got approved. So I started reading it and then I ended up loving it quite a bit. I do love it when that happens. Though this might not be a new super-favorite and it didn't really wow me or anything, I still enjoyed it a whole lot. So let's get into it shall we?
Grendel's Guide to Love and War tells the story of Tom Grendel and his dad, who suffers from post-war PTSD. They live a quiet life and everything seems fine until their new neighbors move in and disturb the peace. Literally. Tom has had a crush on the girl, Willow, for quite some time now but can't really get along with her older brother Rex. And now that their mom is out of town a lot, Rex uses it to his advantage by throwing very loud parties that trigger Tom's dad's PTSD. So naturally, Tom goes into war-mode and will try anything to try and stop Rex's parties.
I had so much fun with this story, but there was a lot more to it and I loved that. Because it could've easily been a simple prank-war and gotten very silly very fast. But there was a lot of heart in this story too. It punched me in the feels almost as much as it made me laugh. Which was a lot. It was very balanced to me and even the romance never really controlled the plot, which is nice. It really is. Though, I do think some of the stuff that happens in this book could never happen in real life? Like, they wouldn't get away with this for so long you know? I do think people are capable of doing stuff like that because people are sometimes not very nice. But it just seemed a tad unrealistic that it took so long for the cops to really do something about the problem. But I do love how this book handled PTSD and grief. It was very respectful and romance didn't cure anything. Points for that!
I loved the characters! All of them. Well maybe not Rex or Wolf… they were… not nice. To be polite. Like… they were actually kind of major jerks and very disrespectful. But the sad thing is, that this is actually realistic because there are people like that. I was never completely sure about Willow? I liked her… but I never really connected to her. But she was kind of cool and sweet and the first time we see her in the book she has her hair in a messy bun and is wearing a Ravenclaw shirt, so #win. I LOVED Zipora, Tom's sister. She was sweet and kind of silly and crazy and kind of a mess in some ways but also awesome and yay sibling love! OH and major shout out to the old people living in Tom's neighborhood. They were the best!
My favorite two characters were, of course Tom and his best friend Ed. Their friendship is totally an epic bromance and I LOVED it. They were such great friends to each other. I love friendships like this in books. Ed was such a cool character. He's Korean and he likes wine and wants to dedicate his future to it and everything and he was funny and awesome and a great friend to Tom and I adore him. Tom is a fantastic MC. I rooted for him and I felt for him and I simply want to hug him because he's kind of very precious. He's sweet and funny and kind of a bit dorky and silly and impulsive, but also very smart. He interviews all of the old people in the neighborhood, collecting their life stories because he just likes knowing people very well. And he loves gardening and he's just precious. Because he's also still not over his mother's death and is dealing with his dad's PTSD too. So he just needed a hug, really. I love him. A lot.
So in the end I enjoyed this book a whole lot. It's fun and made me laugh out loud quite a few times but it's also very heartfelt and handles PTSD and grief beautifully. This is definitely a YA Contemporary you should check out if you can.