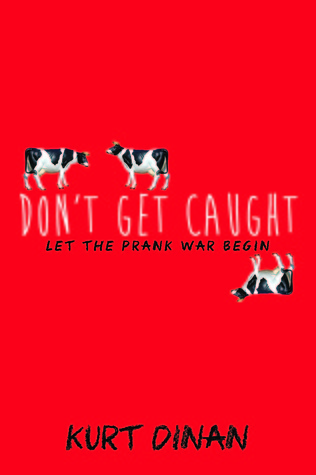 Don't Get Caught
by
Kurt Dinan
Published on
April 1st 2016
by
Sourcebooks Fire
Genres:
Young Adult
,
Contemporary
Format:
eARC
Source:
Netgalley
Amazon
|
Goodreads
10:00 tonight at the water tower. Tell no one. -Chaos Club

When Max receives a mysterious invite from the untraceable, epic prank-pulling Chaos Club, he has to ask: why him? After all, he's Mr. 2.5 GPA, Mr. No Social Life. He's Just Max. And his favorite heist movies have taught him this situation calls for Rule #4: Be suspicious. But it's also his one shot to leave Just Max in the dust...

Yeah, not so much. Max and four fellow students-who also received invites-are standing on the newly defaced water tower when campus security "catches" them. Definitely a setup. And this time, Max has had enough. It's time for Rule #7: Always get payback.

Let the prank war begin.
I received this book for free from the publisher or author in exchange for an honest review.
This does not affect my opinion of the book or the content of my review.

That's it. This is going on my all-time-favorites list. But Bee, isn't this the second one you add to that list this year? Why yes it is, thank you for noticing! You might be wondering why it gets a spot on that list, and I'll tell you. I have much to say about this book and by the end of it, you'll hopefully know why I loved this so much.
Don't Get Caught is about Max. Max is Just Max, a nobody, nothing special at all. So when he gets a mysterious invite from the untraceble epic-prank-pulling Chaos Club, he can't help but go. Because why him? His favorite heist movies have always taught him a situation like this calls for Rule #4: Be Suspicious. But also because it might be a way to leave Just Max behind him. When Max and four fellow students are standing on the newly defaced water tower when campus security catches them. It was a set-up and this time, Max has had enough. It's time for Rule #7: Always Get Payback.
I had zero expectations going into this. None. Zilch. Nada. If I'm being very honest, I thought it would suck. I hoped it wouldn't because come on, that blurb is very tempting. That and it was pitched as The Breakfast Club meets Ocean's Eleven on Netgalley. That's just way too tempting. But then I started reading and my god am I happy I did. This book was all kinds of awesome. That pitch is spot on. It's exactly what this book is and it kept me reading until late into the night because I had so. much. fun. I laughed a whole lot and I even teared up a few times because I was so invested in Max's life. I love heist stories and this one was perfect. To me anyway.
Obviously the writing is great. I don't have to tell you that, do I? Good, because it is. There is so much humor in this book and I laughed so much! But there are also a few moments where things got unexpectedly emotional. And once again, it's the characters that made it as perfect as it is. Yes, we sort of get the five Breakfast Club types. The nobody, the goody goody preacher's kid, the jock, the class clown, the artistic protestor. But they were so much more than that! They grew so much throughout this book and were so well-developed. Even the side-characters were awesome. Especially one of their teachers, Mr. Watson, who's hilarious and makes hilariously awful puns.
I feel like the five main characters deserve a bit more attention so I'll go over them one by one. First we have the jock, Adleta. He's a lacrosse player (bonus points since I recently fell in love with Teen Wolf and lacrosse is a big thing in that show) and not really a jock, but he's the closest thing to a jock the group has. Hah. He's actually very loyal and cool. Yes, his dad pressuring him into playing the game may be cliche a tiny bit, but who cares? Next we have the class clown, Wheeler. He's not just a dumb joker. He's actually pretty smart and has a wide variety of awesome skills. By the end I did love him, even his dirty jokes. Then we have Malone, the "artistic protester". Yes she's amazingly skilled at arts, but she's also very sensitive and deliciously snarky. Up next is Ellie, the goody goody preacher's kid who's actually not that goody goody. I also liked her a whole lot, but I didn't really trust her? Because people aren't that nice and she was quite the actress. And last but certainly not least, there's Max, the nobody, our main character. He smart and funny and sweet and he grew the most throughout this book. I was rooting for him all the way from start to finish and he's now on my favorite characters list.
Don't Get Caught is the perfect read for anyone who loves heist stories. Fans of The Breakfast Club and/or Ocean's Eleven are likely to love this book. It's a ton of fun and there's potential for a sequel, which I'm so hoping for because I want to spend more time with this characters. Go read this. Seriously.