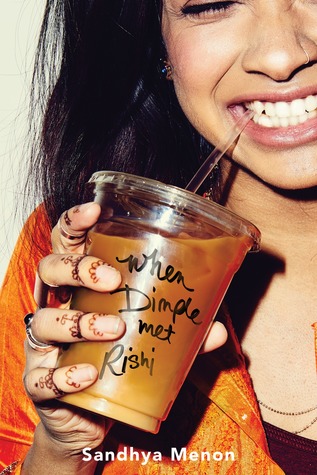 When Dimple Met Rishi
by
Sandhya Menon
Published on
May 30th 2017
by
Simon Pulse
Genres:
Young Adult
,
Contemporary
,
Romance
Format:
eARC
Source:
Edelweiss
Amazon
|
B&N
|
BookDepository
|
Goodreads
Also by this author:
From Twinkle, With Love
A laugh-out-loud, heartfelt YA romantic comedy, told in alternating perspectives, about two Indian-American teens whose parents have arranged for them to be married.

Dimple Shah has it all figured out. With graduation behind her, she's more than ready for a break from her family, from Mamma's inexplicable obsession with her finding the "Ideal Indian Husband." Ugh. Dimple knows they must respect her principles on some level, though. If they truly believed she needed a husband right now, they wouldn't have paid for her to attend a summer program for aspiring web developers…right?

Rishi Patel is a hopeless romantic. So when his parents tell him that his future wife will be attending the same summer program as him—wherein he'll have to woo her—he's totally on board. Because as silly as it sounds to most people in his life, Rishi wants to be arranged, believes in the power of tradition, stability, and being a part of something much bigger than himself.

The Shahs and Patels didn't mean to start turning the wheels on this "suggested arrangement" so early in their children's lives, but when they noticed them both gravitate toward the same summer program, they figured, Why not?

Dimple and Rishi may think they have each other figured out. But when opposites clash, love works hard to prove itself in the most unexpected ways.
I received this book for free from the publisher or author in exchange for an honest review.
This does not affect my opinion of the book or the content of my review.

When Dimple Met Rishi is one of those books that has been all over social media in a very positive way. I've heard nothing but love of this book right from the start. So naturally I wanted to see what all the fuss is about. And also naturally, I flailed and did all the happy dances when I was approved for this one on Edelweiss. AND I read it immediately because of course. And I'm so glad I did! When Dimple Met Rishi met ALL my expectations gloriously. To put it simply: this is one of those books that makes my heart happy.
To clarify what I mean with that… Some books just make me so happy. They make me smile for no reason when I think about them and when I finish reading them, I have this stupid dreamy grin on my face. It makes me feel all warm and squishy and I just want to hug the book forever and crawl inside it to spend time with the characters. It's the kind of book that I could re-read a hundred times and never get bored with. I'll just end up loving it more and more each time. When Dimple Met Rishi is one of those books for me.
First, I have to flail about how good the writing is. Because it is. Normally it's very hard for me to get into a contemporary book when it's written in third person POV? But I didn't have that with this book. It sunk its claws into me and I was all in right from the start. It was so easy to read and so natural and it hit all the right notes in the right times. Everything felt so nicely paced and planned out but it seemed so effortless at the same time. There was a perfect balance between light-hearted moments, swoon and the more emotional feelsy stuff. AND THIS IS ONLY A DEBUT!? I mean… I can't even, guys.
I absolutely adored the diversity in this book. I LOVED learning about Indian culture and traditions and getting a glimpse of it in this book. But it never felt like it was preachy or trying to dump a tonne of info on some of it on me. I was never overwhelmed with anything and I loved that. It made me want to learn more about everything and made me appreciate the beauty of it all so much more. And that's a fantastic thing to accomplish in a book. And that makes it SO important to read this book right now because we need books like these.
Naturally, I have to shout about the characters for a bit because those remain the most important part of a book to me. LUCKILY the characters in this book were golden and I love all of them. Even the side-characters were so well-developed and had their own story arcs but they never took over the main plot. I loved Celia and Ashish. I loved Dimple's parents. AND I loved how big of a role and influence both Dimple's and Rishi's parents had in their lives even if they weren't in the book a lot. They were still there in some way and were never shoved to the background to make room for anything. I loved that.
And, of course, I also loved our two main characters. Dimple is a very strong, stubborn, fierce and independent girl who also has this very sweet and nerdy side and I adored her. I loved how she grew throughout the book. And I loved how opposite Dimple and Rishi were. Because he's very soft and sweet and romantic and an artist, but so very loyal to his parents and their traditions. They're opposites but they work so well together and they help each other grow. I loved both of them and their romance was A+++. Also, shout-out to sex-positive YA. HUZZAH!
Another shout-out to the fact that this is right after high school. Also the nerdy stuff spoke to me. Brownie points for that One Piece reference. Monkey D. Luffy is my favorite anime character period. So THANKS MUCHLY.
I do have a few tiny nitpicks though??
♦ I do feel like the Big Dramatic Moment near the end was a tad too much and maybe a teensy tiny bit unnecessary??
♦ At times I couldn't follow Dimple's motivations and thoughts when it came to her feelings for Rishi and I just wanted to slap her and make her come to her senses because Rishi is the best.
♦ Also the stuff with the "aberzombies", the bullies, felt a bit… ehh to me? Like, it wasn't bad or anything but it felt a bit brushed over near the end? IDK.
But clearly none of those things take away from the fact that I must give this book all of the stars because it's just so good.
When Dimple Met Rishi is funny, heartfelt, beautifully diverse and swoony and it hits all the right notes a YA Contemporary should in this day and age. I loved it to pieces and hope everyone reads it. If not, I will shove this book in your face until you do. You have been warned.