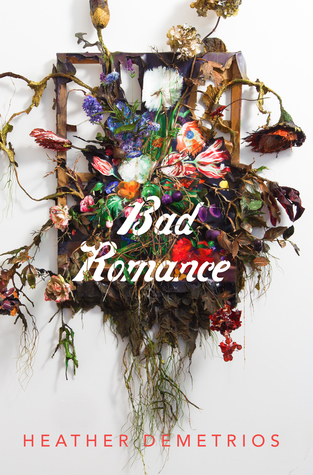 Bad Romance
by
Heather Demetrios
Published on
June 13th 2017
by
Henry Holt and Co. (BYR)
Genres:
Young Adult
,
Contemporary
,
Romance
Format:
eBook
Source:
Purchased
Amazon
|
B&N
|
Goodreads
Also by this author:
Something Real
,
Something Real
,
I'll Meet You There
,
Exquisite Captive (Dark Caravan Cycle, #1)
,
Blood Passage (Dark Caravan Cycle, #2)
Grace wants out. Out of her house, where her stepfather wields fear like a weapon and her mother makes her scrub imaginary dirt off the floors. Out of her California town, too small to contain her big city dreams. Out of her life, and into the role of Parisian artist, New York director—anything but scared and alone.

Enter Gavin: charming, talented, adored. Controlling. Dangerous. When Grace and Gavin fall in love, Grace is sure it's too good to be true. She has no idea their relationship will become a prison she's unable to escape.

Deeply affecting and unflinchingly honest, this is a story about spiraling into darkness—and emerging into the light again.
Heather Demetrios has a way with words that just gets me every time. Her books just really pack a punch and aren't afraid to tell it like it is. She picks tough topics and really goes all the way with them. And while I adored her other two contemporary novels… this one got to me the most because Bad Romance hit me on such a personal level that it just about knocked me off my feet. So before I go curl up in bed and weep, I'll tell you why you should absolutely read this book.
First, can I just flail about how amazing the writing is? Because holy cupcakes. It is downright gorgeous and delicious and it makes me jealous because I want to write like this. This is goals people. Actual goals. The story is written from Grace's perspective, as if she's telling it to Gavin. I really loved this. I'm very picky about books with a sort of 2nd person POV, but this one was done in such a way that it didn't bother me one bit. It fit the story perfectly and it got me sucked in so hard right from the start. I think this would also be an amazing audiobook experience. Just throwing it out there. Audiobook lovers, try this book and let me know if I was right.
This book is a very personal one to Heather and I could feel that. How she wrote about Grace's toxic relationship with Gaven felt SO real and it was SO perfectly done that it was almost suffocating because it wasn't that long ago that I got out of my own bad romance. I could relate to Grace A LOT. I understood why it was so hard for her to end her relationship because I've been there. It took me YEARS to take that step. It's unbelievably hard but it's absolutely worth it, trust me. So I really felt for Grace. I cried for her and I smiled for her and I wept for her because I was her not too long ago.
But I also have to give the book props for making Gavin a character that's easy to fall for. He's not likeable. At all. I hated him the whole time, but I understood why Grace got sucked into this relationship because chances are, if I'd been in her shoes (and I have been) I would be sucked in too. Her home life is so horrible (mine wasn't), so having someone come along that treats you like you're the whole world to them and who makes you feel adored… Yeah, I get that. But then things turn sour pretty fast and I loved how Heather grasped the subtlety in that change. How it slowly because a horrible, toxic romance that Grace couldn't get out of.
I do want a thousand cheers for Nat and Lys, Grace's best friends. YAS to awesome, supportive, kick-ass best friends. They were always there for her and I loved both of them. They were the best. I'm still not sure how I feel about Grace's mom?? Like… I feel like things got a bit left open with that storyline in the end. I want to know if she's still with that horrible stepdad. I want to know if she's okay. But then… I guess in a way it's also kind of perfect that it ended the way it did? Because life is like that too. It doesn't all just wrap up with a magical bow and everyone lives happily ever after. But I still want to know.
Bad Romance is an unflinchingly honest, sad, and yet hopeful story that hit me right in the feels. I absolutely recommend it if you're a fan of YA Contemporary. Definitely a 2017 must read.