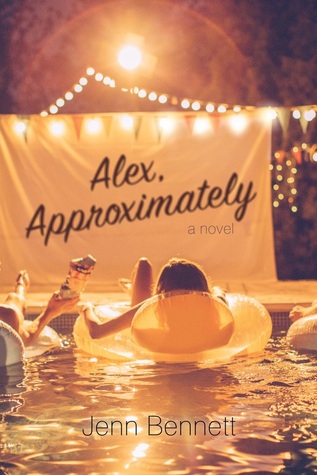 Alex, Approximately
by
Jenn Bennett
Published on
April 4th, 2017
by
Simon Pulse
Genres:
Young Adult
,
Contemporary
,
Romance
Format:
eBook
Source:
Purchased
Amazon
|
B&N
|
BookDepository
|
Goodreads
Also by this author:
The Anatomical Shape of a Heart
The one guy Bailey Rydell can't stand is actually the boy of her dreams—she just doesn't know it yet.

Classic movie fan Bailey "Mink" Rydell has spent months crushing on a witty film geek she only knows online as Alex. Two coasts separate the teens until Bailey moves in with her dad, who lives in the same California surfing town as her online crush.

Faced with doubts (what if he's a creep in real life—or worse?), Bailey doesn't tell Alex she's moved to his hometown. Or that she's landed a job at the local tourist-trap museum. Or that she's being heckled daily by the irritatingly hot museum security guard, Porter Roth—a.k.a. her new archnemesis. But life is a whole lot messier than the movies, especially when Bailey discovers that tricky fine line between hate, love, and whatever it is she's starting to feel for Porter.

And as the summer months go by, Bailey must choose whether to cling to a dreamy online fantasy in Alex or take a risk on an imperfect reality with Porter. The choice is both simpler and more complicated than she realizes, because Porter Roth is hiding a secret of his own: Porter is Alex…Approximately.
Well, here I am, being the black sheep once more. While I've heard a ton of great things about this author and her book, so far my experience with them has been very average. I haven't had much luck with the books, in other words. The first one, her debut, was only okay to me and this one just didn't do it for me at all.
The problem for me with this book ,is that it's very predictable and reads like a standard contemporary, one I've read so many times before. It didn't bring anything new to the table. Nothing managed to surprise me at all. Which is sad. Because I keep seeing people rave about this book and to me it just fell flat. Like a pancake. It didn't help that I called the big reveal even before I started the book or read it in the blurb… Yeah way to spoil the entire story there, people. Good move.
I also wasn't into the romance at all because I feel like it went too fast. This is the same problem I had with her first book. It went from almost nothing to everything in like a few pages and I just… didn't get it. I guess. Oh and all the drama. You guys know by now that I hate unnecessary drama and this one had so much of it! The whole Davy storyline felt a bit over the top and completely not needed. And what happened to Bailey's mom? She's only mentioned once or twice when Bailey says she hasn't heard from her all summer but that plotline is never resolved in any way. That could have been worked out a little better in my opinion.
I did like Bailey's relationship with her dad. Yay for awesome dads in YA right? I also enjoyed the growing friendship with Grace and I'm always a fan of banter, which this book had plenty off.
Overall, this is a solid contemporary that just ended up being not my thing. I want more from a contemporary book these days and this one just didn't deliver. I guess I've just been spoiled with YA Contemporary books lately. Perhaps this author just isn't for me. But if you enjoyed her debut, I'd say go for it. After all, this is just my seemingly very unpopular opinion.