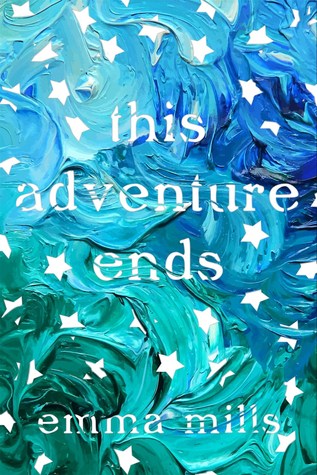 This Adventure Ends
by
Emma Mills
Published on
October 4th 2016
by
Henry Holt & Co.
Genres:
Young Adult
,
Contemporary
,
Romance
Format:
eBook
Source:
Purchased
Amazon
|
Goodreads
Also by this author:
First & Then
Sloane isn't expecting to fall in with a group of friends when she moves from New York to Florida—especially not a group of friends so intense, so in love, so all-consuming. Yet that's exactly what happens.

Sloane becomes closest to Vera, a social-media star who lights up any room, and Gabe, Vera's twin brother and the most serious person Sloane's ever met. When a beloved painting by the twins' late mother goes missing, Sloane takes on the responsibility of tracking it down, a journey that takes her across state lines—and ever deeper into the twins' lives.

Filled with intense and important friendships, a wonderful warts-and-all family, shiveringly good romantic developments, and sharp, witty dialogue, this story is about finding the people you never knew you needed.
When people ask me what my favorite genre is, I usually tell them "it's a toss between contemporary and fantasy". Because most of the time it feels like that. I love both and often don't have a clue which one I prefer more. But then I look at my favorites list. And then I read a book like this. And I have to say "nope. I love fantasy but contemporary has my heart." This book hits all the right notes and hits them perfectly and beautifully and it was exactly what I needed right now. Also, can I point out how gorgeous the cover is? Because PRETTY!!
Okay I am not shallow okay? I didn't just pick this up because it has a pretty cover. Though we can all agree that it does and sometimes that's a very good reason to pick up the book. Yes? Yes. But what made me want to read this book is actually the reviews from other blogger friends. They all mentioned how awesome the friendships in this book are and how sweet & slow the romance is and how it has a Teen Wolf-esque fandom thing. (YES I like Teen Wolf, so sue me. Stiles is the best and I love him and I want to wrap him in blankets and pet him and keep him to myself. Now SHUSH I'm trying to review a book here.) 2016 has been really … bad for me. Very triggering. And it got to me after a certain someone passed away. So I needed something sweet and fluffy and amazing to cheer me up. And I can honestly say that this book did the job and did it effortlessly. It's totally one of those books that feels like a soft, warm blanket being wrapped around you to keep you safe. TOTALLY.
I love the writing in this book SO much. I love it when a contemporary book has writing that reads very easily and feels very natural and realistic. Don't get me wrong, I appreciate the poetic prose and all that too from time to time, but for contemporary I prefer this type of writing. It just seems to fit the genre better for me. Most of my favorite contemporary books have a similar writing style. And Emma Mills's writing is just like that. She can take a seat right next to those authors and be admired by yours truly. The narrative was just as amazing as the awesomely natural dialogue and I just loved every bit of it. But next to that there's also a lot of humor in, which is mostly thanks to the MC and her fantastic voice but we'll get to that later. So yes, great writing. Absolutely adore it.
Next to great writing, there's also an amazing story here! It's simple but at the same time not simple at all. It has everything I was promised and I loved all of it dearly. Every single element was woven together so beautifully and it all just worked. It was all amazingly balanced and I just can't help but adore it. Even the drama didn't feel out of place. It wasn't overdone like it can be sometimes in YA Contemporary. It was just right and I appreciate that lots. THOUGH I do have a tiny nitpick and that is that maaaaybe it dragged a teeny tiny bit in the second half. But only a smidge. It's not something that should keep you from reading this book. Absolutely not.
NOW it's time for me to gush about all the characters that I love so dearly. AND BOY DO I LOVE THEM. I love them and their friendship and their romances and it's just all so wonderful. None of them were a stereotype and they were all so distinct and I just wanted to hang out with these people. I loved Vera and her twin brother Gabe. I loved Remy and Aubrey and Sloane's sister Laney. I ADORE Frank. And oh god this book has the best bookish dad in history. Seriously. Sloane's dad is the MVP of the book for me. He's a writer and he's funny and he's caring and his fall into the Teen Wolf-ish fandom with the fanfiction and stuff is one of the most accurate things I have ever read. He's the best, I'm telling you. And his bond with Sloane was golden.
SPEAKING OFF. Let me gush about Sloane for a bit, okay? Sloane is a great MC. One of the most relatable ones I've read so far. To me anyway. She's funny and an amazing singer (I'm not but shush) and has a great family. She's kind of a loner but she's not shy. She just prefers to be alone. And I get that. Because part of her is scared to actually care because she could get hurt. And GOD I SO GET YOU SLOANE. Let me hug you, you precious sweet thing. But seriously, she's so sweet and her voice is amazing and she made me laugh out loud a lot. And her romance was also beautifully done. I wasn't sure where it was going for a while there but then I did and it was perfect. It's sweet and slow and just gave me all the fluttery feels.
So all in all, THIS ADVENTURE ENDS is definitely a must-read if you're a YA Contemporary fan. Even if you're not, I beg you to check it out. If only for Sloane's dad and the amazing friendships. So go forth and make this book a priority for your 2017 TBR. Because it deserves all the love. And now I must go hunt down a copy of all of Emma's books so here are some quotes I loved.
Quotes!
"It's on one of those young-people networks. It's about a bunch of supernatural kids at a suburban high school. Harry Potter meets … GQ, I don't know, they're all stupidly attractive."
"Ew."
"Don't worry, in true Hollywood fashion, they're twenty-seven-year-olds playing sophomores."

~~~~~~

"The writing is pretty terrible," he says. "The plot holes have plot holes. But the chemistry! God, I just want to bottle it up. And the fics … the fics make up for anything lacking in the show itself."
"Dad, you're like weirdly passionate about this."
"We should all find something to be weirdly passionate about, don't you think?"

~~~~~~

"Everett Finch tragedies, a hundred and forty characters or less?"
My dad clears his throat: "'Love me,' Jake said. 'I do,' Annie replied. And then she died.'" He grins. "That's it. That's every book I ever wrote."
"Not every book. They don't always die."
"They don't always die. There's my Twitter bio."

~~~~~~

Loneliness was a kind of wanting, but it was also this incredible freedom. Not having to rely on anyone or have anyone rely on her. No one to disappoint or be disappointed by. Alone was good and comforting and dependable.

~~~~~~

Frank Sanger blinks at me for a moment. Then he takes both my hands.
"This is an important moment, Sloane," he says solemnly.
"Yeah?"
"Yes. This is the moment upon which our pure and beautiful friendship will be founded, based on your keen understanding of me as a person. We will look back on this moment from a very old age with both affection and reverence."

~~~~~~

The thing about fic is that is comes from love. Characters you love so much, that you feel so deeply for, you'll watch them fall in love a thousand different ways, over and over.