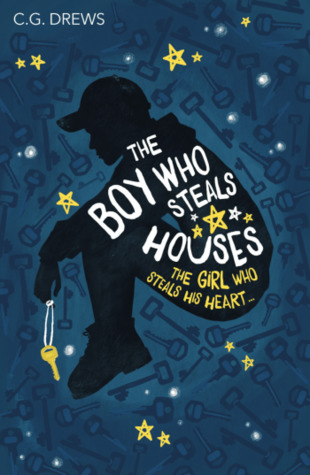 The Boy Who Steals Houses
by
C.G. Drews
Pages:
347
Published on
April 4th 2019
by
Orchard Books
Genres:
Young Adult
,
Contemporary
,
Retelling
Format:
Paperback
Source:
Purchased
Amazon
|
BookDepository
|
Goodreads
Can two broken boys find their perfect home?

Sam is only fifteen but he and his autistic older brother, Avery, have been abandoned by every relative he's ever known. Now Sam's trying to build a new life for them. He survives by breaking into empty houses when their owners are away, until one day he's caught out when a family returns home. To his amazement this large, chaotic family takes him under their wing - each teenager assuming Sam is a friend of another sibling. Sam finds himself inextricably caught up in their life, and falling for the beautiful Moxie.

But Sam has a secret, and his past is about to catch up with him.

The first time I read this book, it was just the third draft and I was merely a beta reader. But even then I loved it to pieces. Sam, Avery, Moxie, Jeremy, Jack, Mr De Lainey,… every single character had my heart. And I'm absolutely thrilled I can tell you that I still love it to pieces. 
Cait has written yet another beautiful story with amazing characters that just feel real and all I want right now is go to the De Laineys on a Sunday and have the De Lainey waffle special. I can talk about this for hours, obviously, but I actually don't want to spoil much for you guys. Instead I'm going to encourage you to read this book and fall in love with it just like I did, for a second time in a row.
THE BOY WHO STEALS HOUSES is a beautiful story about a messy boy falling headfirst into a warm welcoming family and finding a home. The writing is gorgeous and yes, I cried, but in the end I felt like I was wrapped up in a nice warm blanket and I just need more times with this amazing family.
Favorite Quotes
He doesn't break into houses because he enjoys stealing. He stalks vacant windows and tricks locks and sleeps in stolen beds because he just wants to be home.
~~~
"We are the kings of nowhere," Sammy says. "We only need us."
~~~
"You can do monstrous things and not be a monster."
~~~
Boys like him don't get the girl. They go to jail.