The Raven Boys
by
Maggie Stiefvater
Series:
The Raven Cycle #1
Published on
September 18th 2012
by
Scholastic
Genres:
Young Adult
,
Paranormal
Format:
eBook
Source:
Purchased
Amazon
|
Goodreads
Also by this author:
Blue Lily, Lily Blue
,
The Raven King (The Raven Cycle, #4)
,
The Raven Boys
,
The Dream Thieves
,
Blue Lily, Lily Blue
"There are only two reasons a non-seer would see a spirit on St. Mark's Eve," Neeve said. "Either you're his true love . . . or you killed him."

It is freezing in the churchyard, even before the dead arrive.

Every year, Blue Sargent stands next to her clairvoyant mother as the soon-to-be dead walk past. Blue herself never sees them—not until this year, when a boy emerges from the dark and speaks directly to her.

His name is Gansey, and Blue soon discovers that he is a rich student at Aglionby, the local private school. Blue has a policy of staying away from Aglionby boys. Known as Raven Boys, they can only mean trouble.

But Blue is drawn to Gansey, in a way she can't entirely explain. He has it all—family money, good looks, devoted friends—but he's looking for much more than that. He is on a quest that has encompassed three other Raven Boys: Adam, the scholarship student who resents all the privilege around him; Ronan, the fierce soul who ranges from anger to despair; and Noah, the taciturn watcher of the four, who notices many things but says very little.

For as long as she can remember, Blue has been warned that she will cause her true love to die. She never thought this would be a problem. But now, as her life becomes caught up in the strange and sinister world of the Raven Boys, she's not so sure anymore.

From Maggie Stiefvater, the bestselling and acclaimed author of the Shiver trilogy and The Scorpio Races, comes a spellbinding new series where the inevitability of death and the nature of love lead us to a place we've never been before.
Okay, I finally read it! I'm not writing a full review for it since I don't have that much to say. Did I enjoy it? Yes. Did I love it? Not quite. I am glad I finally picked it up and I do intend to continue the series some day. Not sure when just yet.
I liked the writing and the atmosphere Maggie created throughout the novel. I feel like there's a lot of foreshadowing for the rest of the books, which I always like. I like it when it's obvious the story is thought true so well, with build up and small teasers for the sequels. I liked the characters, especially the boys. The ladies in this book are kind of creepy? They gave me chills multiple times. Did I love the boys as much as everyone else seems to? Not quite. Don't get me wrong, I love Gansey, Adam, and Ronan, but not that much. I liked the interactions between the characters the most.
I did have trouble getting into it, but not because it was slower paced. I mean, it was, but that didn't bug me that much. I was confused a lot of the time. A lot of the time I didn't have any idea what was going on and the big cast of characters didn't help. I think I had the wrong expectations of what I was getting into. So basically it's all just me and the book didn't really do anything wrong.
Do I recommend it? Sure. A lot of people seem to love this book and this series, and I did enjoy it. If you haven't picked it up yet, I suggest you try it.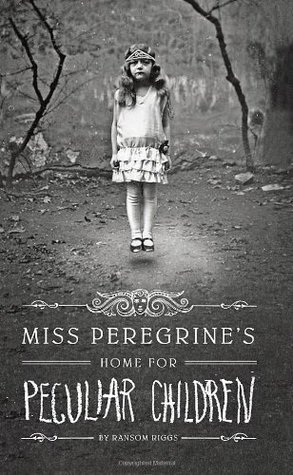 Miss Peregrine's Home for Peculiar Children
by
Ransom Riggs
Series:
Miss Peregrine's Peculiar Children #1
Published on
June 7th 2011
by
Quirk
Genres:
Young Adult
,
Mystery
,
Paranormal
Format:
Paperback
Source:
Purchased
Amazon
|
Goodreads
A mysterious island. An abandoned orphanage. A strange collection of curious photographs.

A horrific family tragedy sets sixteen-year-old Jacob journeying to a remote island off the coast of Wales, where he discovers the crumbling ruins of Miss Peregrine's Home for Peculiar Children. As Jacob explores its abandoned bedrooms and hallways, it becomes clear that the children were more than just peculiar. They may have been dangerous. They may have been quarantined on a deserted island for good reason. And somehow—impossible though it seems—they may still be alive.

A spine-tingling fantasy illustrated with haunting vintage photography, Miss Peregrine's Home for Peculiar Children will delight adults, teens, and anyone who relishes an adventure in the shadows.

This is another one of those books that I should've read ages ago, and I don't know why it took me so long to finally pick it up. Because I really enjoyed this one quite a bit. It was unique, interesting and really amazingly weird. Or should I say peculiar? (har har, look at me making bad puns.)
I loved the style of storytelling used in this book. Great writing mixed with old photographs (some of which were kind of creepy). This is new to me and I really liked it. It added that little bit extra to the story. I love getting visuals of something in a book. Whether it's artwork or maps or photographs, I love that stuff. I also love fascinatingly weird books, which this also is. On top of that it had a group of really unique and likable characters and a main character I could relate to. So why doesn't it have 5 stars, you ask? I shall tell you.
While I did love this book, I did need a bit to really get to that point. The first 20-30% was just okay to me. It wasn't until Miss Peregrine and her children really came into play that started actually loving the book. Next to that there's also a sort-of kinda romance that I didn't completely buy and Jacob's parents are not there enough in his life. Especially his mother.
I know this book is not for everyone, some of my friends did not enjoy it. But I did, and if you're looking for a unique and weird book, I suggest you give this one a shot!

A Gathering of Shadows
by
Victoria Schwab
Series:
Shades of Magic #2
Published on
February 23rd 2016
by
Tor Books
Genres:
Fantasy
Format:
ARC
Source:
Publisher
Amazon
|
Goodreads
Also by this author:
The Archived
,
Vicious
,
A Darker Shade of Magic
,
This Savage Song (Monsters of Verity, #1)
,
Our Dark Duet (Monsters of Verity, #2)
Four months have passed since the shadow stone fell into Kell's possession. Four months since his path crossed with Delilah Bard. Four months since Rhy was wounded and the Dane twins fell, and the stone was cast with Holland's dying body through the rift, and into Black London.

In many ways, things have almost returned to normal, though Rhy is more sober, and Kell is now plagued by his guilt. Restless, and having given up smuggling, Kell is visited by dreams of ominous magical events, waking only to think of Lila, who disappeared from the docks like she always meant to do. As Red London finalizes preparations for the Element Games—an extravagant international competition of magic, meant to entertain and keep healthy the ties between neighboring countries—a certain pirate ship draws closer, carrying old friends back into port.

But while Red London is caught up in the pageantry and thrills of the Games, another London is coming back to life, and those who were thought to be forever gone have returned. After all, a shadow that was gone in the night reappears in the morning, and so it seems Black London has risen again—meaning that another London must fall.

What even are words? Seriously. What do I even say right now? This review is gonna be short and sweet because no matter how long I make this review, nothing will ever do this book justice. Nothing, I tells ya. This was magnificent.
So, was this as good as ADSOM? Yes. Was it better? Yes. Why? Because the stakes are higher, Rhy gets more time in the spotlight, the world is even more awesome than I remembered, Kell & Lila are still awesome, the new characters are equally awesome and ALL THE SHIPS ARE SETTING SAIL. Seriously. There's also a new ship, an LGBT one and I ship it so hard. I will not tell who because spoilers.
I don't even know what else to say right now. You should read this, obviously. OH, but before I go, I should warn you. If you hate cliffhangers, like… the worst-cliffhanger-you-can-imagine-has-happened-and-you-want-to-rage-out-because-the-next-book-won't-be-out-for-a-year-kind of hate, you should wait until book 3 is out. Because my god this ending is killing me already. THIS is how you do cliffhangers right.
Fans of Fantasy or Victoria Schwab or, you know, books should read this because… Just because. I have said enough. Go. Go read it. I need someone I can talk (whine/wail/cry) with about that ending and all the ships.