The Swarm Descends
by
Jacob Grey
Series:
Ferals #2
Published on
April 26th 2016
by
HarperCollins
Genres:
Middle Grade
,
Fantasy
Format:
eARC
Source:
Edelweiss
Goodreads
Also by this author:
Ferals
The second book in this gripping, high-impact, high-energy new series.

After the Spinning Man was banished to the Land of the Dead in an epic struggle between good and evil Ferals, Caw's life has become safer, free of the darkness that had stalked Blackstone for so long. But there's a new villain in town – and the Mother of Flies will stop at nothing to make crime, corruption and chaos descend once more.

Caw must use every ounce of courage, and every friend he can find, to face-off against some truly terrifying Ferals. Dark family secrets will be revealed – and he will learn to be very careful about who to trust…
I received this book for free from the publisher or author in exchange for an honest review.
This does not affect my opinion of the book or the content of my review.
I know a lot of my bookish friends didn't enjoy the first book, Ferals, a lot, but I for one loved it SO MUCH. Caw became one of my favorite characters ever and I just fell in love with it. So naturally I was a bit scared the sequel wouldn't live up to my expectations, but it did! Because I loved it a whole lot and I wasn't disappointed.
The Swarm Descends furthers Caw's story while re-introducing us to all the known characters and mixing in totally new ones. The writing is still SO great and it reads so fast! I read this book in one sitting in two and a half hours. I couldn't put it down even for a second. Suffice to say it does not suffer from Second Book Syndrome. And the characters, so much love for all of them! I loved seeing Crumb, Pip and Lydia again and the crows Glum and Screech. I also liked the new characters Selina, the crow Shimmer and our new villain, the Mother of Flies (I hate flies), and her minions were terrific. But most of all I loved Caw. I love seeing him grow and learn and I just adore him period. He's still one of my favorite characters and I can't wait to see where he goes next!
The Swarm Descends is a great sequel to Ferals. It's engaging, fun and builds the overall world and lore of the Ferals. If you liked the first book, definitely check this one out. If you didn't, try it anyway! You might end up enjoying it more. I wish I could find the author on Social Media so I can gush about his books, but he's nowhere to be found. (Pulling a JD Salinger, eh?) Anyway, can't wait to read the third book. Check this out if you're looking for a great new Middle Grade series!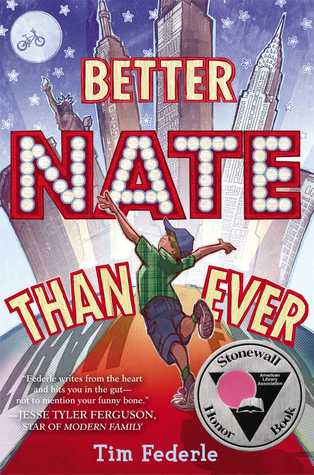 Better Nate Than Ever
by
Tim Federle
Series:
Better Nate Than Ever #1
Published on
February 5th 2013
by
Simon & Schuster
Genres:
Middle Grade
,
Contemporary
Format:
eBook
Source:
Purchased
Goodreads
Also by this author:
The Great American Whatever
Nate Foster has big dreams. His whole life, he's wanted to star in a Broadway show. (Heck, he'd settle for *seeing* a Broadway show.) But how is Nate supposed to make his dreams come true when he's stuck in Jankburg, Pennsylvania, where no one (except his best pal Libby) appreciates a good show tune? With Libby's help, Nate plans a daring overnight escape to New York. There's an open casting call for E.T.: The Musical, and Nate knows this could be the difference between small-town blues and big-time stardom.

Ahhh good golly this was fun. And exactly what I needed to get out of my horrendous slump that shall be known as March Madness from now on.
So yes, this was fun. It's funny and sweet and charming and I liked it a lot. Nate is a precious, brave little munchkin and I loved him & his voice. Also, this showed what a terrifying process it is to audition for something. *shivers*
If you love MG novels, please do check this out. I don't have much to say, but I'll leave you with a quote that stood out to me:
My sexuality, by the way, is off-topic and unrelated. I am undecided. I am a freshman at the College of Sexuality and I have undecided my major, and frankly don't want to declare anything other than "Hey, jerks, I'm thirteen, leave me alone. Macaroni and cheese is still my favorite food—how would I know who I want to hook up with?"
Have you read any great Middle Grade books lately?