The Demon King, The Exiled Queen, The Gray Wolf Throne, The Crimson Crown
by
Cinda Williams Chima
Series:
Seven Realms
Published on
2009-20013
by
Disney Hyperion
Genres:
Fantasy
Format:
Audiobook
Source:
Purchased for Audible
Amazon
|
B&N
|
BookDepository
|
Goodreads
Also by this author:
The Demon King

Last year my friend and fellow blogger Andye recommended The Seven Realms series to me when we started talking about our mutual love of fantasy.   I purchased The Demon King and started reading it… only to get bored and not finishing it.  On the other hand, my son "B", who is also a fan of all things fantasy, started reading the series and I ended buying the rest of the books for him.  He loved the series and kept pushing me to read it.   Later, Andye suggested that I tried the audiobooks and the rest is history.
Overall Impressions
I honestly don't know where to start a review for The Seven Realms series.  It is such a flawless, perfect, enthralling, and compelling story.  I cannot pinpoint which of these books is better than the other since they are all amazing.  This is fantasy as its best: there is magic, friends, enemies, wars, schools, politics, surprises, vengeance, love, and hate.
The character development is nothing short of incredible.  The series takes the span of almost two years and the characters grow so much in that time.  Their outlook, love interests, vision of the future, and even loyalties change, grow and develop throughout the story.
All the books are told in third point of view and it makes a lot of sense for the story.  It mainly follows Princess Raisa ana'Marianna, heir to the throne of the Fells and Han "Cuffs"Alister, the ex-leader of thief gang in Fellsmarch.  Their stories are somehow linked and intertwined, even if they don't know it at the beginning.  The third point of view, also allow us to know about other characters, especially Han's friend Dancer, Amon, Raisa's friend and captain of her guard, and Micah Bayar
The writing is exquisite, insightful and gripping.  The plot is incredibly complicating and fascinating.  Everything that happens in the books is important later on.  I love how rich the culture is, the magic of it all, the secret, the idea of a love so big that survives through the ages.
The Demon King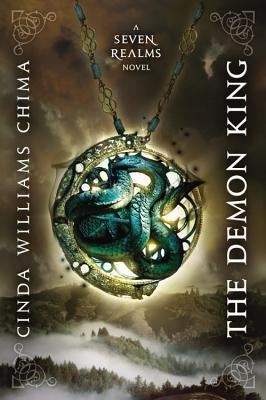 Times are hard in the mountain city of Fellsmarch. Reformed thief Han Alister will do almost anything to eke out a living for his family. The only thing of value he has is something he can't sell—the thick silver cuffs he's worn since birth. They're clearly magicked—as he grows, they grow, and he's never been able to get them off.

One day, Han and his clan friend, Dancer, confront three young wizards setting fire to the sacred mountain of Hanalea. Han takes an amulet from Micah Bayar, son of the High Wizard, to keep him from using it against them. Soon Han learns that the amulet has an evil history—it once belonged to the Demon King, the wizard who nearly destroyed the world a millennium ago. With a magical piece that powerful at stake, Han knows that the Bayars will stop at nothing to get it back.

Meanwhile, Raisa ana'Marianna, princess heir of the Fells, has her own battles to fight. She's just returned to court after three years of freedom in the mountains—riding, hunting, and working the famous clan markets. Raisa wants to be more than an ornament in a glittering cage. She aspires to be like Hanalea—the legendary warrior queen who killed the Demon King and saved the world. But her mother has other plans for her…

The Seven Realms tremble when the lives of Hans and Raisa collide, fanning the flames of the smoldering war between clans and wizards.
If you read my introduction above, you know I started reading The Demon King and abandoned it midway.  The main reason was that the pacing.  Fantasy is a tricking genre to write because it depends a lot on the world building.  The history, background information, and current troubles of our main characters take a while to get to the part where sometime actually happens.  Stick with it! I guarantee it's worth it 🙂
"Well, I believe she went in to rescue some Raggers from the pits," Cuffs said. "She wasn't all that specific."

"She went in to rescue — why would she do that?" Amon gripped the ironwork, studying the streetlord's face. Was he lying? And if so, what was the purpose?

"Guess she's kind of taken with us," Cuffs said. "You know, the glamor of the gang life and all. Getting beat up every other day, arrested for crimes you didn't commit, long nights in gaol, sleeping in the cold and wet. It's…seductive." He raised an eyebrow."
The Seven Realms were once one kingdom, but a thousand years ago Queen Hanalea fell in love with the Demon King, a wizard and it almost destroyed the world.  Or so we are told over and over again.  There were many rules and precautions put into place to avoid this happening again.  A thousand years after, this book follows Raisa and Han's stories.  They are almost complete opposites since Raisa lives a life of privilege and excess, while Han lives in extreme poverty, taking care of his mom and sister.  They have a chance encounter, but Han doesn't know who Raisa is and believes her to be Rebecca, a tutor to the Bayars.
This book ends in tragedy, but also in a revelation as to why Han is wearing cuffs since birth.  On the day of her 16th coming of age party, Raisa is forced by the High Wizard and her mother into a forced marriage, but she escapes with Amon.  It is always known that she would have to make a political match for the good of the queendom, but marriage to a wizard is forbidden.
The Exiled Queen
Haunted by the loss of his mother and sister, Han Alister journeys south to begin his schooling at Mystwerk House in Oden's Ford. But leaving the Fells doesn't mean that danger isn't far behind. Han is hunted every step of the way by the Bayars, a powerful wizarding family set on reclaiming the amulet Han stole from them. And Mystwerk House has dangers of its own. There, Han meets Crow, a mysterious wizard who agrees to tutor Han in the darker parts of sorcery—but the bargain they make is one Han may regret.

Meanwhile, Princess Raisa ana'Marianna runs from a forced marriage in the Fells, accompanied by her friend Amon and his triple of cadets. Now, the safest place for Raisa is Wein House, the military academy at Oden's Ford. If Raisa can pass as a regular student, Wein House will offer both sanctuary and the education Raisa needs to succeed as the next Gray Wolf queen.

Everything changes when Han and Raisa's paths cross, in this epic tale of uncertain friendships, cut-throat politics, and the irresistible power of attraction.

After Raisa flees from the Fells, she takes refuge in Oden's Ford, a "neutral" school and thus it's deemed to be a safe place.  She's hiding from the Bayars and other would be suitors. While she's in Oden's Ford she has the unprecedented advantage of learning fighting skills, politics, history, and strategy.
"And, like a fool, she kissed him back. Kissed him a way that would leave no doubt about the way she felt about him. Kissed him because she knew the chances were slim she'd have very many kisses like that in her lifetime.

Which is a sad thing when you're only seventeen."
It is very interesting to see Han developing his skills as a wizard, creating his own alliances, improving himself, and studying with Crow.  He also finds "Rebecca" (Raisa) there and they become friends and allies of sorts.  When she suddenly disappears, both Amon and Han also leave the school to find her.
"And it's not just a matter of you hurting me. I will hurt you too, even if I don't want to, I'm not the girl you think I am. And you will remember this conversation, and wish that you'd listened to me."
This book ends up in a huge cliffhanger, so I'm very glad that all four books were published when I read the series 🙂
The Gray Wolf Throne
Han Alister thought he had already lost everyone he loved. But when he finds his friend Rebecca Morley near death in the Spirit Mountains, Han knows that nothing matters more than saving her. The costs of his efforts are steep, but nothing can prepare him for what he soon discovers: the beautiful, mysterious girl he knew as Rebecca is none other than Raisa ana'Marianna, heir to the Queendom of the Fells. Han is hurt and betrayed. He knows he has no future with a blueblood. And, as far as he's concerned, the princess's family as good as killed his own mother and sister. But if Han is to fulfill his end of an old bargain, he must do everything in his power to see Raisa crowned queen.

Meanwhile, some people will stop at nothing to prevent Raisa from ascending. With each attempt on her life, she wonders how long it will be before her enemies succeed. Her heart tells her that the thief-turned-wizard Han Alister can be trusted. She wants to believe it—he's saved her life more than once. But with danger coming at her from every direction, Raisa can only rely on her wits and her iron-hard will to survive—and even that might not be enough.

The Gray Wolf Throne is an epic tale of fierce loyalty, unbearable sacrifice, and the heartless hand of fate.
Wow, so many things are uncovered during this book!  You can get the gist of what happens from the synopsis, but Han does SO much for Raisa, even if he didn't know who she was.  He saves her from certain death, to great peril to himself and even if he was tricked and he felt so betrayed, he does everything for her.  *Be still my heart*  Han plans for her, dreams of her, of a future in which they can be together.  He makes many mistakes, and maybe the biggest one is to keep all his secrets and plans close to his heart.
"She had never felt more alive than when she lay dying in Han Alister's arms."
The Queen, Raisa's mother, is murdered and Raise must make her claim to the throne and prove that she can be the queen that the Fells need.  The biggest problem is that the Queendom is at war with itself.  The Wizards and the Clans cannot agree on anything, the citizens of the city do not trust the government and Raisa's circle narrows around her.
"Maybe the hardest lesson Han had learned was that nobody is purely bad or good. Everybody seemed to be a mixture of both."
The Crimson Crown
A thousand years ago, two young lovers were betrayed-Alger Waterlow to his death, and Hanalea, Queen of the Fells, to a life without love.

Now, once again, the Queendom of the Fells seems likely to shatter apart. For young queen Raisa ana'Marianna, maintaining peace even within her own castle walls is nearly impossible; tension between wizards and Clan has reached a fevered pitch. With surrounding kingdoms seeking to prey on the Fells' inner turmoil, Raisa's best hope is to unite her people against a common enemy. But that enemy might be the person with whom she's falling in love.

Through a complicated web of lies and unholy alliances, former streetlord Han Alister has become a member of the Wizard Council of the Fells. Navigating the cut-throat world of blue blood politics has never been more dangerous, and Han seems to inspire hostility among Clan and wizards alike. His only ally is the queen, and despite the perils involved, Han finds it impossible to ignore his feelings for Raisa. Before long, Han finds himself in possession of a secret believed to be lost to history, a discovery powerful enough to unite the people of the Fells. But will the secret die with him before he can use it?

A simple, devastating truth concealed by a thousand-year-old lie at last comes to light in this stunning conclusion to the Seven Realms series.
Perhaps this is the way to do a review backwards, but I think this quote sums up the awesome of Han Alister.
"So here's the truth – I love you. I love everything about you – the way you stick up for people even when it costs you. The way you keep trying to do the right thing even when you're not exactly sure what the right thing is. I love how you put words together. You're as skilled with words as any knife fighter with a blade. You can put an enemy down on his back, or you can raise people up so they find what's best in themselves. You've changed my life. You've given me the words I need to become whatever I want.

I love how you talk to lytlings. You don't talk down to them. You respect them, and anybody can tell you're actually interested in what they have to say.

I love the way you ride a horse – how you stick there like an upland thistle, whooping like a Demonai. I love the way you throw back your head and stomp your feet when you dance. I love how you go after what you want – whether it's kisses or a queendom.

I love your skin, like copper dusted over with gold. And your eyes – they're the color of a forest lake shaded by evergreens. One of the secret places that only the Demonai know about.

I love the scent of you – when you've been out in the fresh air, and that perfume you put behind your ears sometimes.

Believe it or not, I even love your road smell – of sweat and horses and leather and wool.

I want to breathe you in for the rest of my life."
So much happens in this book! War comes to the gates of the Fells and find a queendom divided by mistrust and ambition.  Raisa is accosted from all sides to choose an alliance, but her heart lies somewhere else.  I can't possibly tell you everything, but the bad guys get what they deserve, secrets are revealed, there are surprises galore and everything works out at the end.
I love how Raisa kept believing in Han, even when everything pointed to his guilt and he was hunted by everyone.  She knew in her heart that Han was good and wanted the best for them and for the queendom.
I don't say this often, but the ending of the series was truly perfection itself. 
You cannot imagine how exiting and exasperating it is to wait for her Shattered Realms series, which starts with Flamecasters , to be published in March of next year.  This new series takes place about 20 years after the ending of the Seven Realms series.