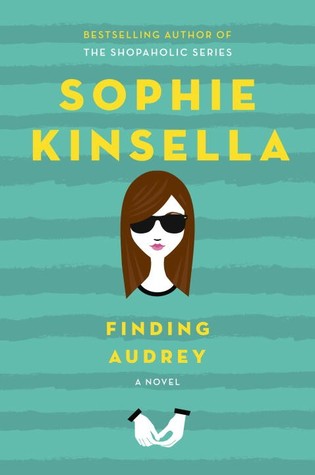 Finding Audrey
by
Sophie Kinsella
Pages:
288
Published on
June 9th 2015
by
Delacorte Books for Young Readers
Genres:
Adolescence
,
Contemporary
,
Romance
,
Young Adult
Format:
Audiobook
Length:
6 hours, 36 minutes
Source:
Purchased for Audible
Amazon
|
B&N
|
BookDepository
|
Goodreads
Also by this author:
Finding Audrey
,
Twenties Girl
An anxiety disorder disrupts fourteen-year-old Audrey's daily life. She has been making slow but steady progress with Dr. Sarah, but when Audrey meets Linus, her brother's gaming teammate, she is energized. She connects with him. Audrey can talk through her fears with Linus in a way she's never been able to do with anyone before. As their friendship deepens and her recovery gains momentum, a sweet romantic connection develops, one that helps not just Audrey but also her entire family.

Finally!  Finding Audrey is my first Kinsella read.  I'm not sure why it took me so long to start, but maybe I was waiting for her to write a YA book.  I really loved this one.
Audrey is 14 and she has gone through a rough time.  She doesn't specifically explains what happened, but the gist of it is that she was bullied to severely that she now suffers from social anxiety.  She's been home for a few months and doesn't leave the house, except to see Dr. Sarah, her therapist.  She also wears dark glasses all the time as she cannot make eye contact.  As part of her therapy she has to film her family, and this is when the fun starts.
"The parents are in charge of all the stuff like technology in the house and time on screens and hours on social media, but then their computer goes wrong and they're like a baby, going, "What happened to my document?" "I can't get Facebook." "How do I load a picture? Double-click what? What does that mean?" And we have to sort it out for them."
Audrey has two brothers, Frank who's 15 and Felix, who's four.  Frank is a gamer and he's spends too much time on-line. One of his friends is Linus and that's how Audrey first comes to have contact with him.  The overall family dynamics are fun to watch and at the same time very realistic. Frank is not always the best of brothers (who is?), but he really loves his siblings and he doesn't hurt them purposely. I really loved that their parents were ever present and tried to do a good job at parenting and being 'there' for them.
Linus is so patient.  He has many interests, acting, gaming, water polo, and luckily, Audrey.  He goes ever so slow on her and Audrey learns to gradually trust him. Eventually, they become friends and then something more.  I love how Linus made her feel loved, wanted, pretty and worth of all the trouble.  Such a cute relationship 🙂
"Sometimes I hope I'm building up a stockpile of missing laughs, and when I've recovered, they'll all come exploding out in one gigantic fit that lasts twenty-four hours."
The story is told in the first person, from Audrey's point of view and we can feel what is like to be in her head.  How she overanalyzes everything, thinks too hard and those thoughts are not always good.   I imagine that adolescents that read the book will view it in a different light than me, since I identify more with the parents and all they were trying to do. The writing is funny, even though the overall theme of the book is somewhat serious and I appreciate that lightness.
"I think what I've realized is, life is all about climbing up, slipping down, and picking yourself up again. And it doesn't matter if you slip down. As long as you're kind of heading more or less upwards. That's all you can hope for. More or less upwards."
Overall, Finding Audrey is a story of the ups and downs in life. A story of how love and understanding can be a catalyst for change and redemption.  I plan to read another Kinsella book fairly soon.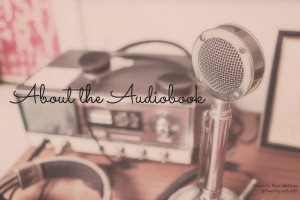 The audiobooks was a great experience for me.  I loved Gemma Whelan's accent (or course!) and acting abilities.  The voices were SO good, I was amazed by her ability to portrait so many different personalities, especially the men.