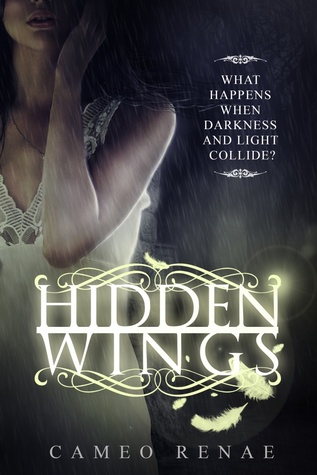 Hidden Wings
by
Cameo Renae
Series:
Hidden Wings #1
Published on
January 16th, 2013
by
Audible
Genres:
Paranormal
,
Romance
,
Young Adult
Format:
Audiobook
Narrator:
Susannah Jones
Length:
7 hours and 33 minutes
Source:
Publisher
Amazon
|
B&N
|
BookDepository
|
Goodreads
Also by this author:
Hidden Wings
Seventeen is a life changing age for Emma Wise.
As her family's sole survivor in a car crash, she is left with a broken arm and a few scrapes and bruises. But these are only outward marks; inside, her heart is broken and the pieces scattered.

Whisked away to Alaska, to an aunt she's never met, Emma starts over. Secrets unveil themselves and now…she doesn't even know who or what she is.

A centuries old prophecy places Emma in the heart of danger. Creatures of horrifying and evil proportions are after her, and it will take Emma, her aunt, and six, gorgeously captivating Guardians to keep her safe. But, if she can survive until her eighteenth birthday... things will change.

Hidden Wings was a short and enjoyable "read" (well, I listen to the book ;)) and the beginning to a series about angels.   Angel books are a hit or miss for me so I'm happy to report that I like this one.
The book starts when Emma wakes up in the hospital after a horrible accident that took her parent's life.  While there Emma's aunt contacts the hospital and obtains custody of the 17-year-old.  The problem is that Emma has never even heard about this aunt and she has to move to Alaska!
Kade and other "mysterious" and handsome men (Guadians)  are assign to escort her there and Emma suspects that something strange is going on.  We are introduced to a host of characters that all seem to know about Emma, but she is at a disadvantage.  Emma is loyal, smart, stubborn, and a bit lost.  She was grieving and she's thrown into chaos and danger at every turn.
Kade and Emma forged an instant connection that seems to be very rare, AND forbidden as well.  They are fighting against mandates that are centuries old and against a prophecy that we don't fully understand yet.  I really liked them together and even though it is almost insta-love, it works here in the context of their paranormal connection.
The books is really fast paced.  So much so that I believe that everything happens in a timeframe of less than one week.   This made it difficult for both, Emma and the reader to keep up with the action and to what was being left unsaid.  I think that a lot of questions remained unanswered, but this is somewhat typical of series.  The writing is fluid and easy to understand.
Another thing that I didn't love was that I was confused for a big part of the book.  The mystery was too big and no one was explaining anything.  It was difficult for me to go with the flow at times.  I hope we learn a lot more in the books to come.
Overall, Hidden Wings is a great beginning to series and I'm looking forward to Broken Wings, the next book since the ending was definitely a cliffhanger 🙂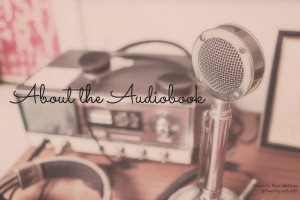 Hidden Wings is my first book narrated by Susannah Jones and I feel like she did a great job.  Characters voices were very distinctive from each other which is always a plus for me.  The pacing was great and easy to understand.