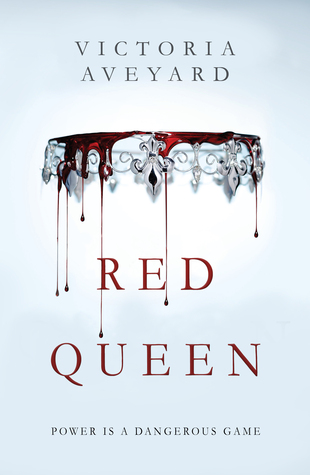 Red Queen
by
Victoria Aveyard
Series:
Red Queen #1
Published on
February 10th, 2015
by
HarperTeen
Genres:
Young Adult
,
Fantasy
Format:
eBook
Source:
Gifted
Amazon
|
B&N
|
BookDepository
|
Goodreads
Also by this author:
Red Queen
,
Red Queen
This is a world divided by blood - red or silver.

The Reds are commoners, ruled by a Silver elite in possession of god-like superpowers. And to Mare Barrow, a seventeen-year-old Red girl from the poverty-stricken Stilts, it seems like nothing will ever change.

That is, until she finds herself working in the Silver Palace. Here, surrounded by the people she hates the most, Mare discovers that, despite her red blood, she possesses a deadly power of her own. One that threatens to destroy the balance of power.

Fearful of Mare's potential, the Silvers hide her in plain view, declaring her a long-lost Silver princess, now engaged to a Silver prince. Despite knowing that one misstep would mean her death, Mare works silently to help the Red Guard, a militant resistance group, and bring down the Silver regime.

But this is a world of betrayal and lies, and Mare has entered a dangerous dance - Reds against Silvers, prince against prince, and Mare against her own heart...

So damn… That happened. Honestly, I don't even know what to say right now. I mean… Sure, I had expectations. They were pretty high too from what I'd been hearing around about this book. But then I started this and well… Mind = blown.
Red Queen is about Mare. Her world is divided by blood. Red and Silver. Her family are only Reds, destined to serve the Silvers, whose abilities makes them think they're Gods. Mare is a skilled thief and steals what she can to help her family survive. Somehow she ends up working in the royal palace itself and there, in front of the whole world to see, she discovers an ability of her own that she didn't know she had. To hide the fact that she's the first Red to have abilities, the king and queen spin a web of lies and betroths her to one of his sons. In this new world where she can't really trust anyone, she does everything she can to help the Scarlet Guard, the leaders of the Red rebellion. But power is a dangerous game…
I saw a couple of reviews for this one before I started it. They weren't really reviews yet. But it was clear that nearly everyone seemed to love this book. And it's epic bloody ending. So yeah, I had high expectations. And they were all met. The one thing I didn't like was something others seemed to have trouble with as well. Throughout the book were learn that we can trust nobody and because of that, the twists don't really land all that hard. I had suspicions throughout the book and they all came true, which is a pity really. If it wasn't for that, this'd be a five star book.
This still is a great book though! Very original and yes, the ending is very bloody! The writing is excellent and though the twists aren't that much of a surprise, I still feel all the feels, if that makes sense at all. I was warned for the ending, but still. My god. I was glued to the pages the entire time!
I really liked Mare! She was a great main character and I rooted for her whole time! She's an expert pickpocket and I loved how cunning she was. She's clever and stubborn and doesn't lose herself in all the luxury she's thrown in. But she also trusts a bit too easily, especially when it comes to boys. I mean, I'd be the same but still. When there's a lot at stake, you'd expect her to be a bit more careful. I can't really tell you much about the others without spoiling though. All characters were great, let's keep it at that.
I've personally never read Graceling, so I don't know if this book can be compared to it, but I can definitely see the comparisons to The Selection. There are a few elements of that in this. I'd also say there's a bit of the Throne of Glass series in it. Which is awesome of course. I can easily say this trilogy will most likely be very big and popular. At least that's what I hope.
Red Queen has fantastic world building, a main character you root for and very high stakes. I'd say the whole book is pretty damn epic and bloody, not just the ending. Highly recommended to fans of High Fantasy like Throne of Glass. This was fantastic!