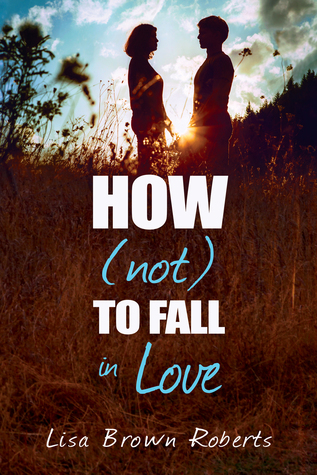 How (not) to Fall in Love
by
Lisa Brown Roberts
Published on
February 3rd 2015
by
Entangled Teen
Genres:
Contemporary
,
Romance
,
Young Adult
Format:
eARC
Source:
Netgalley
Goodreads
Seventeen-year-old Darcy Covington doesn't know the difference between a pawn shop and a thrift shop. Even her dog eats gourmet food, so she's totally unprepared when her car is repossessed from the parking lot of her elite private school. Turns out her father, a semi-famous motivational speaker, has skipped town, abandoning his family while his business collapses. Even David Letterman comes up with ten reasons why her father won't ever return home.

Desperate to sell her expensive jewelry for much-needed cash, Darcy discovers that her dad's brother runs a funky thrift shop on a street full of eccentric characters, including a coffee shop owner named Liz and one supremely hot fix-it guy named Lucas.

Darcy finds some solace hanging out with her uncle and Lucas in the thrift shop and working in Liz's coffee shop, while the rest of her life falls apart. The time she spends with the uber hot Lucas helps takes her mind off her family's troubles, even though she's sure he's only nice to her because he works for her uncle, especially when she meets the cover girl beauty she thinks he's dating.

Can Darcy find the courage she needs to adapt to the necessary changes brought about by her family's drastically reduced lifestyle? And will she open her eyes to the amazing realization that Lucas wants much more than friendship from her?

How (not) to Fall in Love is a very sweet and touching story about love, family, friendship, courage and finding yourself when your life is all but perfect. I really, really enjoyed this book!
How (not) to Fall in Love is about Darcy. Her dad is a semi-famous motivational speaker and when he disappears, abandoning his family while his business collapses, Darcy and her mom are left to pick up the pieces. Darcy turns to her dad's brother, who runs a thrift shop, to sell her jewelry for some much-needed cash. There in the street of her uncle's thrift shop, Darcy finds more than she thought she was looking for. She starts working in the coffee shop across the street owned by a sweet woman named Liz and becomes friends with the hot fix-it guy named Lucas, who works at her uncle's shop.
Although this was not a five-star book for me, I did love it! It's a really good story! Is it the most original one? Maybe not, but it's really hard to come up with something completely new in this genre and it's still original on some levels. Is it predictable? On some parts, maybe. Did it bother me? No, not at all! Like I said, I really enjoyed reading this book. I think the thing that kept me from giving it five stars is that I expected something more towards the ending. View Spoiler »I was waiting for a confrontation between Darcy and her dad, or more or a resolution, but I didn't really feel like I got that. I just wanted a bit more from the ending. « Hide Spoiler
I loved Darcy! She has so much courage & she's so strong. If I were in her shoes, I would've broken down completely I think. But she kept going and I admire her for that! I didn't expect her to be as relatable as she was. I mean, how could I not like a girl who loves Harry Potter as much as I do? It's impossible. I also loved Charlie, Liz and Pickles. I wasn't really fond of Sal and her mom at first. I didn't like how her mom just drowned herself in her sorrows and didn't do anything to get out of the mess like Darcy did. Also, I kind of hate her dad for abandoning them. I loved Lucas. Of course I did.
How (not) to Fall in Love is a very heartwarming and inspirational book, perfect to read on a lazy afternoon. I recommend it to fans of YA Contemporary. Well, maybe if you're not, still try it. It might just change your mind on the genre.