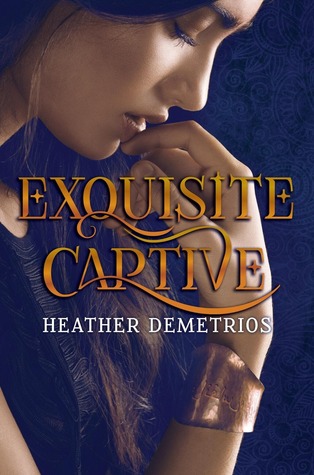 Exquisite Captive (Dark Caravan Cycle, #1)
by
Heather Demetrios
Series:
Dark Caravan #1
Pages:
480
Published on
October 7th 2014
by
Balzer + Bray
Genres:
Fantasy
Format:
Hardcover
Source:
Publisher
Amazon
|
B&N
|
BookDepository
|
Goodreads
Also by this author:
Something Real
,
Something Real
,
I'll Meet You There
,
Blood Passage (Dark Caravan Cycle, #2)
,
Bad Romance
Forced to obey her master.Compelled to help her enemy.Determined to free herself.
Nalia is a jinni of tremendous ancient power, the only survivor of a coup that killed nearly everyone she loved. Stuffed into a bottle and sold by a slave trader, she's now in hiding on the dark caravan, the lucrative jinni slave trade between Arjinna and Earth, where jinn are forced to grant wishes and obey their human masters' every command. She'd give almost anything to be free of the golden shackles that bind her to Malek, her handsome, cruel master, and his lavish Hollywood lifestyle.
Enter Raif, the enigmatic leader of Arjinna's revolution and Nalia's sworn enemy. He promises to free Nalia from her master so that she can return to her ravaged homeland and free her imprisoned brother—all for an unbearably high price. Nalia's not sure she can trust him, but Raif's her only hope of escape. With her enemies on the hunt, Earth has become more perilous than ever for Nalia. There's just one catch: for Raif's unbinding magic to work, Nalia must gain possession of her bottle…and convince the dangerously persuasive Malek that she truly loves him. Battling a dark past and harboring a terrible secret, Nalia soon realizes her freedom may come at a price too terrible to pay: but how far is she willing to go for it?
Inspired by Arabian Nights, EXQUISITE CAPTIVE brings to life a deliciously seductive world where a wish can be a curse and shadows are sometimes safer than the light.

What I Loved:
I really enjoy Heather Demetrios' books and her writing style so I was very excited to see both THE EXQUISITE CAPTIVE and its sequel, Blood Passage, come my way for a review. I know that the topic of jinn is a very current trend in Young Adult right now but THE EXQUISITE CAPTIVE is the first book I've read about this topic and it did not disappoint!
The narrative follows the story of Nalia, a Ghan Aisouri jinni. Ghan Aisouri jinnis are the most powerful caste of jinni as they can access the power of all four elements: air, earth, water, and fire. Her homeland, Aijinna, is ripped apart when a group of Ifrit, jinni who use fire and its energy for dark magic, lead a coup that kills every Ghan Aisouri jinni except for Nalia. She is able to escape but only to be sold in the jinni slave trade to her new master, Malek.
I appreciated the way Demetrios' explored the idea of love and lust or longing. When Nalia's master, Malek, begins to express interest in her she is genuinely confused and conflicted. She recognizes that she shouldn't enjoy him, and doesn't want to want him, but finds that her heart and body are reacting in different ways. It isn't until she meets Raif, the leader of Arijinna's revolution and her sworn enemy, that she begins to realize the differences between finally not feeling lonely and real affection.
Nalia is a fantastic character who is immediately relatable, despite the fact that she's the last of a very powerful kind of jinni. She's angry at being forced into slavery, heartbroken by what's happening in her home land, desperate to save her brother, and feels immense guilt at the role she played in all of this. At the same time, she's thoughtful, a good friend to the few people she lets herself get close to, and loyal to the vows she made as an Ghan Aisouri.
What Left Me Wanting More:
The world of jinni was confusing and difficult for me to keep up with, especially at the beginning. The Arjinnan Castes with their different color eyes and smoke and different gods were very difficult for me to keep track of. I found myself flipping to the front of the book to figure out what each character of jinni was several times.
Obviously there is also a lot of backstory to Nalia's story as everything I described above actually happens before we are introduced to her on the page. The first few chapters were a lot of exposition of all this history and it slowed down the plot, which was a little frustrating since it gave the story a slow start. However, by the time things started moving in the plot, they didn't stop until the very last page.
Though Raif and Nalia are a couple that I was rooting for, I did feel like their connection was hurried. Some of that is explained away with the way their specific magic, or chiaan, interacts with one another but the story only takes place over the course of a few days and declarations of true love felt slightly forced to me.
Final Verdict:
EXQUISITE CAPTIVE is a fantastic exploration of the jinni legends and culture told through a unique and exhilarating plot that holds no punches. Nalia and Raif are characters you'll fall in love with immediately and you'll be itching to get your hands on the sequel immediately.