I was going through one of the worst reading slumps this year. Worse than my Annual Winter Reading Slump, which lasts a few weeks, this one had me struggling to find a book that captured my attention for almost two months. In the end, I had to raise the red flag and DNF a few. Fortunately, things have turned around.
Here are the books I had to "break up" with.
Black Leopard, Red Wolf (The Dark Star Trilogy, #1)
by Marlon James
Pages: 620
Published on February 5, 2019
by Riverhead Books
Goodreads

Tracker is known far and wide for his skills as a hunter: "He has a nose," people say. Engaged to track down a mysterious boy who disappeared three years earlier, Tracker breaks his own rule of always working alone when he finds himself part of a group that comes together to search for the boy. The band is a hodgepodge, full of unusual characters with secrets of their own, including a shape-shifting man-animal known as Leopard.

As Tracker follows the boy's scent—from one ancient city to another; into dense forests and across deep rivers—he and the band are set upon by creatures intent on destroying them. As he struggles to survive, Tracker starts to wonder: Who, really, is this boy? Why has he been missing for so long? Why do so many people want to keep Tracker from finding him? And perhaps the most important questions of all: Who is telling the truth, and who is lying?

Drawing from African history and mythology and his own rich imagination, Marlon James has written a saga of breathtaking adventure that's also an ambitious, involving read. Defying categorization and full of unforgettable characters, Black Leopard, Red Wolf is both surprising and profound as it explores the fundamentals of truths, the limits of power, the excesses of ambition, and our need to understand them all.
Pages read: 151
This was one of 2019's most hyped books. I was even thinking of buying it because of FOMO, but I got it on loan from work.
I liked several things: its mythic elements, the LGBTQIA representation, several minor characters who provide a bit of humanity among the atrocities taking place in the story.
I've read my share of plot-driven and character-driven books, but this book meanders. Are we following the plot? Are we following the characters? In the meantime, it's a constant bombardment of…stuff. Besides the writing being all over the place, the characters speak in riddles. There's no such thing as a straight answer in this world. And so many scenes seem to happen more for shock value than to keep things going. After almost two and a half weeks, I hadn't made any progress in finishing it, so I had to admit I was not going to.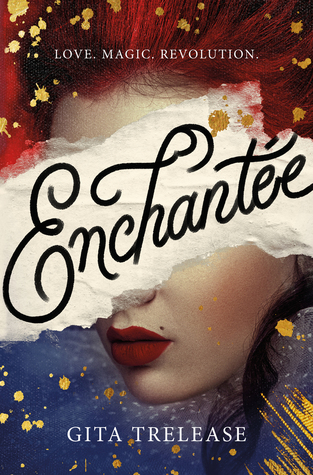 Enchantée
by Gita Trelease
Pages: 459
Published on February 5, 2019
by Flatiron/Macmillan
Goodreads

Paris in 1789 is a labyrinth of twisted streets, filled with beggars, thieves, revolutionaries—and magicians...

When smallpox kills her parents, Camille Durbonne must find a way to provide for her frail, naive sister while managing her volatile brother. Relying on petty magic—la magie ordinaire—Camille painstakingly transforms scraps of metal into money to buy the food and medicine they need. But when the coins won't hold their shape and her brother disappears with the family's savings, Camille must pursue a richer, more dangerous mark: the glittering court of Louis XVI and Marie Antoinette.

With dark magic forbidden by her mother, Camille transforms herself into the 'Baroness de la Fontaine' and is swept up into life at the Palace of Versailles, where aristocrats both fear and hunger for la magie. There, she gambles at cards, desperate to have enough to keep herself and her sister safe. Yet the longer she stays at court, the more difficult it becomes to reconcile her resentment of the nobles with the enchantments of Versailles. And when she returns to Paris, Camille meets a handsome young balloonist—who dares her to hope that love and liberty may both be possible.

But la magie has its costs. And when Camille loses control of her secrets, the game she's playing turns deadly. Then revolution erupts, and she must choose—love or loyalty, democracy or aristocracy, freedom or magic—before Paris burns…
Pages Read: 154
The setting is well-researched and covers both the opulence and extreme poverty of 1700s France. The history is so rich and detailed, I could languish in the details. There are real conflicts and stakes for the main character. However, I was easily putting the book down all the time. Something about the pacing wasn't clicking with me. This is more of an "on hold for now" book because I'm still curious about the story to check it out another time.
Co-Blogger
at
Quite the Novel Idea
Leah has always been a bibliophile. An avid fantasy fan, she has spent many hours imagining magical worlds and wondering what it would be like to wield a sword. When she's not dreaming up her own standalone fantasy stories, she enjoys watching movies, traveling, and eating chocolate. She lives in California.