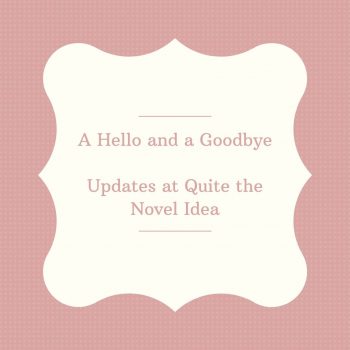 Hello from Leah
Hi, all! As the title card indicates, I'm popping in with some news about the blog.
I mentioned I stepped back from blogging to give my carpal tunnel symptoms a chance to rest. Thank you so much for your kind words of support. I still had to use a computer for work, but the extra time off really helped. As of now, I plan to post at least for Top Ten Tuesday because I have so much fun making the lists. A few reviews will be sprinkled here and there, but for now, the posts will be minimal.
Goodbye from Bee
Most of you know that last year, Bee gave birth to a beautiful baby girl. Combined with raising her daughter and maintaining her home, she has decided that she will be stepping away from blogging. It was a hard decision for her, but I support her and her decision. I know many of you followed Bee's posts when she was at Istyria, and later at Novel Ink and here at QtNI. But you can find her on Instagram, Twitter, and Facebook.
Thank you all again for your understanding. See you tomorrow for Top Ten Tuesday.