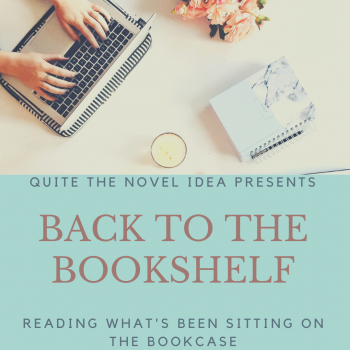 Welcome to Back to the Bookshelf. This is my challenge to myself to actually read and review the books that have been in my possession for months or even years, as one should with books.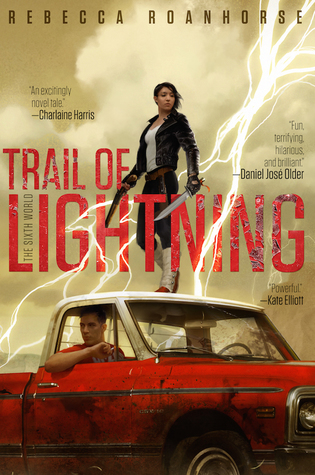 Trail of Lightning (The Sixth World, #1)
by
Rebecca Roanhorse
Pages:
287
Published on
June 26, 2018
by
Saga Press
Genres:
Action & Adventure
,
Adult
,
Postapocalyptic
Format:
Paperback
Source:
Purchased
Amazon
|
B&N
|
Goodreads
Also by this author:
Storm of Locusts (The Sixth World, #2)
While most of the world has drowned beneath the sudden rising waters of a climate apocalypse, Dinétah (formerly the Navajo reservation) has been reborn. The gods and heroes of legend walk the land, but so do monsters.
Maggie Hoskie is a Dinétah monster hunter, a supernaturally gifted killer. When a small town needs help finding a missing girl, Maggie is their last best hope. But what Maggie uncovers about the monster is much more terrifying than anything she could imagine.
Maggie reluctantly enlists the aid of Kai Arviso, an unconventional medicine man, and together they travel the rez, unraveling clues from ancient legends, trading favors with tricksters, and battling dark witchcraft in a patchwork world of deteriorating technology.
As Maggie discovers the truth behind the killings, she will have to confront her past if she wants to survive.
Welcome to the Sixth World.
So Trail of Lightning's been in my possession since I bought it in 2018 and I am wondering why I didn't read it sooner.  It features Native American lore and story, written by a Native American woman. The book is a dystopian that feels like urban fantasy. I enjoyed the book and see lots of potential.
The world's been remade by political upheaval and a massive flood known as the Big Water. The Navajo and Dinetah people who survived are gifted with powers. The story is high-stakes, high-octane adventure. Maggie Hoskie's navigating the ever-changing terrain while trying to stay in the game. I flew through the pages as she introduces the reader to her world. Vigilantes roam the desert, people who were once enemies can become allies, fights for survival are necessary.
The lore is the real star of the book. Gods, monsters, and heroes roam the world. Clan powers reveal themselves in surprising ways. This is a book I've been waiting for. Halfway through my reading, I was online ordering the second novel because I wanted to stay immersed in Rebecca Roanhorse's world.
Some of the criticisms I have involve characterization and plotting. Maggie's a tough character to read. I do feel for her–her life has been hard and paved with tragedy. However, she's prone to the stereotypes of Strong Female Characters: she doesn't emote or want to feel anything for anyone. It's okay to want to hug someone, Maggie. She has her reasons, of course, but the main reason is…well, atypical of fantasy/urban fantasy novels. If you've read a lot of the genre, you'll know what I'm talking about. Topped off with the introduction of Kai and the opportunity to make a real tough, hurting character is lost to tropes we've seen in previous books.
The plotting started of well with Maggie's quest to find who's creating monsters, but it gets pushed off to side by side quests. Some of them are relevant to the main plot of finding the monster creator, while others are mainly caused by Maggie's shoot-first-ask-questions-later mindframe. The conclusion is a little scattered as to the monster creator's identity, but the climax made my heart hurt. Thank goodness the second book is in my possession so I can jump back into the Sixth World immediately.