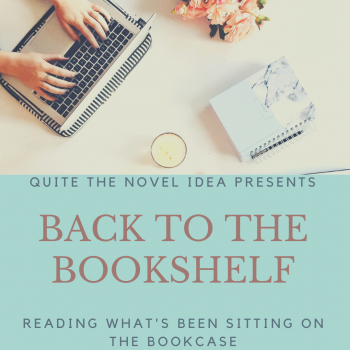 Welcome to Back to the Bookshelf. This is my challenge to myself to actually read and review the books that have been in my possession for months or even years, as one should with books.
Blood Magic (The Blood Journals, #1)
by
Tessa Gratton
Pages:
405
Published on
May 24, 2011
by
Random House Books for Young Readers
Genres:
Paranormal
,
Young Adult
Format:
Hardcover
Source:
Purchased
Goodreads
Also by this author:
Strange Grace
It starts off simply.
Draw a circle... place a dead leaf in the center... sprinkle some salt... recite a little Latin... add a drop of blood...
Maybe that last part isn't exactly simple. Yet somehow it feels right to Silla Kennicott. And nothing in her life has felt remotely right since her parents' horrific deaths. She's willing to do anything to uncover the truth about her family—even try a few spells from the mysterious book that arrived on her doorstep ... and spill some blood.
The book isn't the only recent arrival in Silla's life. There's Nick Pardee, the new guy next door who may have seen Silla casting a spell. She's not sure what he saw and is afraid to find out. But as they spend more time together, Silla realizes this may not be Nick's first encounter with Blood Magic. Brought together by a combination of fate and chemistry, Silla and Nick can't deny their attraction. And they can't ignore the dark presence lurking nearby—waiting to reclaim the book and all its power.
As you can see, I'm already off to a bad start. The first book I chose for this challenge was Tessa Gratton's debut novel, Blood Magic. I bought the book when it came out 9 years ago. It has not aged well.
The book was published when paranormal romantic YA was still trying to capture the popularity of Twilight. It also reminded me of Maggie Stiefvater's novel Shiver, another book which did not work for me. Blood Magic features all the elements found in paranormal romantic YA of the time: absent or dead parents (in this case, dead parents); brooding boy with a "No-One-Understands-Me-Especially-My-Dad-and-Stepmom-So-I'll-Be-Mean-to-Everyone mentality"; girl who's thought to be weird by everyone but has special powers that makes her Not Like Other Girls. But the boy also has the same special powers. Coincidence? View Spoiler »No. « Hide Spoiler
I was enjoying the book for the first 70 pages. Something about the moody, melodramatic writing spoke to my moody, melodramatic teenaged self. I noticed after a few more pages, however, that the interchanging narrators sounded the same. I couldn't tell if it was Silla or Nick, I was constantly going back to check whose passage it was. They're both guilty of using purple prose and constantly comparing each other to Shakespearean characters or Dr. Faustus. I get it: they're moody, melodramatic people. This is a bit much though.
Sprinkled throughout are diary entries which hint at the magic ties Nick and Silla together. These start off well. They give us insight into the minds of blood magic users, but they become more outlandish later. It's the type of bad person who announces they're superiority like you'd see in cartoons.
Normally, I don't add content warnings to me reviews. I have to give a content warning for the book. There are scenes and descriptions that happen in Blood Magic which may be upsetting to some readers. The descriptions of cutting and, in one scene, how much Silla enjoys it, can be too much. There are several scenes that don't serve a purpose other than to make the reader uncomfortable. I know I was. Animal lovers, be warned about this book. How are were supposed to care for the characters when their actions don't make them people to care about? That is not to say that you can't write about gruesome things. I myself love a particularly gruesome book called Not Even Bones. That book knew its content and its audience. Who is this book for? That is the question.
Great, now I'm quoting Shakespeare.