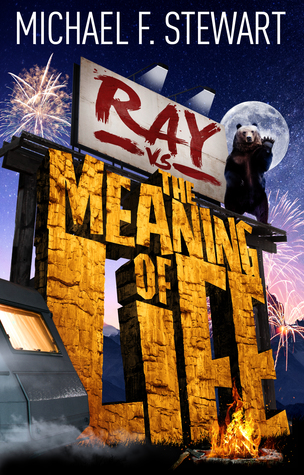 Ray vs The Meaning of Life
by
Michael F. Stewart
Published on
May 15th, 2018
Genres:
Young Adult
,
Contemporary
Amazon
|
Goodreads
"Stewart presents readers with a dynamite coming-of-age story … A tale spins its answer to an age-old question into an inclusive, hilarious, and thought-provoking yarn."—Kirkus Reviews (starred review)

Grandma's Last Will and Testament names Ray to inherit the trailer park. It's a million-dollar estate with one hitch: to prove he's not as aimless as he seems, Ray must discover the meaning of life by the end of the month. (She left the answer in an envelope.) If he fails, the camp goes to his estranged family.
How does anyone find the meaning of life while running a park full of misfit miners, would-be truck racers, and one demanding little girl? There's a bear too. A grizzly. Maybe that'll help?
Excerpt
The ribbed shell of a massive bus gleams in the setting sun. As I rush closer, the eyes of a gigantic head with a silver mane coalesce and stare down from an image on the side of the bus before a crowd of campers off shift. In the door of a bus that probably cost as much as the entire campground stands Dalen Anders. His eyes are the same intense dark as his photo's; if anything they're brighter, and the silver hair gives his skin the glow of burnished copper.
He wears electric blue jeans and a white, ruffled silk shirt on a lean frame as he shouts, "Now someone tell me how one finds Ray, the RV Park King."
There's epic silence.
My mother cackles.
Someone asks, "You mean, Swami Ray? He's here somewheres."
Dalen's smile broadens as he shakes his head. "Not here, this man's worth probably in the order of a billion, a few hundred million at the very least. I got turned around somewhere back at . . . sorry, I blinked and missed the town, know what I mean? Where's Sunny Days' executive offices?"
My mother hoots and hoots. "A billion!"
"Yes, ma'am," Dalen says with a measure of awe. "I've never seen an elderly lady like that eat so much caviar, like it was another food group."
"You've come to the right place." Crystal points at the statue. "There's yer lady. Old coot."
Dalen's smile falters.
I'm pushing through the crowd, hand halfway up. "I . . . me . . . I'm Ray."
"All hail, King Ray!" my mother shouts, and there's scattered laughter.
"You're Dalen Anders? It was me on the phone."
His name's printed on the bus and beneath it, Who can? You can!
"Ray," Dalen states but pulls me up to his side, smiling again for pictures. "Got something of a skin condition there, don't you?"
The way he grins, I keep looking for a television crew, but there isn't one. "My grandma hired you," I say.
"It's a real pleasure to meet you, Ray. It is a real pleasure." He shakes my hand. "How old are you? Twelve?" he asks, not unkindly.
Crystal and Mom are clutching each other, holding themselves upright, tears of laughter streaming down their faces.
"Seventeen," I say. "You're in the right place."
Realization seems to dawn on Dalen. He claps his hands together and he leans back. "Of course, you're a coder, aren't you? Write software out of a trailer, an eccentric. What's your social network? Surprised I haven't heard of it." I shake my head. "Campy YouTube videos then, millions of followers online." Dalen's smile cracks as Crystal's piercing glee rings out. "So who are you, kid? Why am I here?"
"I'm Ray. Just Ray. I need the meaning of life so I can inherit the RV park." My arm takes in the swath of the park. "Sunny Days."
Dalen glances around as if for the first time. Looks back and nods at the big sign over the park entry. "This RV park. This is the only park? Not a hundred of these across the country or something? The McDonald's of RV parks?" It's like he keeps digging as if there's gold here if he can only just find it.
"Nope. Just the one."
Dalen slaps his forearms where a mosquito has bitten through the silk. The corpse leaves a red smudge on his shirt. The guru stares as if it's a gunshot wound.
"I'm afraid there has been some sort of mistake," Dalen says, evidently coming to the conclusion that there's nothing but bugs here.
"I don't think so. You help people figure out their lives, right?" The joy I'd felt at his arrival is quickly departing. Tina squints at Dalen. Everyone's watching. There are even a few phones out recording.
"Yeah, but, kid, I help billionaires. Not little—"
I step right in front of him. "I need help. I don't know what to do."
"With what? A bear problem?" Dalen smiles at his own joke.
Mom gasps. "Bear got Grandma."
"Didn't mean it as an insult," he says with a wave and leans down, but still doesn't set foot on camp soil. "Listen, if you let this go, I won't sue you for misrepresentation."
"Mis—" I scratch my head.
"False pretenses. Your grandma, I thought she was rich. Really rich," his speech jutters.
"You mean, you assumed she was," I say, folding my arms over one another. I'm struggling, because part of me never wants to see this man again, but the other half of me says you don't get as rich as he obviously is without being good at your job. I need him.
"I won't sue," he repeats.
"You can't help me?" I ask.
He jerks back as if I've delivered a jab. "I didn't say I can't help you, Ray."
I look down.
"You won't then," says Obelix.
The crowd of jacks press in tighter as the conversation grows quieter. Dalen's eyes roll.
The guy smiles for the cameras. Even Crystal and my mother glower.
Giveaway
Follow The Tour!