Hi there gorgeous readers!  Today I bring to you Lauren Morrill's latest contemporary novel, The Troble with Destiny.  Please stick around to learn more about the book, learn what I think about it (aka "the review") and to enter this awesome giveaway 🙂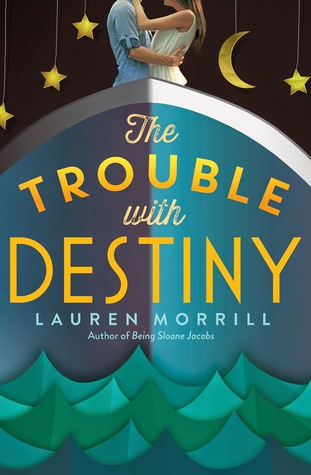 ABOUT THE TROUBLE WITH DESTINY:
It's not about the destination, it's about the journey…

With her trusty baton and six insanely organized clipboards, drum major Liza Sanders is about to take Destiny by storm—the boat, that is. When Liza discovered that her beloved band was losing funding, she found Destiny, a luxury cruise ship complete with pools, midnight chocolate buffets, and a $25,000 spring break talent show prize.

Liza can't imagine senior year without the band, and nothing will distract her from achieving victory. She's therefore not interested when her old camp crush, Lenny, shows up on board, looking shockingly hipster-hot. And she's especially not interested in Russ, the probably-as-dumb-as-he-is-cute prankster jock whose ex, Demi, happens be Liza's ex–best friend and leader of the Athenas, a show choir that's the band's greatest competition.

But it's not going to be smooth sailing. After the Destiny breaks down, all of Liza's best-laid plans start to go awry. Liza likes to think of herself as an expert at almost everything, but when it comes to love, she's about to find herself lost at sea.
Review
The Trouble with Destiny is the story of Liza (I love that name, buy the way!) who is the drum major (sort of the director) of her high school band. Upon learning that fund is being cut she finds a competition which $25,000 prize can save the day.  The band is a big part of Liza's life as well as his friends and she works really hard to make sure they were able to go in the cruise "Destiny" and participate in the completion.
Liza is a planner.  She works really hard and has a back-up for the back-up!  But the stress of keeping the news of the impeding band's doom a secret – all while trying to save it – has take its toll.  She kinds of looses it and stats behaving like a dictator.  I honestly thing that it was way to much responsibility for 16-year-old!  To top it all, Ross the school's quarterback has gotten in trouble and it's "-punished" by helping the band on the trip. Russ is Demi's ex-boyfriend.
While in the "Destiny" Liza encounters Lenny, Mr. Curtis' son (the band teacher), whom she knew when she was younger.  Demi is the leader of the Athenas, a show choir, and Liza's former best friend-now-turn-enemy.  Demi enjoys torturing Liza and thus she hows an interest in Lenny as well. See what I told you?  A lot of confusion!  What ensues is a  series of misunderstandings on who-likes-who and a lot of funny situations that keeps the reader on his/her toes.
I really liked the friendship aspect of The Trouble with Destiny.  The band is like a big family, they always hang out together, doing a lot of activities and outings and looking out for each other.  There isn't a whole lot of adult supervision to be had, not that they were a wild bunch, but they are still teenagers.
There is a tiny bit of a love triangle that at the end seems to be more of a confusion and misunderstanding than anything else, so don't be afraid. I found the book to be short and I feel like a bit more time with Liza's love interests would have let me know them better.  There is romance in the book, but it's not the prevalent theme. We spend a lot of time in Liza's head and she suffers from a bit -or a lot – of angst.  The plot was riddle with a few themes that we've seen before, but it was entertaining nonetheless.
Overall, The Trouble with Destiny is a story of friendship, misunderstandings, prejudice, assumptions, and love.  A light, fun  read for the contemporary lovers out there!
3.5 Stars
ABOUT LAUREN 
Lauren Elizabeth Morrill is many things, including, but not limited to, a writer, an educator, a badass roller derby skater, a former band nerd, an aggressive driver, and a die-hard Mac person. She also watches a lot of TV, eats a lot of junk food, and drinks a lot of Coke. It's a wonder her brain and teeth haven't rotted out of her head.
Lauren is the author of Meant to Be, Being Sloane Jacobs, The Trouble With Destiny, and the forthcoming My Unscripted Life (October 2016), all from Random House.
LINKS: Website | Twitter | Tumblr | Instagram
One winner (US or Canada Only) will receive a Lauren Morrill prize pack of signed copies of all Lauren's books and swag!
Visit the Rest of theTour Schedule:
Week 1:
11/23 – Swoony Boys Podcast (Dream Casting)
11/24 – Such A Novel Idea (Review)
11/25 – Chapter By Chapter (Top 10)
11/26 – Andi's ABCs (Review)
11/27 – Stuck In Books (Q&A)
Week 2:
11/30 – No BS Book Reviews (This or That)
12/1 – Book Addict's Guide (Books for Band/Choir/Orchestra Nerds)
12/2 – Forever Bookish (Review)
12/3 – Intellectual Creation (YA Music Books)
12/4 – Mundie Moms (Review)
Week 3:
12/7 – Supernatural Snark (Q&A)
12/8 – Cindy's Love of Books (Review)
12/9 – Paperback Princess (Top 10)
12/10 – Books-A-Blog (Review)
12/11 – Lili's Reflections (Top 10)
Week 4:
12/14 – Reading W/ABC (Review)
12/15 – FictionFare (Q&A)
12/16 – Resch Reads and Reviews (Review)
12/17 – A Book and a Latte (Top 10)
12/18 – One Night Book Stand (Review)