Though most of my TBR consists of Young Adult books, I do have some love reserved for books that aren't, well, that. So I decided I should show my favorite books that aren't YA some love. And recommend them to you while I'm at it. While YA will always be my go-to genre, I find that other genres offer some things that it can't. A different perspective, new stories that YA can't tell, other boundaries,… The possibilities are endless. Especially in the first genre I will talk about, which also contains the most recs as you'll notice. So let's get on with it.
Middle Grade
Middle Grade offers a very different kind of originality and creativity in its stories than YA. And sometimes it's fun for me to dive into a MG book and just let the characters and fun stories take me on an adventure! So I just HAVE to share a few of my favorites. Also can we just agree that MG books have the best covers? Look at all that gorgeous art!
1 – Ferals series by Jacob Grey
The Ferals series by the mysterious author Jacob Grey is about Caw, a young boy that can communicate with crows. He lives in a world where humans called ferals can talk to a certain time of animal. Caw is what they call a Crow Talker. This series is pitched as Batman meets The Graveyard Book and I can see why. I love the atmosphere in this book. It reminded me of movies like The Dark Knight or The Crow. And the TV-show Gotham. It's so dark and gritty and mysterious. Just as mysterious as the author himself, who I can't find anywhere on social media. Caw is one of my favorite characters ever and I just love watching him grow throughout these books. I will have to make sure to read the third book this year because I just didn't get to it last year with my massive book slump.
2 – The Shadow Cipher by Laura Ruby
The Shadow Cipher is the first book in the York series. It's set in an alternate version of New York City where the inventions and buildings from the Morningstarr twins shaped the city to what it is today. They had a vision when they arrived to the city in 1798. And when they disappeared fifty-seven years later, they left behind a puzzle laid into the beautiful city with at the end a treasure beyond all imagining. But the puzzle was never solved. Our main characters, the twins Tess and Theo and their friend Jaime want to save their home from being broken down and prove that the Shadow Cipher is real and solve the puzzle once and for all.
What stood out to me in this book was how in-depth the world-building was, as well as the amazingly lovable characters and the gorgeous writing. I was pleasantly surprised when I read it and can't wait for the next installment to come out this year! It also made me want to check out the author's YA books as well.
"It was as if everyone was a Cipher. You could look for keys and clues, but you might never figure them out."
3 – Magnus Chase series by Rick Riordan
The Sword of Summer was my first ever Rick Riordan book and boy was I missing out! While I wasn't as impressed with the first Percy Jackson book, which I read after this one, I straight up loved this book. And its sequel! It's exciting and downright hilarious. So if you want to switch out the Greek mythology for the Norse mythology, this series is the way to go. And again I still have to read the third book. Oops.
"What kind of animal am I eating?'
Sam wiped her mouth with the back of her hand. 'It's named Saehrimnir.'
'Okay, first of all, who names their dinner? I don't want to know my dinner's name. This potato–is this potato named Steve?'
She rolled her eyes. 'No, stupid. That's Phil. The bread is Steve."
~~~~~~~~~~
"My name is Magnus Chase. I'm sixteen years old. This is the story of how my life went downhill after I got myself killed."
4 – My Seventh Grade Life In Tights by Brooks Benjamin
This book made me want to get up and dance. Even though I'm horrible at it. I was just exhausted after reading this, in a good way. As if I'd just run a marathon. It's about Dillon, who wants to be a real dancer and if he wins a scholarship at Dance-Splosion, he's well on his way. The problem is that his dad wants him to play football. And his freestyle crew the Dizzee Freekz, say that dance studios are for sell-outs. At first he goes along with his crew's plan to audition and then tell the studio how awful they are. He even convinces one of the snobby girls at school to give him dance lessons. But as his dancing improves, he starts to question if his crew is right or not. And he might actually get a shot at winning it all. The story is simply triumphant. I rooted for the characters the whole time and it's such a celebration of doing what you love that I felt exhillarated after reading it. So if you're looking for a MG Contemporary, this is one you can't miss.
5 – The Last Dragon Charmer series by Laurie McKay
Villain Keeper tells the story of Prince Caden. While on his long-awaited quest to slay a dragon, he is suddenly ripped away from his home in the Winterlands of Razzon and finds himself in Ashville, North Carolina. A land with no magic and no dragons. And he didn't come alone. With him came a sorceress named Brynne and his loyal horse Sir Horace. But this land has no magic and no dragons, so how is Caden supposed to complete his quest? However, there seems to be more to this strange land than meets the eye and soon Caden starts to think that maybe his destiny isn't to slay a dragon at all.
This is a FUN series. The story is one that seems to be ripped from an anime and I love that. The author perfectly captured how strange and new everything was to Caden when he arrived in this new world. I had a great time reading the first two books. And it seems like I have a problem finishing MG series because yet again, I haven't gotten to the third book yet. What is wrong with me?
6 – Monstrous by MarcyKate Connolly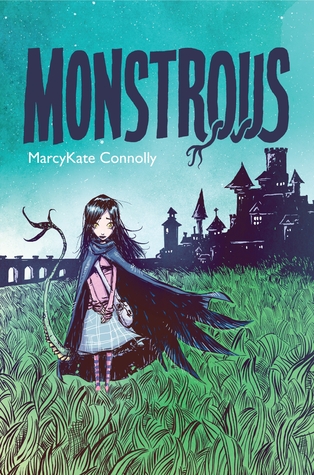 Monstrous is a book that seemed like an ode to Frankenstein and classic fairy tales all at once. With is beautiful writing and strange main character, I was captured right from the start. It's about Kymera. Kymera is created to save the girls of Bryre from the evil wizards, or so she thinks. Kymera is not a normal girl. She has wings, a spiky tail, bolts in her neck and the claws and eyes of a big cat. If people would see her, they'd hunt her out of fear. But one night she meets a boy named Ren and they become friends. And what he knows may change everything.
I do think this book is not for everyone. It has a classic fairy tale vibe and I for one love it to pieces. But I know not everyone does. It's haunting and mysterious, utterly original and so very compelling, however, that I think you should give it a chance anyway. It might end up surprising you.
"Father says I'm perfect, but would a prince agree if he knew what I was made of? Would he value me for the usefulness of my parts, or for the contents of my heart? Or would he only value me as a prize to slay the monsters in the story?"
7 – Gracefully Grayson by Ami Polonsky
Gracefully Grayson is about twelve-year-old Grayson. Grayson has a secret. He's not a boy. Not on the inside. On the inside, Grayson is a girl, stuck in the wrong body. Holding on to this secret is hard on her and leaving it behind would mean facing people who'd ridicule and misunderstand him. Despite that, Grayson wants to show her true self. Strengthened by a caring teacher who gives her a chance to step into the spotlight, Grayson finally has the tools to show everyone who she really is.
This book left me speechless. And to make it all poetic, when I turned the last page, a tear rolled down my face. Gracefully Grayson is that beautiful. It's a very important book in the MG genre and I think everyone should read AND let their kids read it. It has such a powerful message without beating you over the head with it and it dove into a very relevant subject matter very carefully and with great respect. So this is another MG Contemporary that I think you just have to read.
"I finally see myself the way I'm supposed to be-my inside self matched up with my outside self. And now, everyone else will finally see it, too."
8 – The School for Good and Evil trilogy by Soman Chainani
In The School for Good and Evil, Soman Chainani has created a world were all our beloved heroines and heroes from fairy tales came from the School for Good and Evil. And the heroes of this story live in a small town in that same world. They grew up reading the stories and once every four years, two kids from the village disappear and sometimes, they appear in the new storybooks a few years later. Sophie lives a big house, has long blond hair and seems the obvious choice for the School Master when he comes for a student for the School for Good. At least that's what she thinks. And Agatha is everyone's first pick for the School for Evil. When they're both taken by the mysterious School Master, Sophie ends up in the School for Evil and Agatha in the School for Good.
This series gave me the same feeling I got when I first read the HP books. It made me feel young again while also at the same time capturing the magic of fairy tales AND giving them all a spin. With the message that true beauty lies within, this is a must read for fans of fairy tales.
"She had always found villains more exciting than heroes. They had ambition, passion. They made the stories happen. Villains didn't fear death. No, they wrapped themselves in death like suits of armor! As she inhaled the school's graveyard smell, Agatha felt her blood rush. For like all villains, death didn't scare her. It made her feel alive."
Adult
My collection of favorite Adult books is not nearly as big, but still worth mentioning, in my opinion. So here are my favorites.
9 – V.E. Schwab's adult books 
Everyone knows Victoria Schwab and most who have read her books also love them to bits. While others might prefer her YA titles, I have an endless amount of love for her adult titles. The Shades of Magic series is all kinds of epic and I'm sure most of you have already devoured them. If not, what are you waiting for. As for the other two, Vicious was the first of V's adult titles that I read. Giving a great anti-hero spin on the classic superhero/superpower story. Vicious is very due for a re-read and I for one am eagerly awaiting its sequel Vengeful, which I'm sure will be equal amounts of delicious.
10 – Gentleman Bastard series by Scott Lynch
The Gentleman Bastard series is one of my favorite series ever, period. Locke is in my top 3 favorite characters and I plan on re-reading these books every year if I can. They also have one of the best examples of Squad Goals in the precious gentleman bastards themselves. And on top of that, Locke and Jean is my ultimate BROTP. With hilarious banter, intricate schemes and heists and compelling writing, this series is not to be missed by anyone.
"There's no freedom quite like the freedom of being constantly underestimated."
What are your favorite non-YA books? Did you read any of the ones I listed? Let me know in the comments! I love recs so feel free to shout them at me.